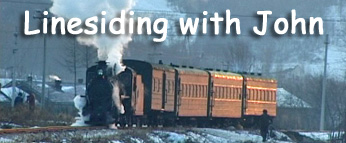 Bagou Blog
I've produced a DVD of this trip and also of the many other trips I've made to China from the 1990s to date.
Click here to see the list of all my China DVDs.
For the most recent entries (starting 26 February) - see the blog Part 2
A short Bago Steam blog focussing on the railway is available here. This now (22 June 2011) contains details of the double DVD I have produced of the railway element of the trip.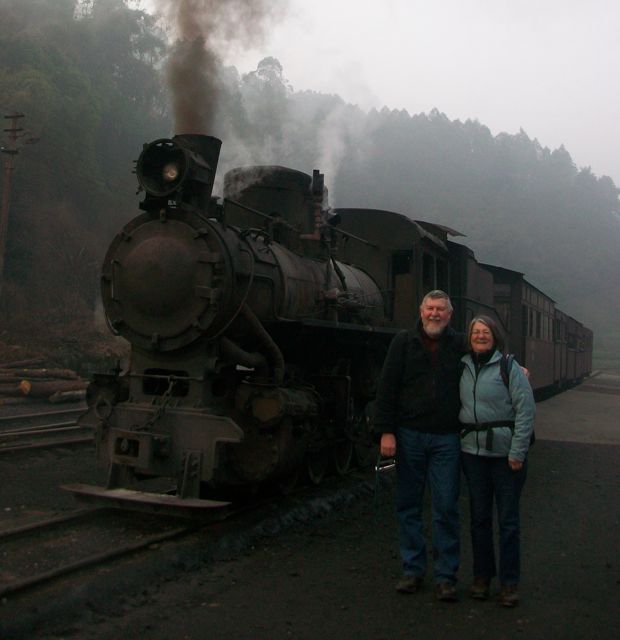 Photo taken on 23 February 2011 to celebrate my 60th birthday
This blog encompasses my 60th birthday visit to Bagou on the Jiayang Coal Railway, Shibanxi with my wife Stephanie as well as the following 11-day tour for a group of narrow gauge steam enthusiasts. As Shibanxi is one of the last places in the world for real narrow gauge steam passenger and freight trains and the community in Bagou will be getting their first ever surfaced road in the next few weeks or months, the attractions of being there rather than anywhere else in the world for a big birthday and being there now rather than when the road opens up the community to the modern China should be clear. Starting around 22 February, you will be able to read about my stay in this real steam paradise.
During the first period, we plan to use Rob Dickinson's excellent hiking guide to the Bagou area. Comments about the walks we do may assume that you have read (or have access to) Rob's descriptions. For more about Bagou, see Rob's other pages.
Stephanie is the author of the blog until 7 March.
Sunday 20th February
We left Chelsea for Heathrow at 2pm in rather miserable weather – 3 degrees and increasing fog. We were on our way, and immediately the excitement of travel took over.
The first flight was a short hop to Amsterdam where we connected with the long haul to Chengdu (nine and a half hours). Immediately we began to feel we were entering China – the majority of the passengers on the flight were Chinese, many returning after the Chinese New Year Holiday, and there were some students studying in UK coming back home for half term. We chatted with one girl studying for her A-levels in Oxford who has offers already at three British Universities – she needs three A grades in her Math, Further Math and Economics – the first two are no problem for her, but she is struggling with her economics because of the English!
KLM was perfectly fine – these days service is very unobtrusive, and the film choice is brilliant. We even slept for an hour or so, and arrived at 2:30 pm on Monday – Chengdu is eight hours ahead of UK.
Monday 21st February
Chengdu was swathed in fog and pollution, so did not look disimilar to the London we had left – it was marginally warmer, but very hazy. John's Chinese guide, Zebedee was there to meet us, and after changing money we transferred by car to Leshan just over 100 km south of Chengdu. In the process the driver arranged for someone else to meet us on the toll exit to take us all on to Sanjin where we were to stay the first night.
The countryside was immediately familiar with rice paddies, bamboo, crops for eating and all the traditional methods of farming. It was dotted with typical Chinese farmhouses, many painted white with symbol on the outside, which was apparently saying it was a long life village with people living to a ripe old age through exercise and drinking the local alcohol!
Once we got off the freeway, we were really in the countryside and on a very rough concrete road with lots of trucks laden with coal and deep ruts. We followed this up to the end of the road at the coalmine and small town of Sanjin (third mine). This is a bustling town, full of people many completely amazed to see foreigners, so there was quite a bit of staring. There is a hotel here for visiting miners and people on the railways, so we booked in – simple but very adequate. The formalities of form filling, scanning passports, and visiting the police station were a reminder of the good old days in China, and good for just slowing down. The last time I was in Mainland China in 1979 was just after China opened up to the west and just everyone wore Mao suits and rode bicycles! One of the reasons I was looking forward to returning was, of course, the food, and the first meal was not disappointing.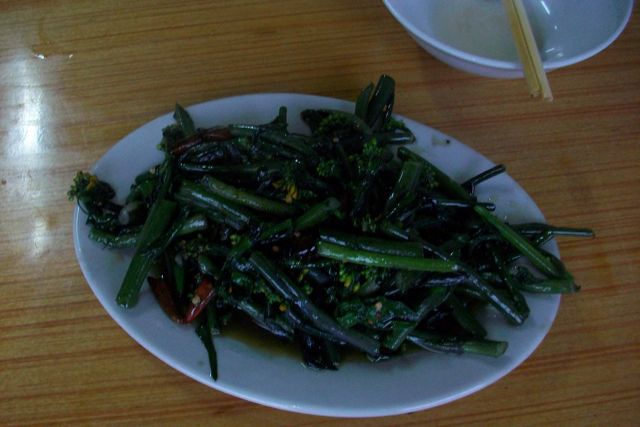 The restaurants are all on the street – no glass windows, all food cooked to order, and we had three fresh stir-fried dishes.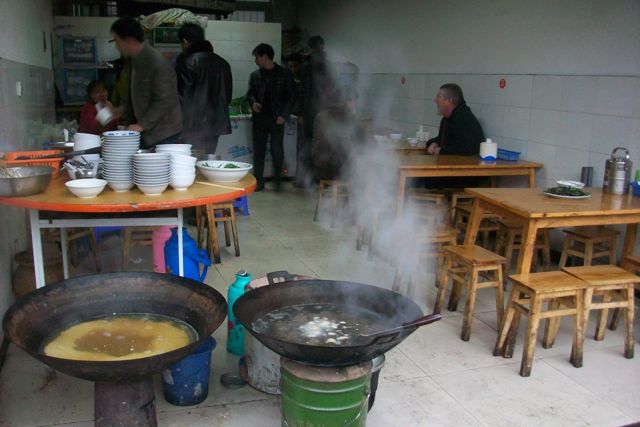 Sichuan food is renowned for the variety of different dishes. The woks were out front and at the back, and the rice was kept steaming in big wooden tubs.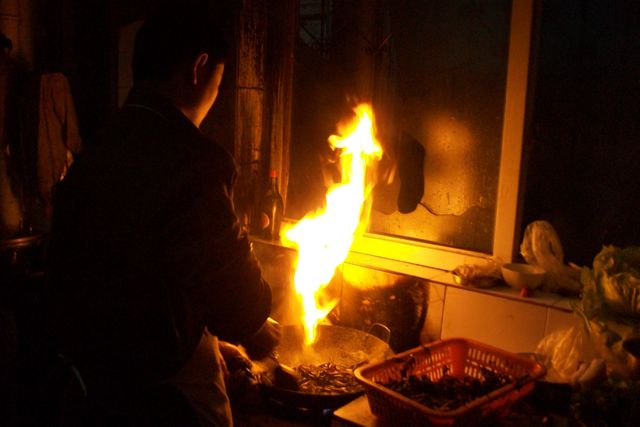 We promenaded after the meal along with literally hundreds of families all around the coalmine area. There was one large outdoor fitness class with around fifty younger people exercising to music – apparently in the mornings it is the older ones doing their Tai Chi. Wherever we walked we were the source of much interest, and I think our basic Chinese will return quite quickly. In this town most people live in rather miserable looking apartment blocks, so you can inmagine that even in the winter they wrap up and stay outside as much as possible. Eating out is also a family pastime, hence all the eating places were full of people.
A very auspicious beginning to the holiday.
Tuesday 22 February
We heard the first train at 6am heading up the track, and by the time I was woken with a mug of coffee, John was filming from the bedroom window! We took our coffee out and watched the world go by waiting to film the next steam train. Mothers were taking their children to school – all looking very much like the Taiwanese in all their colourful outfits and small backpacks. There were horses ready to carry loads up the mountain sides – often bricks, there were shoe shiners in the square – mostly women, and they all had custom, then people carrying baskets on their backs coming to market to sell or buy vegetables. It was a very colourful early morning scene. We had beef steamed in a spicy rice suet and a smokey dofu with rice. Chinese eat very quickly and noisily and we were soon done!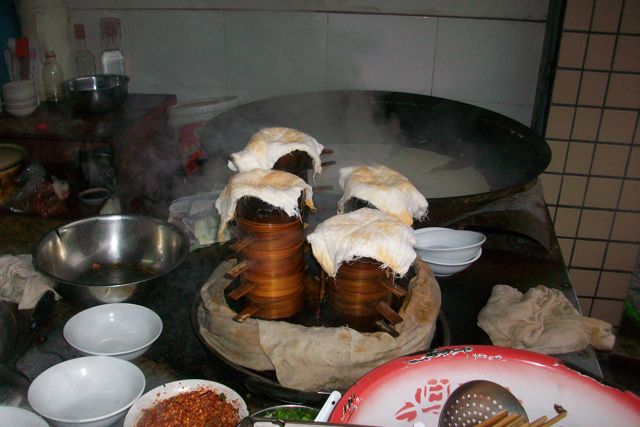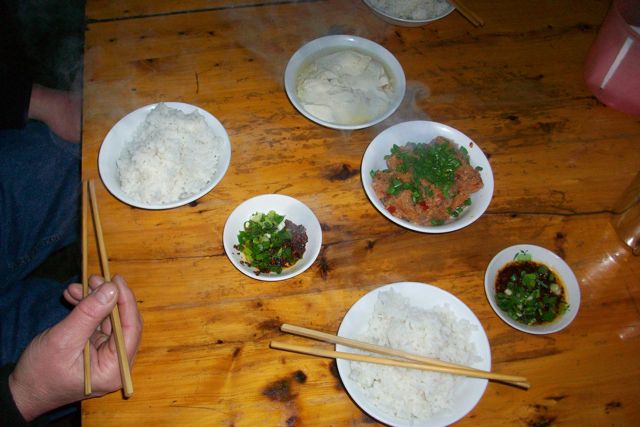 We caught the 9:45 train up the line to our destination of Bagou. There are lots of staff on the train, and being the only road transport beyond Sanjin, it is well used and staffed. Everyone was very friendly, and the workers all interested in the steam train aspect. Life is only just returning to normal after Chinese New Year, so some of the mines are not fully working again yet.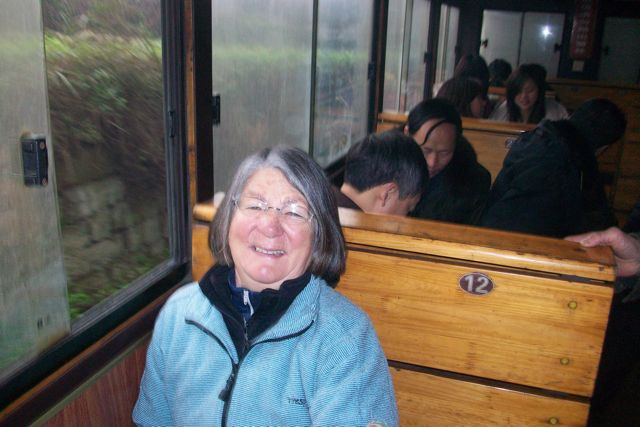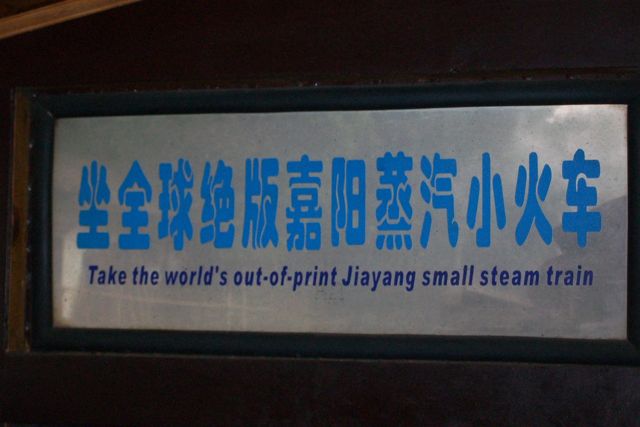 The journey up to Bagou passes through wonderful countryside and mountains visible through the mist – as we approached Bagou the sun began to break through the cloud, so we are optimistic that up here it will burn off the haze. There is of course a strong smell of coal smoke everywhere with all these small coalmines and the movement on the railway line.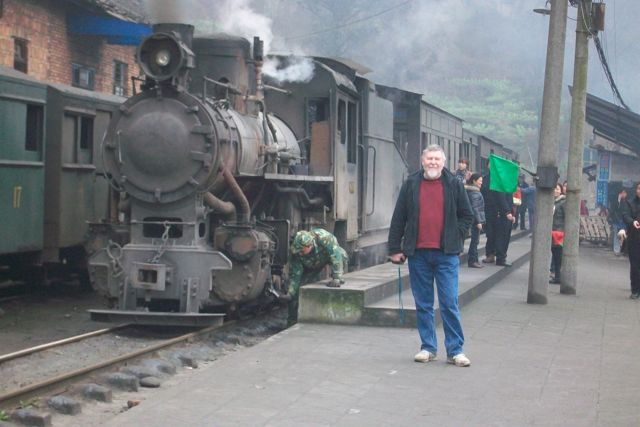 Bagou itself is extremely traditional – a small coalmine and related houses and small shops. The architecture was influenced by the British and by the soviets during their influences in China. It has picturesque streets and a very traditional lifestyle, which will now be protected and preserved.
We found the simple guesthouse and chose our room before donning warmer clothes and setting off to explore both this village, and up the valley to Huangcunjin, the last coalmine and terminus. There were wonderful sights all along the trail of a lost lifestyle in towns and cities, and it reminded me of Jyoufen in Taiwan when we first knew it. Here, although the road is coming, which may change the use of the railway, they have been thinking already about tourism, so this should guarantee the continuation of steam on the line. Up at the last coalmine they have opened up an old shaft for tourists, and signs are appearing with an English translation. Local Chinese tourists are beginning to come for the flower season, which comes in March and April, and for the feeling of nostalgia. What was fascinating is that on some of the buildings they have uncovered the Mao pictures and quotations (propaganda)! We ate up in the miner's canteen – again we chose the ingredients and it was cooked freshly for us. Because the mine was still closed from Chinese New Year, the survey work and repairs were going on, so we saw a few people taking wood into the mines.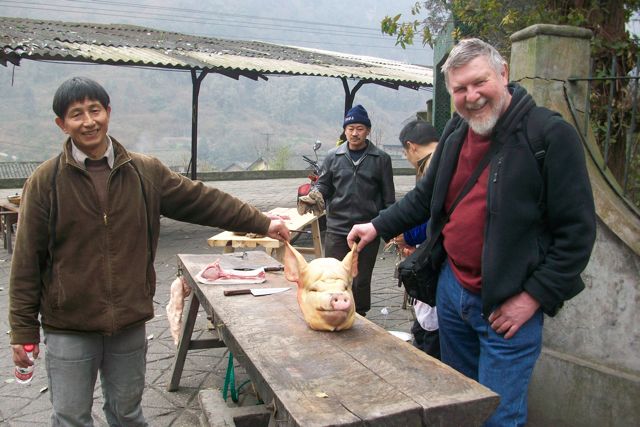 Zebedee and John at the butchers stall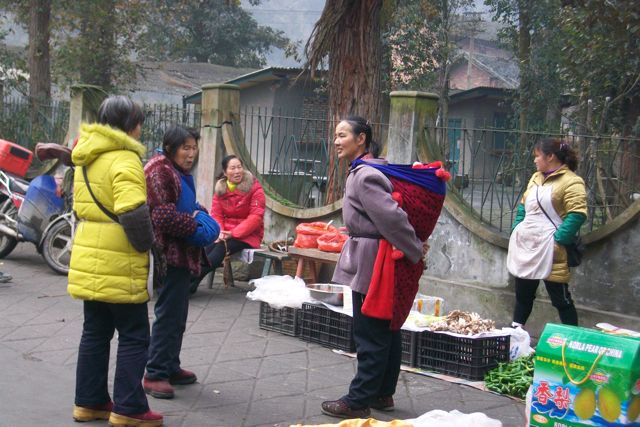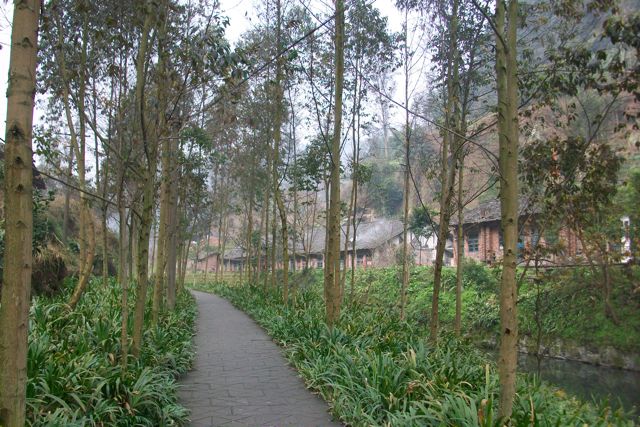 The path to Huangcunjin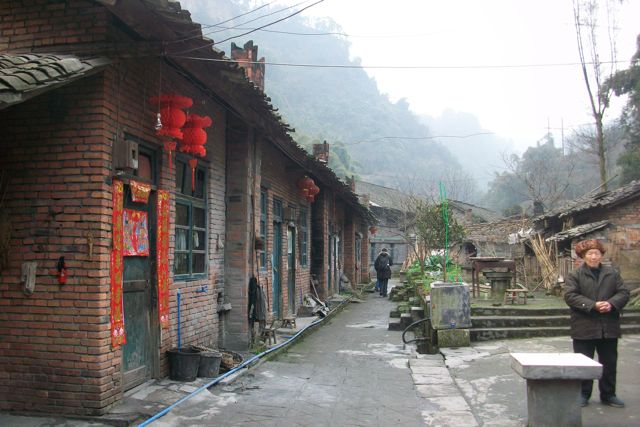 Traditional housing and Chinese New Year decorations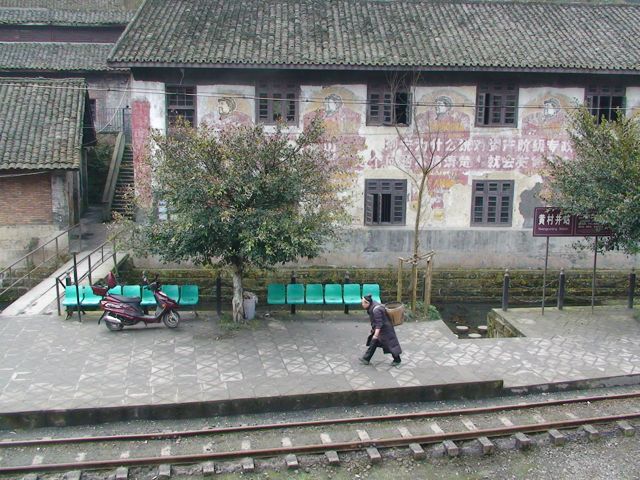 Chairman Mao pictures and propaganda with woman carrying coal
We walked back down the train line itself and passed an area where people were buried – an auspicious site. However, because there is not so much available space here, they have a special hearse truck, which we saw, which is attached at the back of the train and families are given an incentive to take their dead down the valley for cremation.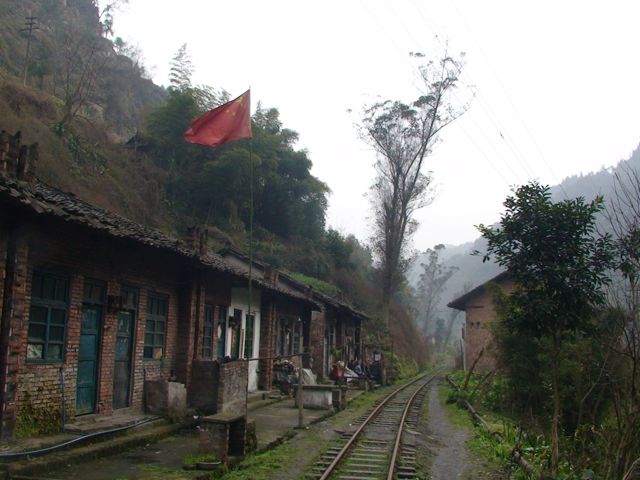 We relaxed in Bagou for the rest of the afternoon – reading and catching up with diary and photographs – as soon as the sun went in it was really cold – no heating here!
We found the only local open restaurant and found duck and beef on a table outside, so along with green vegetables from the kitchen we had a meal of three dishes, and then joined the locals promenading and doing their 70 paces after eating! There is a small population here, and far fewer young families, so we soon lost the majority as we headed further away from the village centre along some of the trails we had taken earlier – they looked quite different in the dim light. Everything closes up early, and down came the shutters and silence set in. When we returned to our guest house Zebedee produced a wonderful birthday cake for John that he had brought from Sanjin, so we lit candles and sang.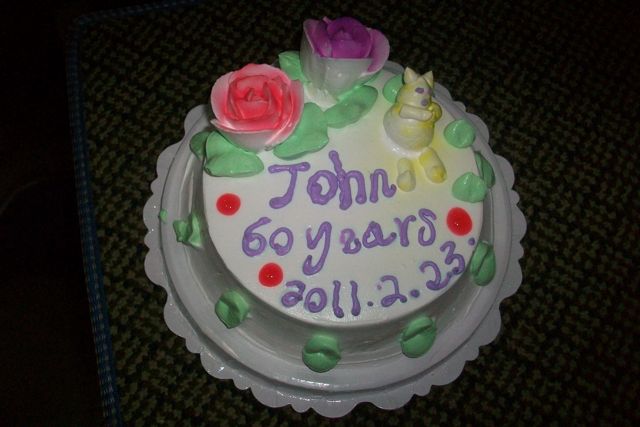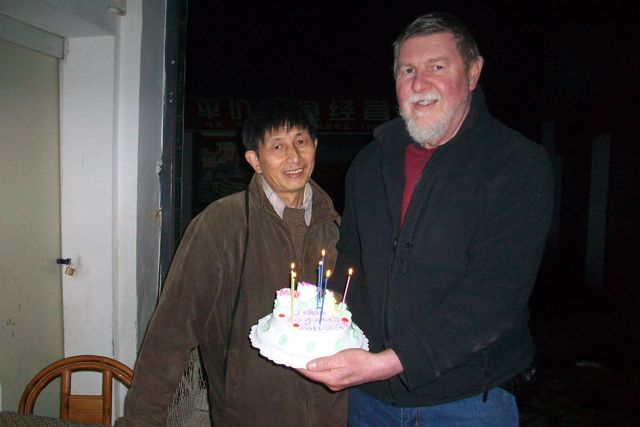 Electric blanket kept us warm!

Wednesday 23rd February – John's 60th birthday
We slept well, and were woken by the alarm at 6:30 am in order to catch the first train down the line at 7:25 am. We had time for a traditional breakfast of Jiaodze (steamed buns stuffed with minced pork) and soymilk. There was a crowd on the platform, with children going down the line to school (there is none here) and people going to work. We went as far as Mifeng, where the train reverses, and where the local doctor has a few rooms overlooking this maneuvering area.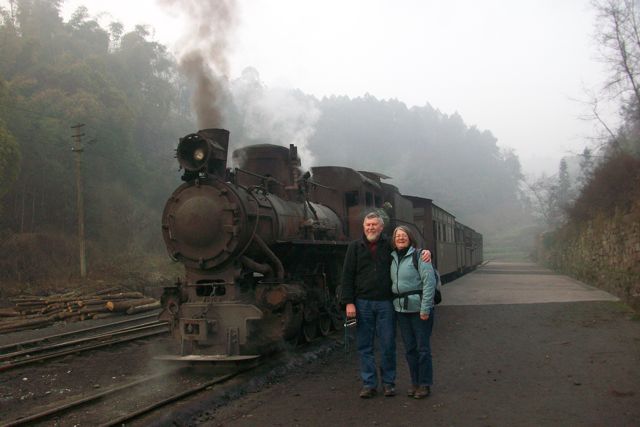 We shared the rest of the cake with the people here while we negotiated for us to stay for a couple of nights before we leave, and for the group to stay if they would like. Zebedee then set off on a motorbike down the tracks and we began our walk back up the tracks to Bagou.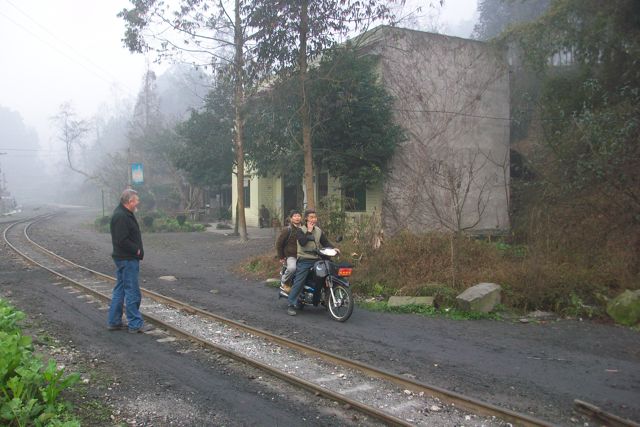 I had not realised that the railway was only built in the 1980's in the post revolution era, and until then, the only way of getting the coal out was by pony. The walk was fascinating as we encountered life in the villages and countryside – glimpses of a very traditional way of life. A pleasant surprise was all the exotic birds we saw, and later tried to identify. We had many photographic opportunities, and were able to say 'Nihau' to all the people we met along the tracks.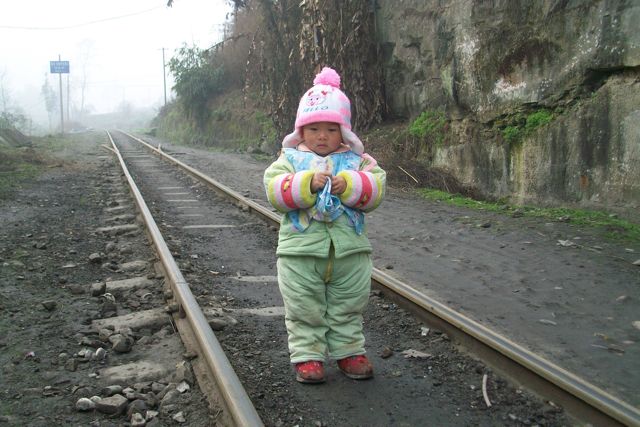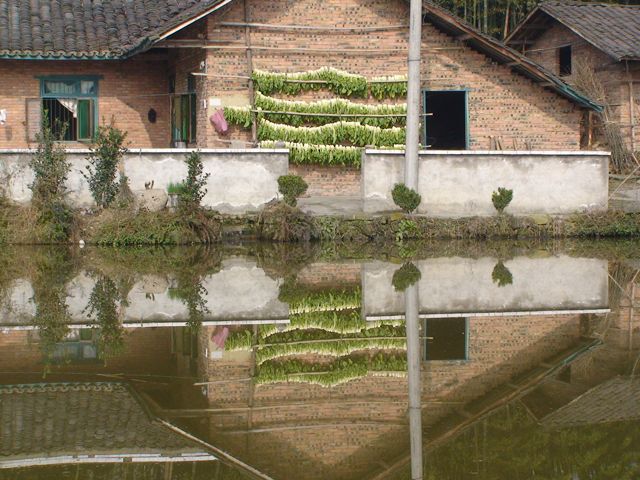 The views were of rice paddies, many vegetables being grown in some, of bamboo and traditional houses. We saw the trains and found suitable places to photograph or film them, and John was particularly pleased to see an extra train.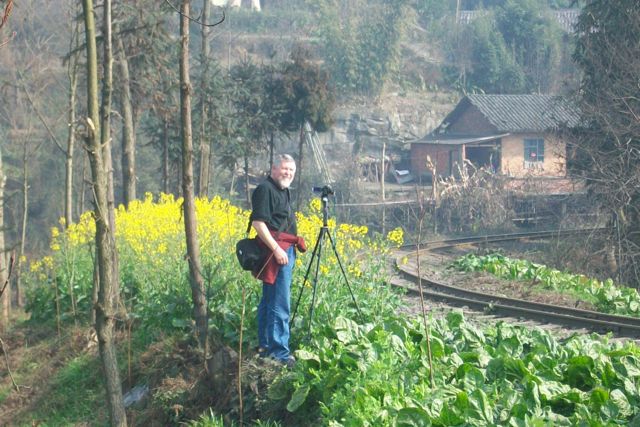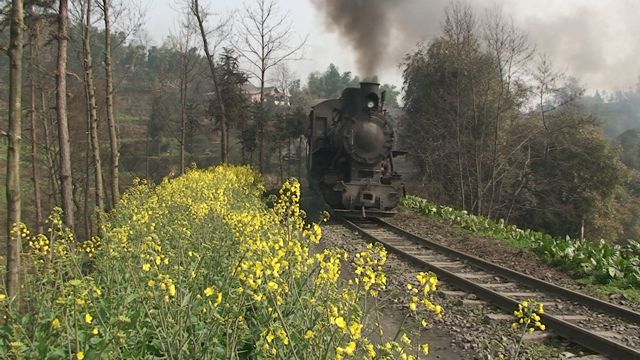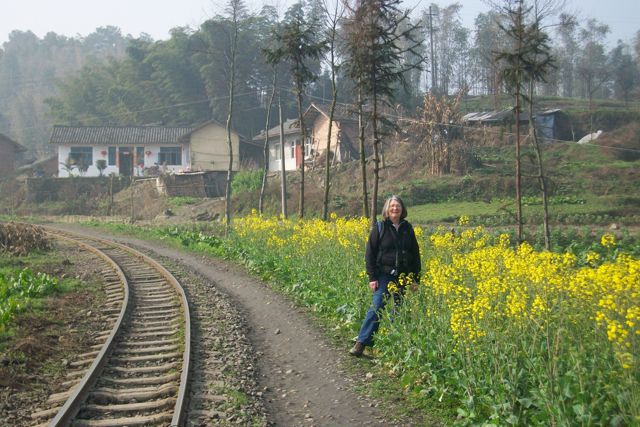 The motorbike serve as taxis and go alongside the tracks and through the tunnels – we had three to negotiate, and with torches and no trains, they were fine! We wandered around the villages where the train stops – very quiet with just simple shops, a few people playing cards or mahjong. Along the tracks we saw one man with an inventive trolley delivering a parcel, and people walking back from the fields or markets with supplies.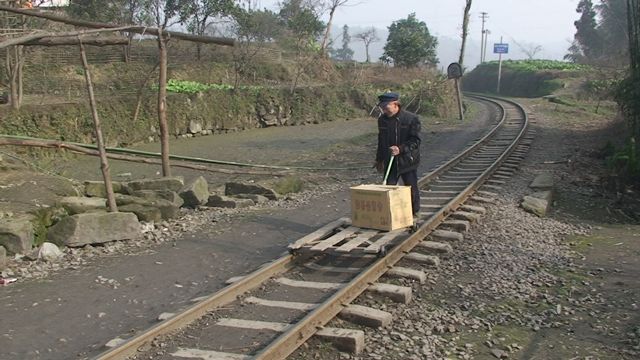 We arrived in Bagou around 2pm for a delicious lunch of vegetables and pork cooked freshly for us, before relaxing in the sun back in our courtyard. This was good for drying towels, but as soon as the sun disappeared, all clothes were donned again! John went to photograph the penultimate train whilst I read.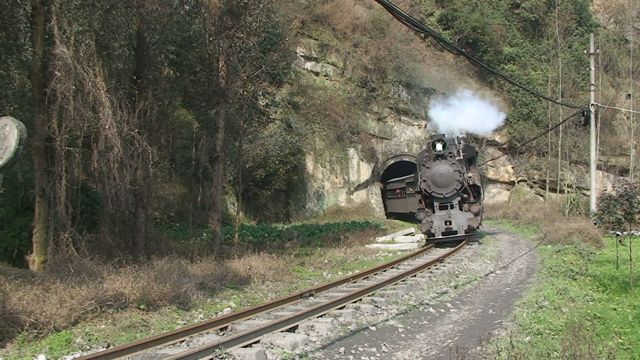 The next excitement was a trip to the hairdresser for me! The landlady took me to this basement shop off the main square, where a very modern lady was cutting mens hair. What a stir - the first foreigner to have their hair cut - she sent for a photographer, and a photoshoot commenced! I sent the landlady back to fetch John to be part of the excitement. It became a total experience, and I had one of the best cuts and washes in my life for £1.50 and much entertainment. No-one spoke any English, and my Chinese is all but non-existant, but a great deal of fun was had by all.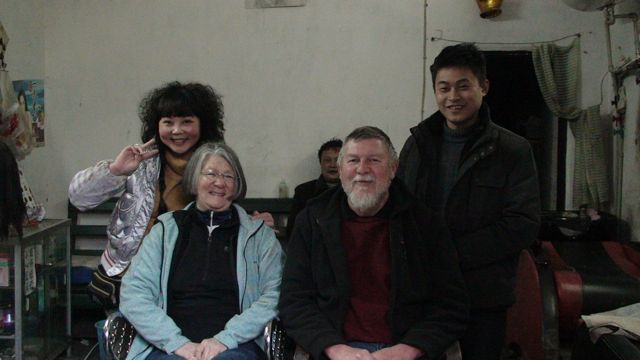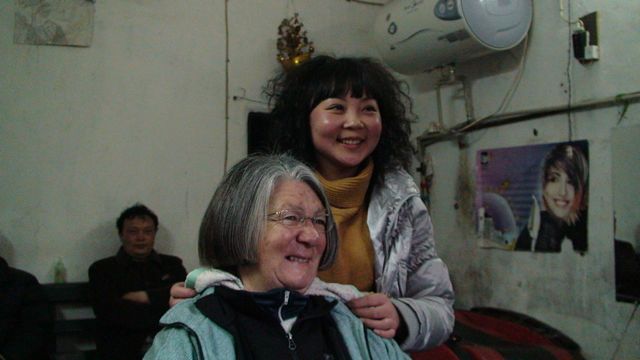 We wandered up to see the last train, and missed the restaurants being open (closed at 6:30) so had to buy pot noodles from the local shop - a birthday treat for John!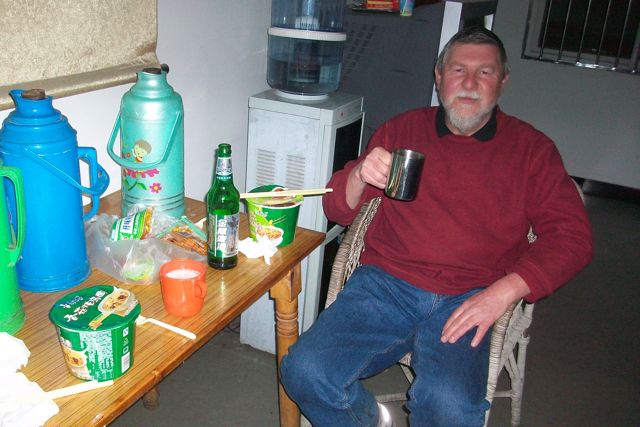 Thursday 24th February
Slightly more leisurely start to the day as we were starting our adventures in Bagou itself. Breakfast of steamed buns again, followed by a wander round the daily market – people arrive early carrying their vegetables, meat and spices on their backs, then setting up stall, hoping to go back empty. It was very colourful, and I continued to wander around while John disappeared at the sound of an untimetabled steam train! Although curious, people are very friendly, and even the dogs are benign.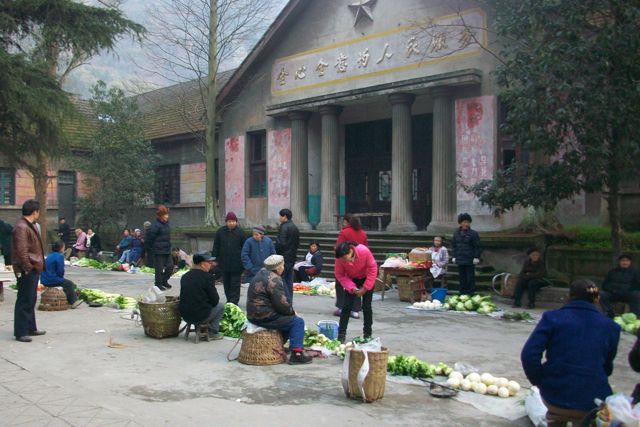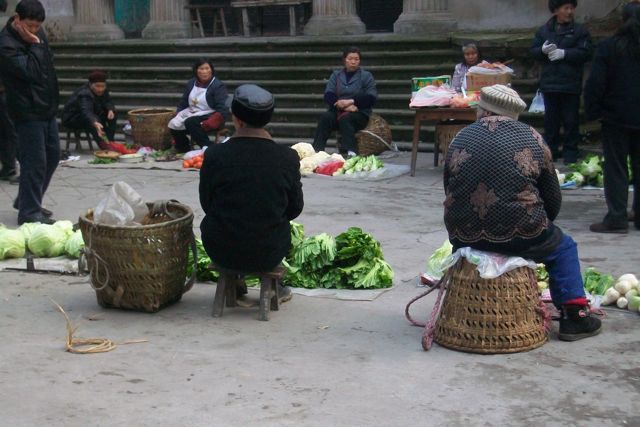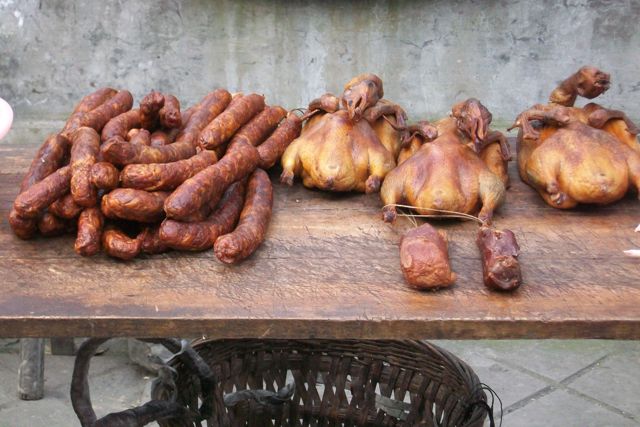 We set off on today's walk to explore the ridge south of us between Bagou and Huangcunjin. We were following Rob Dickinson's Huangcun - Bagou Ridge Path in reverse, and found the directions very easy to follow.
We left the village behind, crossing the river on a bridge and started our ascent up the cliff on a well used path – in fact we passed quite a lot of people walking down to Bagou in the morning from higher villages and farms.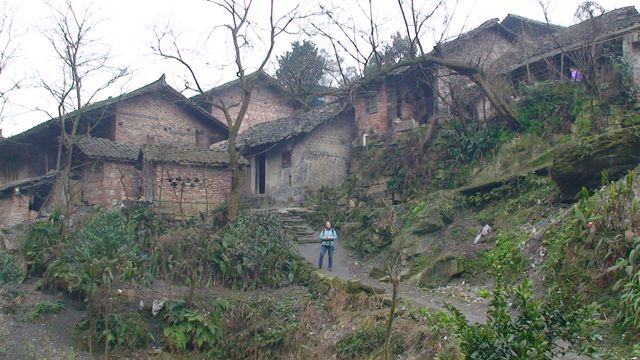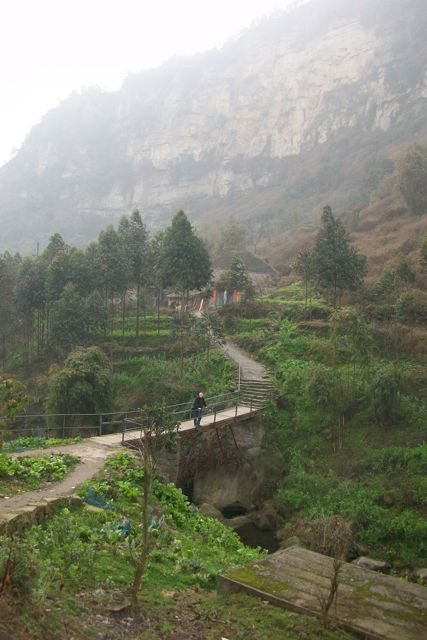 We joined what was a wider track, possible in some seasons for trucks – what for? Well, first we met a man and woman trying to fill in the ruts with stones, and much later we saw an area, which had been logged of pine for pit props, so there was a purpose. Other than this, on the entire ridge walk, we only met one other group who were carrying heavy loads of wood for burning – the women had their woven knapsacks full, and the man had a pole.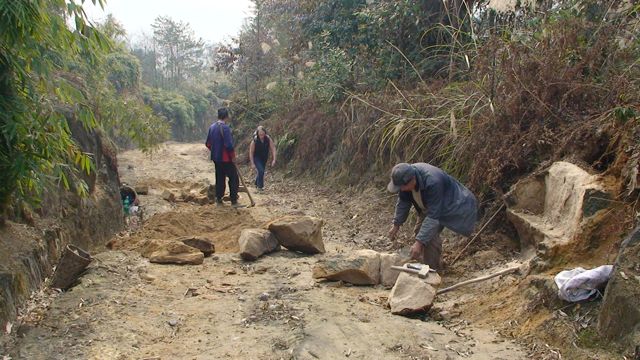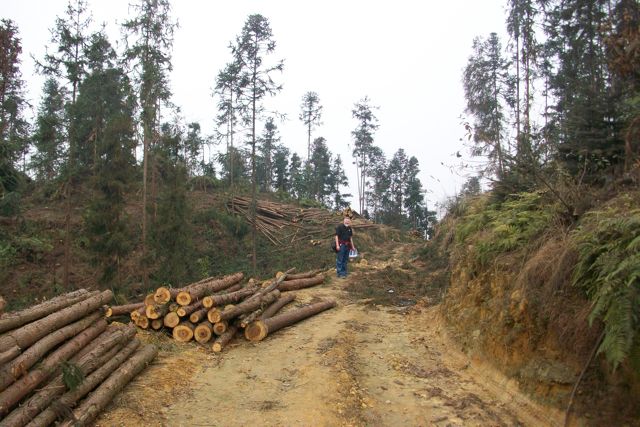 The ridge provided wonderful views of valleys beyond – paddies and farmhouses, and glimpses back to Bagou below. We walked for a couple of hours or so along the ridge before moving to a hiking trail which headed round the mountain and down through bamboo groves to a flat area where vegetables were being grown on what had once been a slag heap for the Huangcunjing mine. The farmhouses are all drying their greens for pickling, and here we saw the turnip peeled and strung out.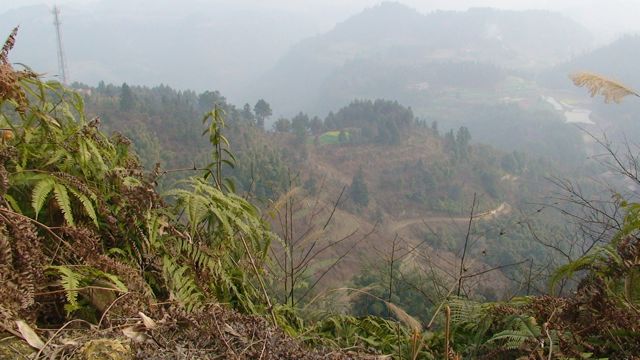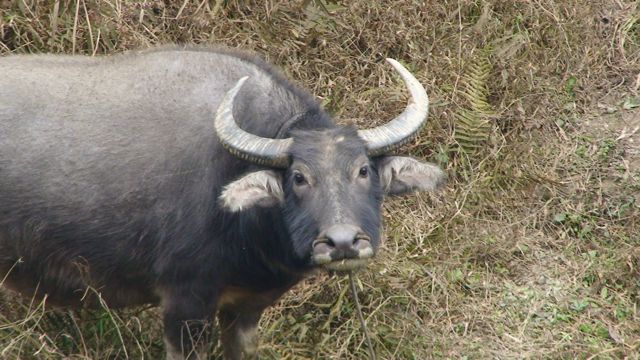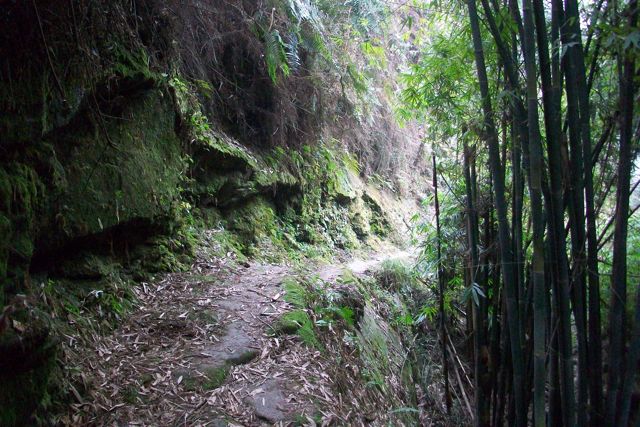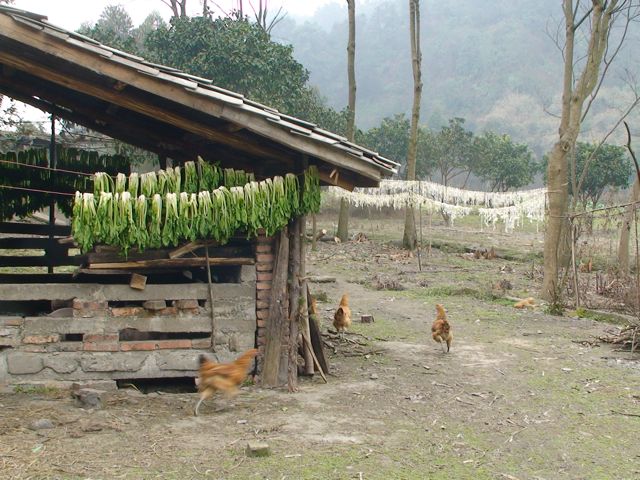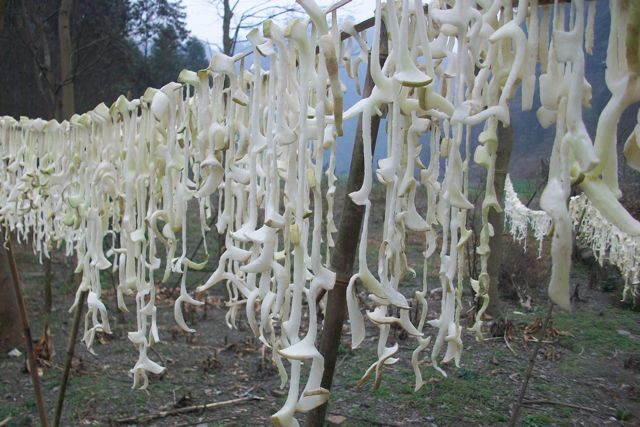 The final descent to Huangcunjin was very steep on stone steps – a former cable incline to the slag heap and reminiscent of many a trail in Taiwan. It was nearly 2pm, so we headed up to the mine for some lunch in their cafeteria – wonderful fresh green vegetables and sausage sliced up. There was some coal being pushed out of the mine, and slag being pushed to the tip so production is slowly resuming after Chinese New Year. There were ladies scavenging for coal amongst the slag,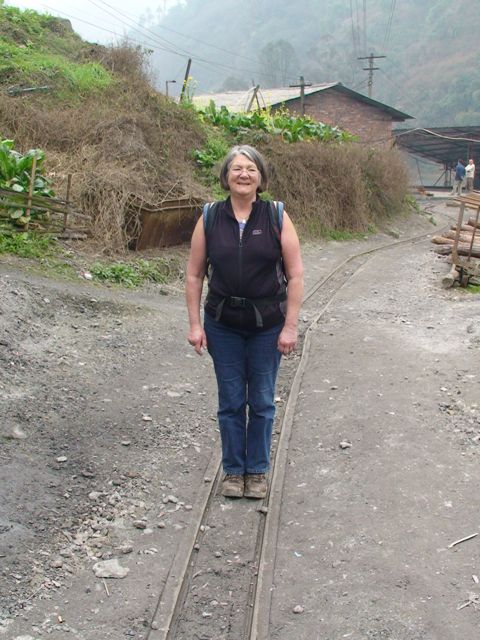 Stephanie demonstrating the narrowness of the 300 mm track used to move pit props to the mine.
We walked back to Bagou for a relax and our cafetierre of coffee. John went off to film the afternoon train.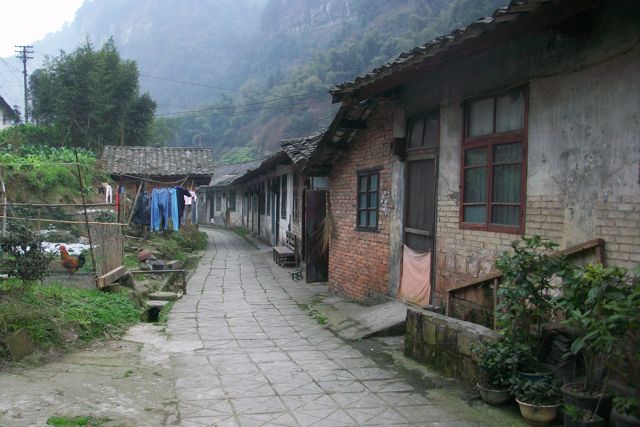 Determined not to miss dinner tonight we had to eat again at 5:45pm as the restaurant closes so early. This gave us ample time for perambulating with the masses after dinner. I saw croquet (gate ball) being played in the village square this afternoon, and this evening when we came back from photographing the 18:40 train, there was a Tai chi class going on. Another great day away from cars. The silence is quite amazing.
People here all have televisions, the young all have mobile phones and a few have computers and an internet connection, yet they don't have bathrooms in their houses (there are public loos everywhere), and the public bath is uses alternatively by men and women.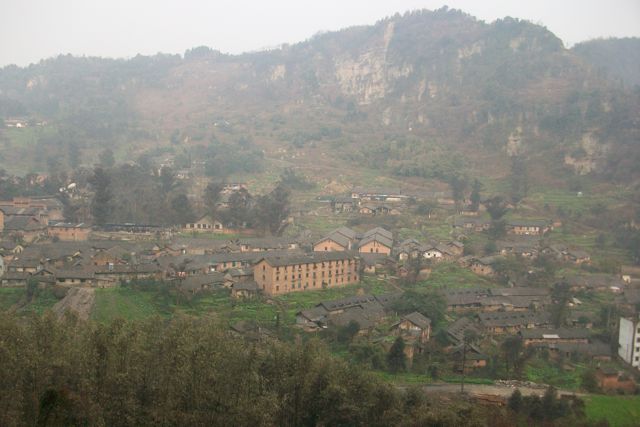 Looking from the south ridge to the north ridge where tomorrow's hike may take us.
Friday 25th February
A day of hiking, eating and local explorations. We branched out and included a Chinese breadstick with our buns for breakfast, but disappointingly we were too late for the savoury baodze, so had to settle for sweet! Total cost of breakfast was 4 RMB for two of us (40p).
We set off on the hike to the northern ridge above Bagou (Rob's Huangcun - Bagou Ridge Walk), starting by walking to Huangcunjin and climbing above the mine. Although officially they do not re-open for full production until Monday, they were bringing out coal and two wagons have been loaded ready to be taken down by the passenger train or the first coal train. We passed a Buddhist temple and Daoist earth gods Tu Di Gung.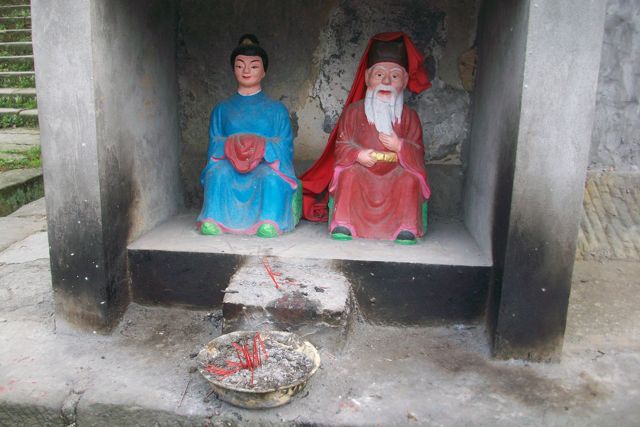 The hike climbed steeply to an upper village with intensive farming around the houses, including some imaginative wave planting patterns.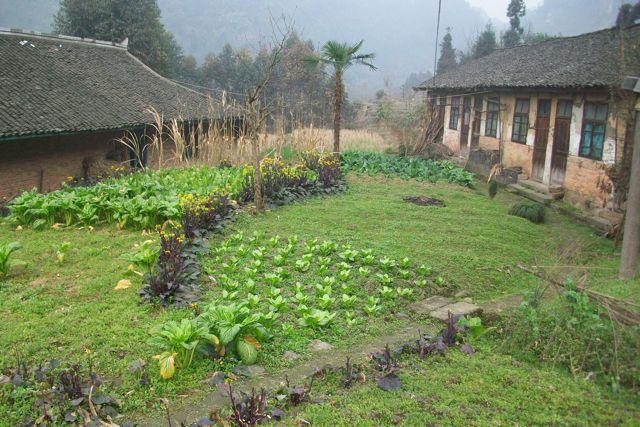 Again it is the leafy and mustard greens that are being harvested just now, and the turnips and turnip tops being hung out to dry everywhere. The climb to the ridge was quite steep, but then we walked along a gently descending truck road at the top with occasional views, and then descended steeply through bamboo groves to Jiaoba in the next valley.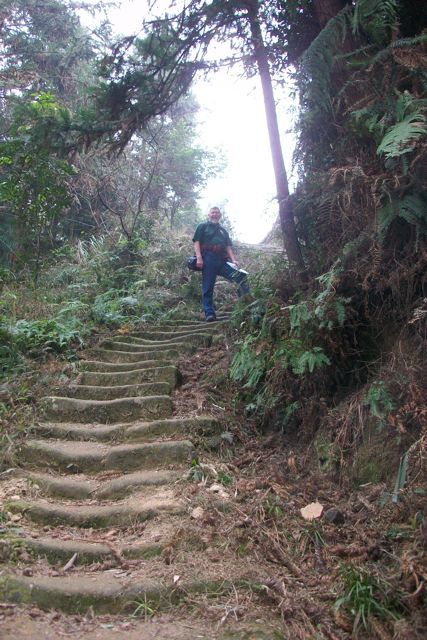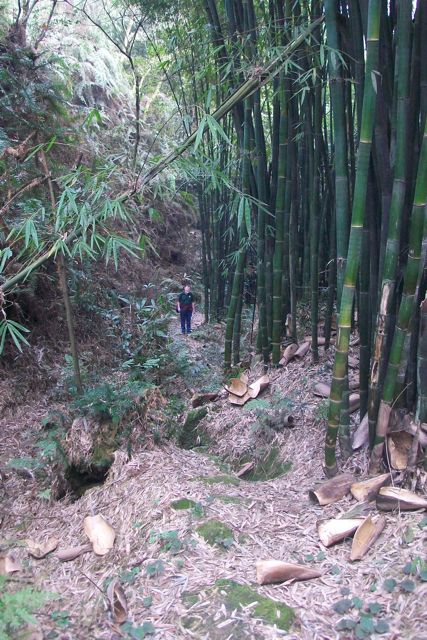 Halfway down we passed a spectacular farmhouse – very traditional apart from the two huge satellite dishes in front.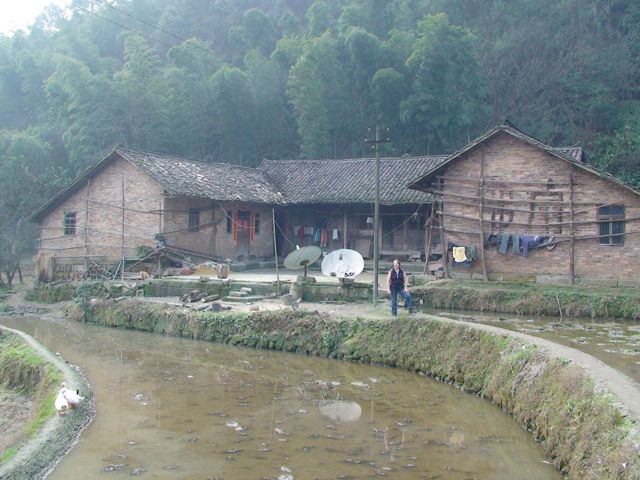 From here, we skirted a gorge with steep cliffs and descended to Jiaoba past more farmhouses. At one, some work had recently been done to create terraces for rice paddies and the main method of moving the soil and rock seemed to be bamboo sledges with bamboo runners, which had been moved along paths with branches set into them like sleepers to assist movement.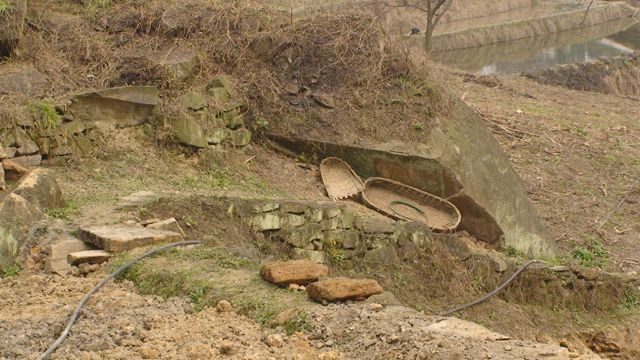 Back in Jiaoba, another ex-coalmining village along the railway, we explored the tiny stores and found some vegetable seeds and gardening gloves to buy. Then we headed back up the railway line through two tunnels to Bagou for lunch.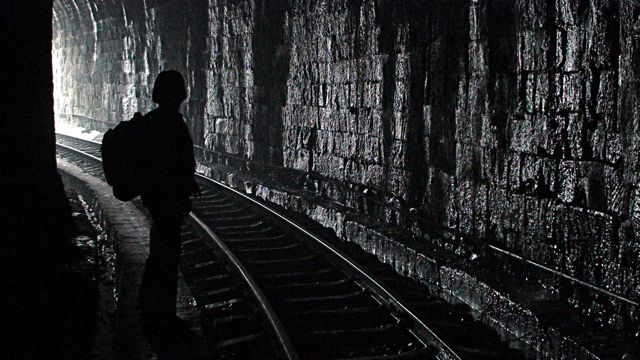 This was at our usual place, where they had special bamboo shoot and broad beans, so we had quite a feast, however just as we had finished I was curious as to what the chef was then doing, and rather than finding out I found I had ordered a special fried rice, made with two eggs – this definitely brought a smile to John's face, and we did our best .....
After an afternoon relaxing with books and bird identification, we set out late afternoon to explore the river area, and found a whole fascinating community who live either side of the river. Not only did we see a completely different way of life, we found at least four exotic birds.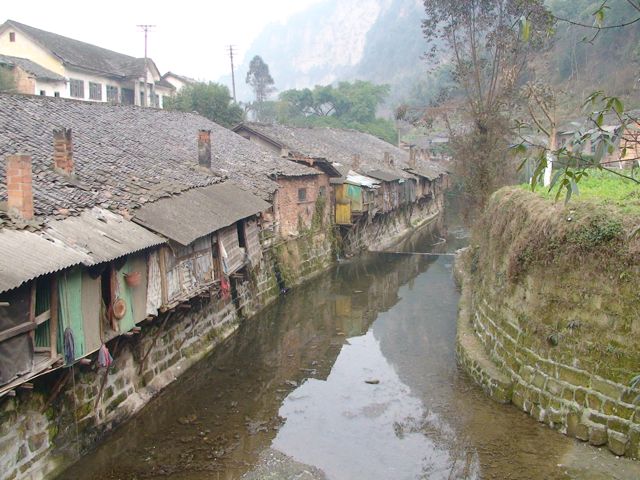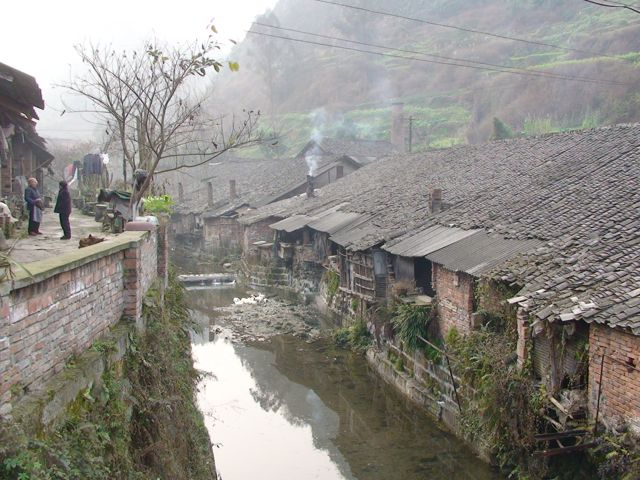 We found a carpenter, who was, with his wife's help making chairs, and as always, anyone we met was friendly and welcoming.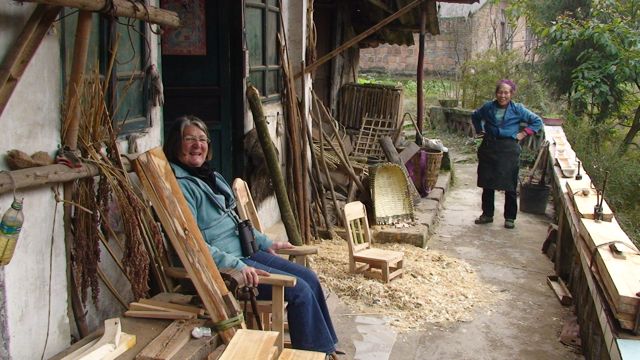 John spotted a good place to film the trains, so after our early supper - we managed just two dishes, chosen from the kitchen where we examined the herbs and spices - we headed back to film the 6:40 pm train. This is a location John wants to do again on a bright sunny morning.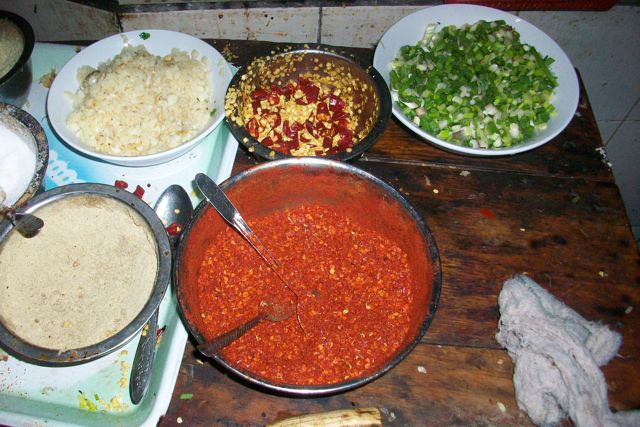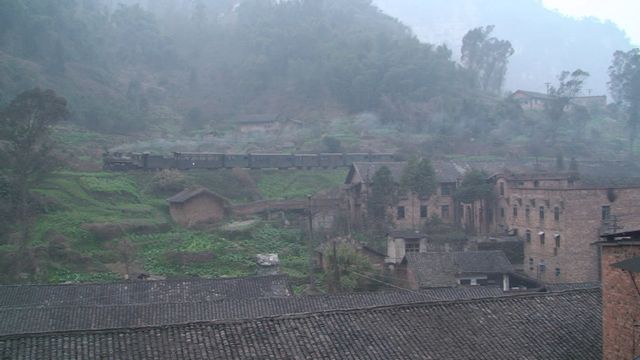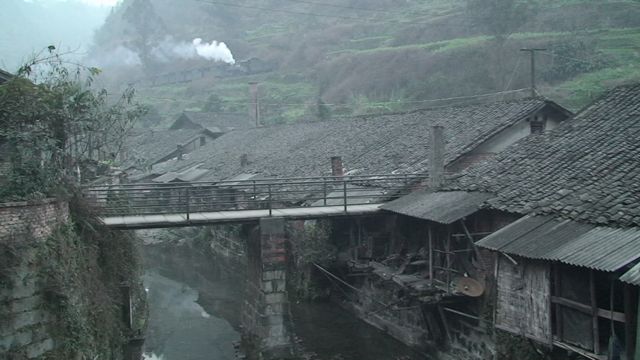 Tonight it is considerably warmer, so we can do with one layer less!
We joined the promenaders around the village, and watched another Tai-chi class in the square before returning to write the blog.
For the most recent entries starting 26 February - see the blog Part 2
------------------------------
Email comments to: