The North Borneo Railway/Keretapi Negeri Sabah
You can contact the railway on <nbr@po.jaring.my>
Update: The railway is currently closed for total refurbishment of the whole line. Date of re-opening unknown. (December 2009)
This is the current (June 2004) timetable:

Steam Train Itinerary:
09.35am- Passenger Checks in / Boarding
10.00am- Train departs Tanjung Aru Station
10.40am- Short excursion in Kinarut Town / Visit to Tien Shi Temple
11.00am- Train departs Kinarut Station
11.45am- Train arrives in Papar / Visit to local market & shophouses
12.05pm- Passengers re-board train
12.10pm- Train departs papar Station
12.30pm- Lunch served on board train
01.30pm- Train arrives Tanjung Aru Station

*Price- RM160.00 per Adult, RM130.00 per Child (Below 12 years),
Complimentary for child below 5 years old.
(the Price are NOT inclusive ground transfer)

North Borneo Railway only operates on Wednesday & Saturday.
This is an update and addition to the report on Rob Dickinson's International Working Steam page report filed as 'Steam in Borneo, January 2001'. See http://www.internationalsteam.co.uk/asiaeast.htm#Malaysia
I went there as an individual and I would second Rob's view that the only real way to do this is to go with a group, spend at least 3 days on the railway and take a steam mixed train up the Padas Gorge.
This update relates primarily to the regular steam tourist train run between Tanjung Aru and Papar and the regular diesel hauled trains on the Keretapi Negeri Sabah (Sabah State Railways).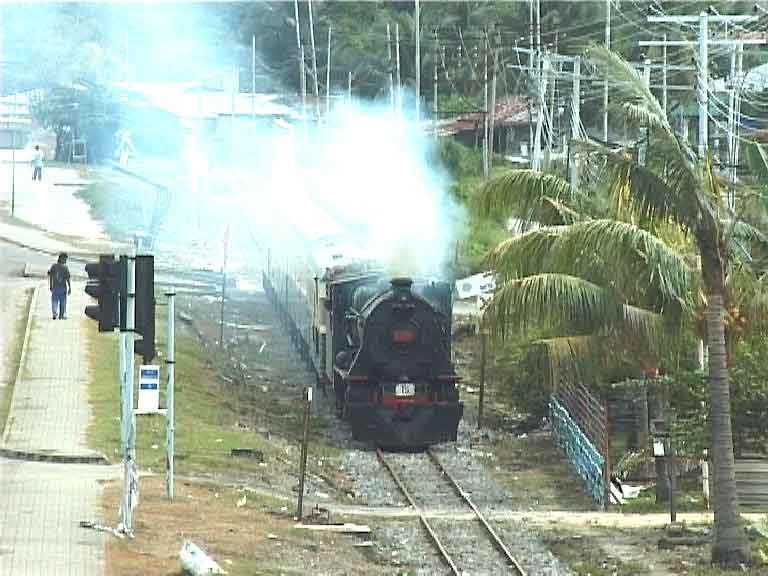 Running beside the main road out of Kota Kinabalu after the airport
For a map of the line, see http://www.internationalsteam.co.uk/asiaeast.htm#Malaysia For a guide to the phot spots between Tanjung Aru Papar and Kimanis Bay, see the bottom of this report.
For the timetable for the Sabah State Railways, see http://railway.sabah.gov.my/ and look for the 'jadual' If you are lucky, the link to jadual may also work to get you there directly. Updated 3 January 2015
The North Borneo Railway website is due for an update shortly and I have recommended that they have a page for steam enthusiasts where they include regular updates on progress with loco 016 and 014 and other news of interest. <http://www.northborneorailway.com.my/> The manager Siva is very helpful and can be contacted on nbr@po.jaring.my .
Two other reports on the Sabah State Railway exist at <http://www03.u-page.so-net.ne.jp/ka2/noz/sabah/esbh-idx.html>.
I stayed at Langkah Syabas Beach Resort at Kinarut which is well placed for the most scenic section of the Tanjung Aru Papar run. The Australian owner Peter and his driver Donny were both most helpful as I searched out phot spots on the line. <http://www.infosabah.com.my/syabas> or email lsr@po.jaring.my . I also stayed one night in Tenom at Hotel Perkasa Tenom high above the town.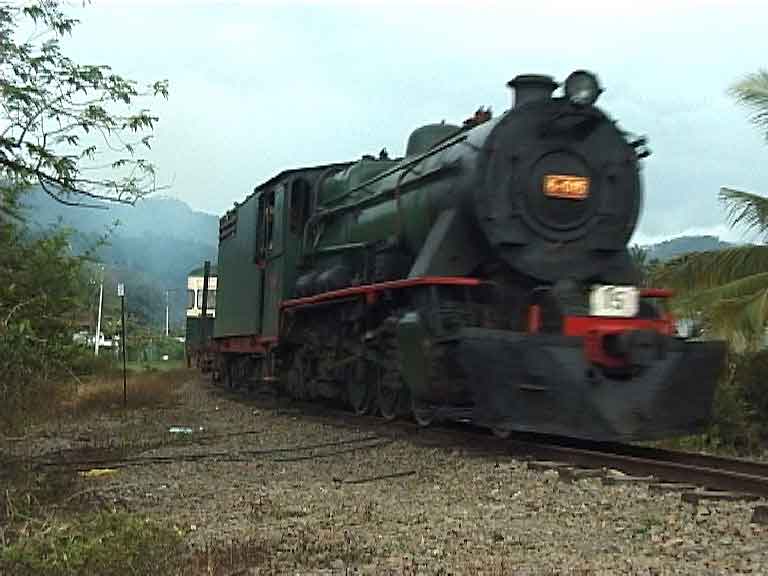 The first commercial run of the Kimanis Bay Sunset Train leaves Kawang
Saturday 10 February
Took the North Borneo Railway regular Sat/Wed 10 am train to Papar with tiffin lunch. My ticket was booked by email and Siva had ensured that I had a forward facing seat at the back of the second coach and no-one beside me or opposite across the table which meant that I could change seats for the return and face forward both ways. The loco performed well and loco and stock of 5 special renovated coaches look good. There was a brief stop at Kinarut (temple visit but good for posed shot of loco on train at country station) and on time arrival at Papar at 1145. The new turntable here is a modern engineering marvel being similar to a horizontal ferris wheel on rollers. Although incredibly slow, it does the job and the locos was turned and put on the front of the train for the return run which also ran to time (dep. 1210 arr. KK 1330). The loco did not take water at Papar. Watering facilities are available but taking water would clobber the schedule.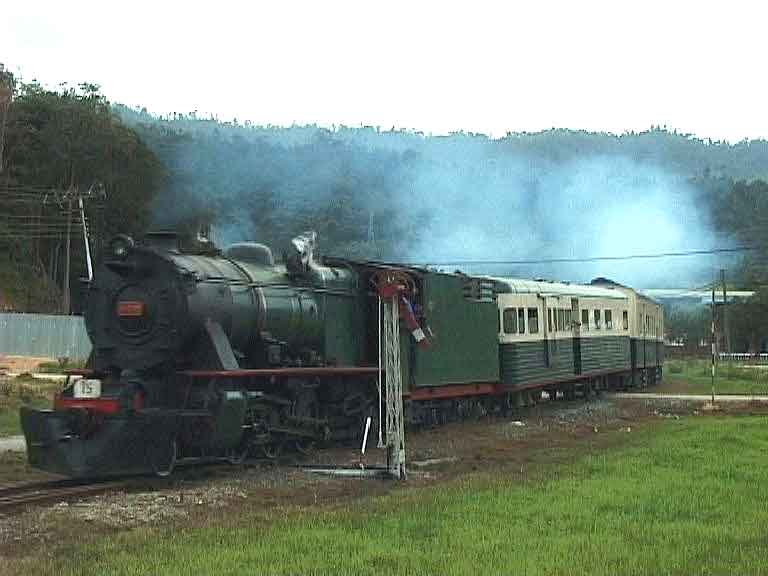 Approaching Kawang with the Papar morning train
Then after a chat with Siva the manager who promised the first sunset run to Kemanis Beach on Tuesday but was not sure if the Wednesday regular train had enough takers to run, I changed my plans quickly to allow for all eventualities.

Sunday 11 February
Boarded train PS105 (745 off Tg. Aru) at Kinarut. Langka Siyabas where I am staying on Kinarut beach arranged the 5 minute transfer. For the timetable see <http://web.kyoto-inet.or.jp/people/t-koto/sabah/timetable.html> The train was a two coach railcar service to Beaufort, and I was lucky to find a front facing seat at the front of the first coach and start an immediate conversation with two Brits from Kent and one Japanese from Osaka. The Japanese guy has left Osaka on Friday and was returning overnight Sunday. The guard Don was friendly and issued me a RM6.80 ($2) ticket to Tenom and spend most of the time chatting up two girls in headscarves traveling to Beaufort. The ride is enjoyable but after Papar and the beach at Kimanis the stretch to Beaufort begins to pall after a while. Speeds were 32kph (max) and stretches of 12kph and 24kph.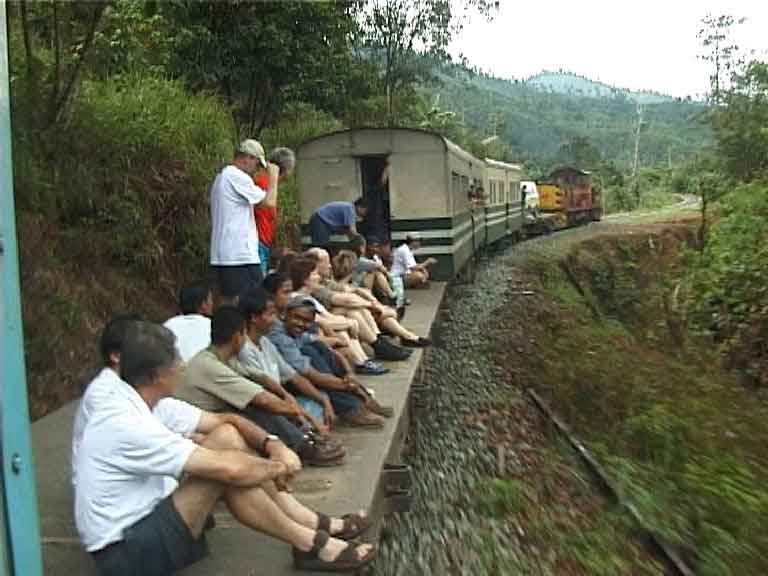 Heading up the gorge before Rayoh
We were about an hour late into Beaufort and arrived to find that the connecting service to Tenom had not yet arrived. It eventually came down the hill as a mixed which I hadn't expected on Sunday behind No. 6105 (Hitachi 1992). The train was remarshalled to include a minibus strapped to a flat car next to the engine, 2 standard coaches, an empty flat wagon which served as a way to convert from knuckle coupler to traditional British coupling with side chains. This was lashed together with a bit of string. I was in the mixed coach/guardsvan followed by another the same. We must have started out 1hr 30 late and lost another half hour to get to Tenom 2 hrs late at around 2pm. Arrival is scheduled for 1155.

The ride is great and the empty flat wagon provided extra space for locals and 4 Canadian rafters to stand and sit. Partway, I noticed the string had gone and that we were connected only by the side chains. I pointed this out to the train crew (only partly because I was on the section of the train that would have runaway down the hill if the chains had parted (fitted brakes not being part of the equipment) and they eventually found some wire to replace the string and one of the crew watched it for quite a lot of the way from there which allowed me to look out the window and enjoy the view. The views of people sitting on the flatwagon reminded me of shots I have seen from Alishan of similar.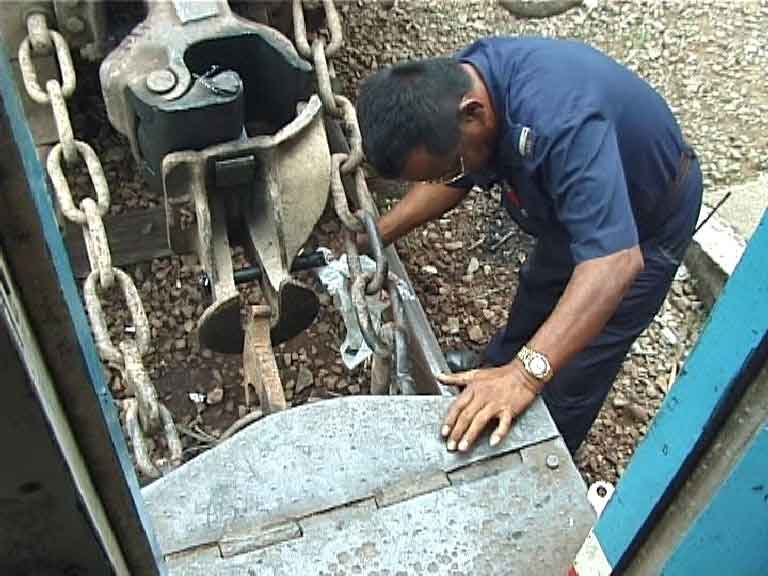 This is where the side chains come in handy. Lash-up comes adrift.
Two stations deep in the gorge Rayoh and Pangi looked like reasonable places to get off and Rayoh has accommodation that can be booked from Tanjung Aru station. At Pangi we passed PU507 with a very interesting wooden slatted wagon on the front full of fruit. Who will be the first to get this wagon included in a steam mixed train? The cross should have been at Tenom so this train was probably on time. The loco on this train was No. 6103, Hitachi 1980.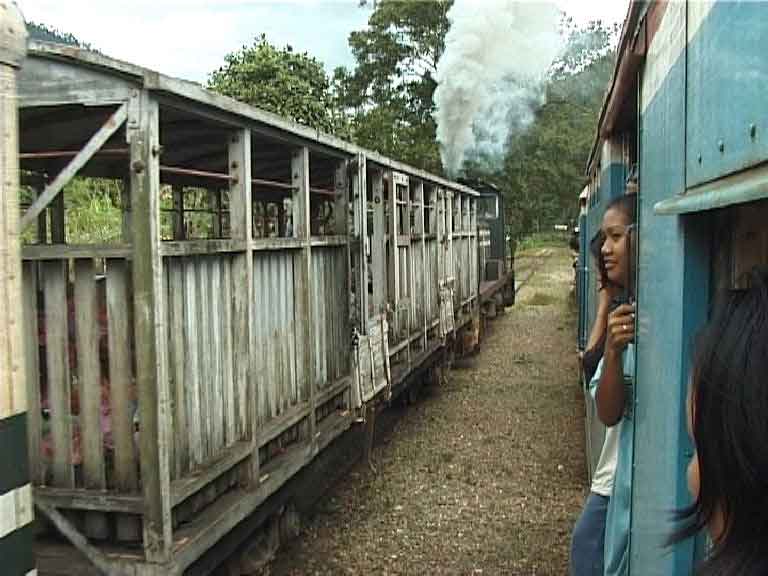 This will be the prized wagon for the next special mixed charter up the gorge.
The turning triangle at Rayoh has been reinstated/relaid and is now available for turning a steam loco partway up the gorge.

On arrival at Tenom the British couple had half an hour to look around before heading back and after grabbing a departure shot a short distance outside the station of No. 6105 on a 2 coach train PU508, I helped the Japanese chap start back to Kota Kinabalu by road in a minibus. I hope he made his plane. It will have been tight and he probably should have been on the 1430 to Beaufort and then bus from there.

I checked in to the Hotel Perkasa Tenom visible on the hill and a short RM5 taxi ride away (probably less if you bargain). You can walk it as I did later but it a steep puff uphill. Did a bit of birdwatching without seeing anything special apart from a greater racket-tailed drongo. There is a jungle path that starts above the hotel to the left of the sign that says Japanese Plane 1942 next to a collection of broken landing gear and other plane bits. The jungle trail rapidly becomes real jungle and it looks like they have left a jungle strip either side of the stream. Cicadas, amazing bugs, midges and rattan and trees with great buttress and plank routes. My Malaysian mosquito repellent totally failed to deter anything and I felt that I was lucky to get away without attracting 3 or 4 leeches. I didn't see any but I'd recommend long trousers tucked into your socks to guard against midges and leeches. Back at the hotel, looking at the photos, I think this path is where they have found some rafflesia flowers.

The hotel was quiet and I had an early dinner and then went out to the terrace to watch train PS106 due 1810 arrive around 1840. This was the three coach return of train PU508 which left at 1430 assuming that the train turned round at Beaufort as usual. It arrived with a dim light on the front of the engine and no carriage lights so the video moment didn't happen.

Monday, 12 February
Returned to Kinarut on the 0800 from Tenom. This was a diesel hauled passenger train with 6105 on the front again. I considered getting off at Rayoh and Beaufort and going the later mixed train but eventually decided that I would not achieve much at either as apart from a 2-3 hour wait for the next train which I would only be able to video in the station limits there would not be much else on offer. Before leaving the coast, I was not aware of the option of staying overnight at Rayoh and future independent travelers may want to consider this. (Bookings via the Tanjung Aru station office?) For anyone who has read Rails and Trails in British North Borneo, T C Hanson, Excalibur Press, London 1989 ISBN 1 872080 36 7 (also by same author 'A Railway Engineer in Brazil' and 'Mind the Snakes'), the attraction of doing a guided trek into the Crocker Mountains from there could be of interest.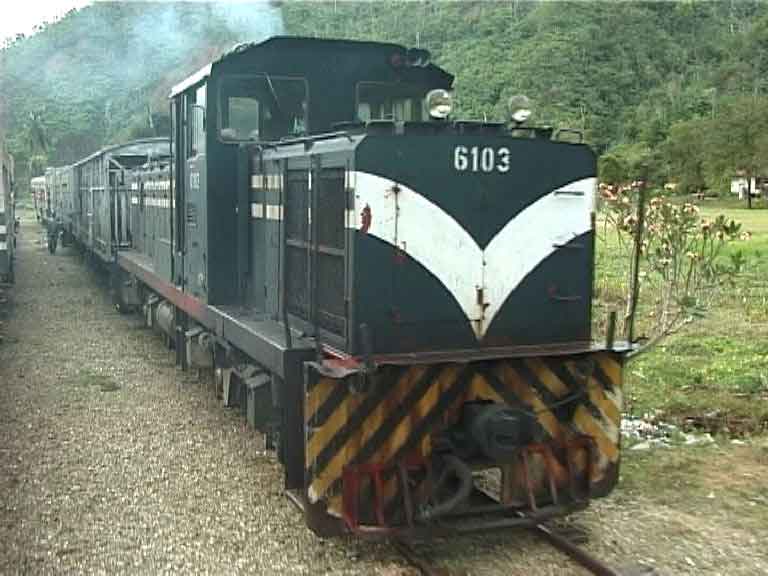 6103 was the other diesel working in the gorge on Sunday.
Tuesday, 13 February
Kimanis Bay sunset train
This was the first commercial run of this train which is timetabled to leave Tj. Aru 16:30, arrive Kimanis Bay 18:00 and depart 18:45 for the return. The train started off in cloudy conditions and got worse. It was raining off and on by sunset time and there was no sunset. Although the train runs at a better time of day for photography, darkness on the return run cuts down on photographic opportunities. One of the unknowns was how they would handle turning the engine, running the train backwards, etc. The turntable is at Papar. The next station Brongwan offers the chance to run round. They decided to run round at Papar and propel to Kinamis with a flat wagon on the front with a man and a lamp. The train didn't go to Brongwan and the loco probably turned at Papar on the way back. They probably chose the least attractive way to achieve this in terms of photography! This program was originally proposed for Sundays when train PU508 should be at Papar by 1729. On other days, train PU504 is due at Kimanis Bay which has no station and no passing loop around 17:55 so there is good potential for a cornfield meet with the special around 18:00 which is what happened on 13 Feb. Train PU504 had a visual sighting of the special which it was hopefully aware of and halted while the special punters sipped their champagne and went for a quick paddle. Then both trains continued to Papar. I assume PU504 went first from Papar while No. 15 turned on the turntable.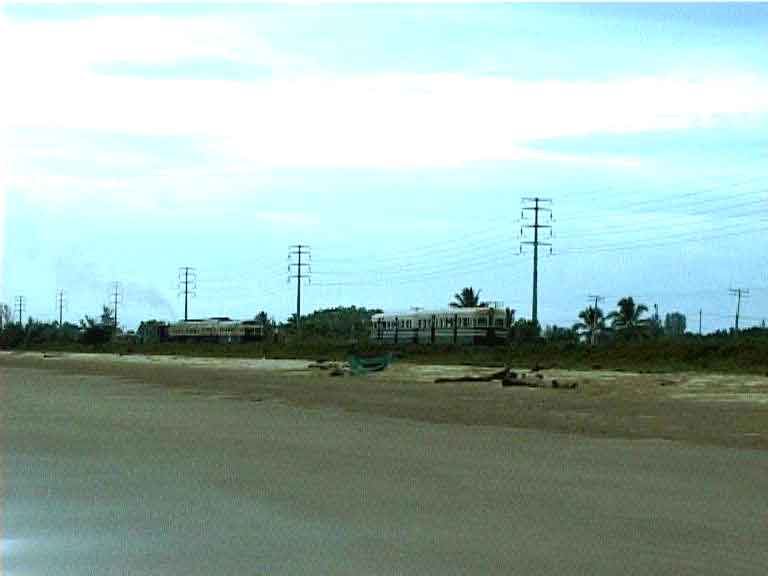 Beachside meet up on single track at Kimanis Bay
Wednesday, 14 Feb
Papar regular train. The weather started off sunny but turned to dark and overcast. Even video which is usually very tolerant did not like the conditions for the return run thereby ruining shots of the train and mosque at Kawang and the only bridge without superstructure between Putatan and the army camp.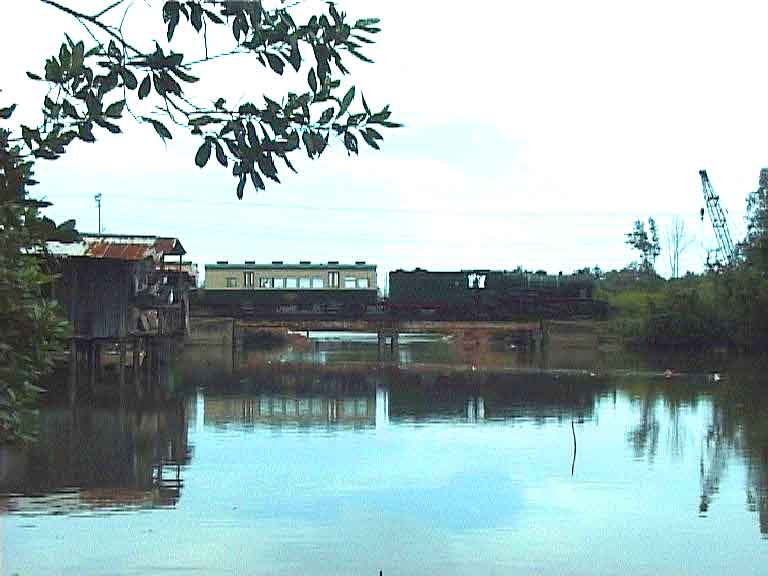 This would be the best bridge shot between Tg. Aru and Papar in reasonable light!
Saturday, 17 February
Both the 10 am Papar train and the 16:30 Kimanis Bay train were due to run on this day.
Extending my trip was not an option so I missed these runs. At the moment, trains are organized or confirmed only a few days before they run. This makes planning a trip to Sabah around steam runs very difficult. The best one can anticipate is that both the Saturday and Wednesday trains will run. Anything extra is a bonus.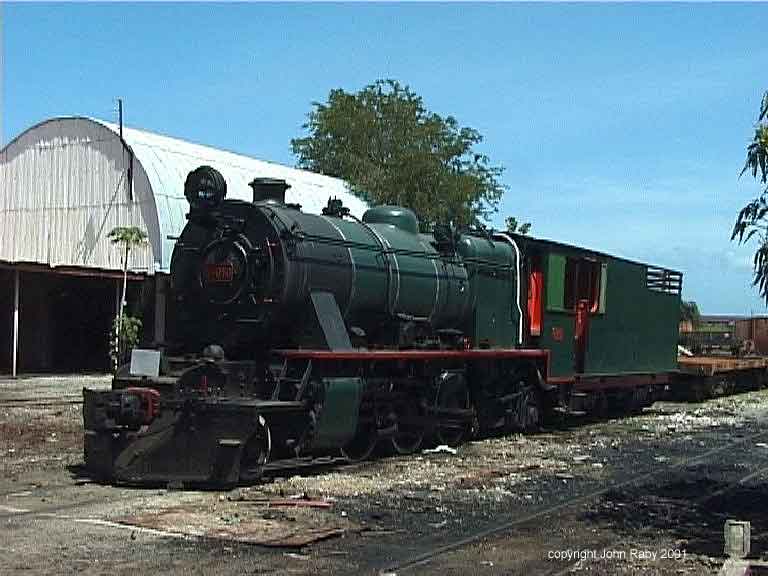 No.16
No. 16 was outside the works when I visited. The will to run the loco in before undertaking revenue-earning runs exists but this has not yet happened. A tender full of wood is a major expense these days and the intention is to restore No 14 as an oil burner. However 14 was used for spares for 15 and 16 and in addition there is no known experts on installing oil burners on steam locos in Sabah. This is clearly a long-term project.

Below you will find a rough sketch of the potential phot spots on the Tg. Aru Papar and Kimanis Bay stretch.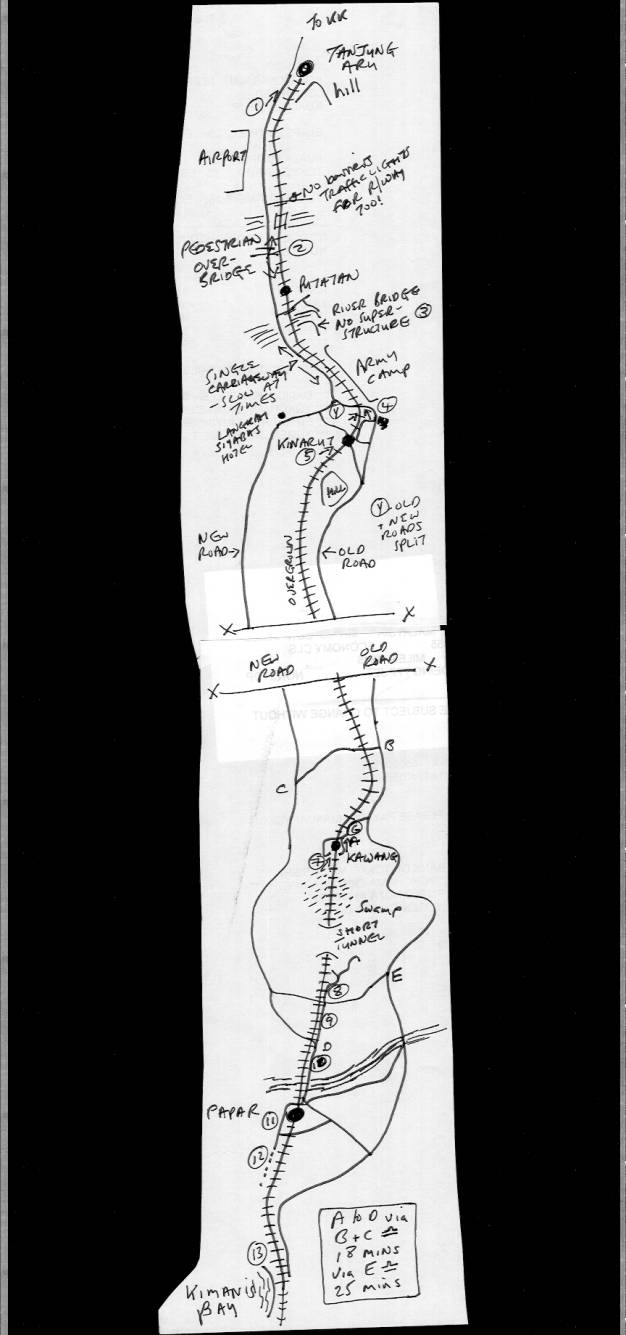 Return to my index page. Contact me at: