Burma/Myanmar February 1999
ŠJohn Raby, 1999
Update 5 January 2014 - there is now a DVD of my Burma steam loco footage.
OK, so Burma (or Myanmar as the military dictatorship would prefer) is not the most politically correct country to visit in 1999 and the few remaining steam locomotives amble along slowly with little smoke through flat, dusty and (mainly) uninspiring scenery. However, where else can you see colourful British metre-gauge Pacifics and 2-8-2s at work today? Add the friendly and very photogenic Burmese people, ox carts and the occasional white Buddhist stupa and you have some memorable scenes.
My driver/guide for this trip was Mr Naa Nu. He can be recommended for his knowledge of the Myanmar railways especially the steam operations and for his friendly, helpful manner. (fax +95 1 664451/email journeys@mynmar.com but make sure faxes or emails are marked for his attention.) (2004 Note: these contact details may not work any more.)
(tf=tender first, cf=chimney first, is=in steam, oou=out of use)
Note: 'up trains' are away from Yangon and 'down trains' are to Yangon. The logic of this is somewhat lost when referring to trains to Mahtaban and at variance with the British use of 'up to London' and the Japanese use of 'up to Tokyo.'
Insein Works 2/24
ST754 is repaired and is just about ready for use on special trains. It has an auxilary water tank wagon attached and they are still adjusting the oil burner as this ST is the first in Burma to use oil as a fuel. Previously STs used coal. All of the working YB, YC and YD were converted for oil firing about 20 years ago.
Total list of locos present
YB520, 529, 508, 533-repair,
YC621, 629-repair,
YD973, 970-rolled,
ST770, 774, 761, 754-runner,
GC837 preserved on elevated plinth.
SL 3 0-6-0ST preserved near works offices.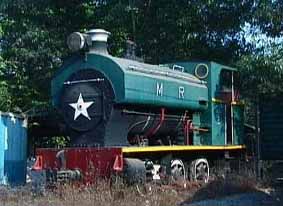 YB533 and YC629 are under active repair. Apart from these and ST754, it is not clear if any of the other locos will be repaired for further use.
Bago shed 20/2
YD969, 962 is, YC630 for Nyaungkhashe mixed off shed 10:30 dep 11:00ish. On shed YD967, 972, 974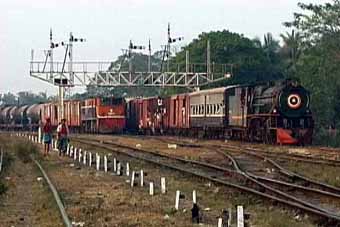 Bago shed 23/3
974 tf to Martaban, 962 tf,
972 cf, YC630 in yard tf
Bago shed 24/3
YD962, 974, 967, YC630, YB534 from Martaban in Bago awaiting minor repairs at Bago shed
Pyuntaza shed 21/3
D1032 Alco 70699 1943 USATC order 267 preserved, YC623, 624, 626 working order, 627 working, YB532 awaiting works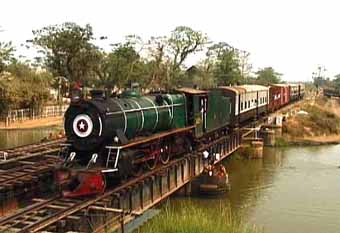 Martaban (reported)
YC622, (YB533 at Insein for repair, YB534 in Bago awaiting minor repairs at Bago shed)
Pyinmana (reported)
YD964 west (chimney first on empties), YD961 north YB536 south (chimney first on loads)
Toungu (reported)
No steam locomotives being used for sugar cane traffic this year.
Waw 2:00 22/3
YD967 tf due on Nyaungkhashe mixed
YC630 tf due Bago to Theinzayat/Mokpalin
Theinzayat 23/2 9:51
Paper Factory; salt comes in behind steam from Moktama, limestone from near Thaton by diesel, also has stone loading point branching off from station. Steep 1 in 30 climb to the factory can only be climbed by the diesel with 4 wagons. Steam not used on branch to the factory but stone line is flatter.
Mokpalin shed 23/2
YC630 in yard cf to Bago
plinth ST778, dumped ST768
OOU YC625, YD446, YB516, 543
YD is old series with copper boiler last used in 1981
Old line from Nyaungkhashe, the formation is visible forking south to the west of the station (reported by staff)
Nyaungkhashe mixed 23/2
Decided to do the mixed train as YC630's departure on the stone train to Bago looked more like a nightime event. It finally arrived Bago around 1 am 24/2, I could hear it from the hotel as the power was off and I was lying awake sweating! It worked the stone onward to the stone crusher at the station (name?) on the mainline north at the road junction for Waw on the road to Mandalay and Pyuntaza and returned plus crew van only around 6:20 am.
YD974 cf on Nyaungkhashe -Bago mixed running to time as down (to Yangon) express 90 running 1.5 hrs late. 5pm-Good light and a reasonable end to an uninspiring day. YC630 had still not left Mokpalin to collect its stone train. My birthday.
Stone train 24/2 Theinzayat
I finally got my chimney-first stone train on my day of departure. Photted from Theinzayat to Waw in good light. Chimney-first daytime stone trains are almost as difficult to find as the every five day or so salt train from Mattaban to Theinzayat. If you find either, ignore the passenger trains and stick with it.
Mohnyin (reported)
ST762
Kawlin (reported)
St753, 759, 772
Thazi (reported)
ST769, GC?, small loco
Moulmein (reported)
YB548 , YD 966-scrapped?
Railway Headquarters (reported)
3 locos incl. ST764
Total locos on book 39 down from 40 30/11/98
Government Rice Mills
All (or most) government rice mills have boilers and stationary steam engines and there must be thousands of these working in Burma today. Madauk has one, Waw at least 2, Pyuntaza at least one. If you visit Burma to see working steam, drop into any rice mill and have a look to see what they've got.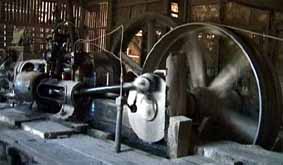 Bago: places to drink
Three Five Hotel (555) actually a beer hall and restaurant. A good place for cold Mandalay beer by the glass or the jar (pitcher) If you are brave enough, try the 'gort fighting ball' (goat's testicles)
Bago: places to stay
Myananda Hotel (opposite Three Five Hotel) Room 9A is good with quiet, efficient ac but the Bago electricity supply is diabolical and you don't get ac when the hotel generator is on. At these times the hotel is hot and noisy.
Nyaunglebin: places to stay and eat
Sann Hti hotel now has a new rival opposite (open 21/3/99). This new building has lots of rooms but none with a bathroom en suite. The garden of the Rose Garden restaurant (Chinese food) serves jugs (jars) of beer and OK food. It is located about 200 metres from the hotels back along the Bago road.
Maymyo
This pleasant former British hillstation has no steam but is at the top of the climb from Mandalay on the way to Lashio. DD505 (Hitachi 1965) was parked at Mandalay end of yard. I wasn't aware that they was a shed here until I was leaving. A local map clearly shows a shed at the end of a Y heading northwards to the west of the station. Kalay is a similar pleasant hillstation on the way from Thazi Junction to the east.
Passenger trains are at 8:30 (to Lashio) and 3:45 (from Lashio)
By request, the Out Takes page!
If you would like to read my further thoughts on Burma, you first have to solve this puzzler.
'This author once lived in Burma and later became famous for his on-the-button and timeless writings critical of totalitarian regimes such as 1984 and Animal Farm. What was his name?'
Insert his surname (all lower case) in place of the xxxxxx's in the following URL and go there in your browsers. You will have to insert the URL manually.
http://homepage.ntlworld.com/john.raby1/xxxxxx.html
Email me at