Steamy Java 2010 Overview
Data on actual number of locos seen and Steamy Java 2010 DVD link added 28 August 2010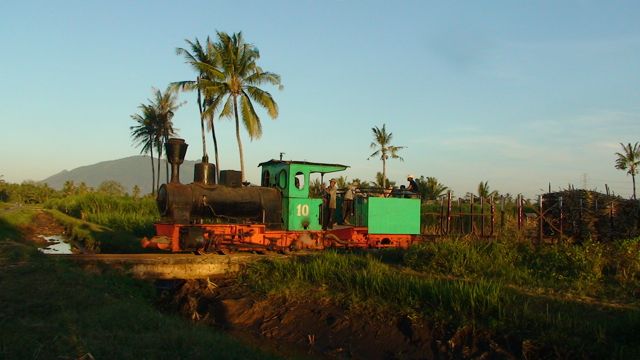 Our tour and post tour July - August 2010 just concluded found real working steam at:
Pangkah, Sumberharjo, Sragi (in West Java), Tasik Madu (in Central Java) and Purwodadi, Kanigoro, Merican, Semboro (fireless) and Olean mills (in East Java).
In addition, a number of mills have steam in reserve that can be requested to substitute for diesel. Providing funding to buy the wood is often all that is required for this to happen. The following mills have this potential with those starred actually providing this for the tour or post tour
Jatibarang, Sudhono*, Rejosari*, Semboro*, Olean*, Asembagus*
(Olean had one loco in steam for the yard shunt and another steamed specially for a field train)
Various mills have interesting diesel operations - Rejoagung, Kedawung, Gending, Wringinanom, Panji and Asembagus
One mill in West Java - Tersana Baru - has ripped up all its railway and put down a concrete surface for use by road truck, gantry cane and Chinese front end loaders. If this experiment works (and it is able to stockpile cane and let the road trucks work more efficiently), it could be bad news for all rail operations at all mills in Java. While we can hope that the Chinese machines aren't up to the job, the only bright point is that other mills owned by the same company (PT PG Rajawali II) have no remaining steam interest. The problem will be if this idea spreads to other mill operating companies.
John Browning reports, "37 steam locomotives were seen in operation; 33 at sugar mills. Another three sugar mill locos were seen in steam but did not move.
We also saw 96 diesel locomotives that I identified as operational at sugar mills; nearly all of them were seen working.
I hasten to add that some of the diesels were not seen by me as I have Ray Gardiner's record of mills that I didn't visit."
The Industrial Railway Society (IRS) will publish a full report on the trip in a future edition of their Overseas Bulletin later in 2010. Details of this publication will appear here when available. Full details of IRS publications and other benefits of membership can be found at www.irsociety.co.uk
See my blog for more details of these operations.
My Steamy Java 2010 DVD is now available.
John Raby, 9 August 2010