Steam in the Snow
JR Hokkaido: Kushiro - Kawayu Onsen
January 13-14, 2002
Update: October 2004
Footage from this line appears on the DVD 'Japanese Preserved Steam'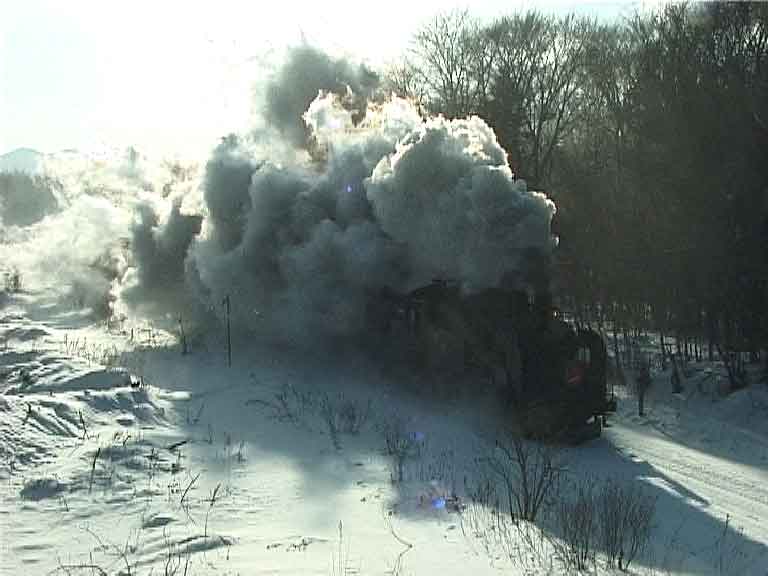 Where can you see steam locos in the snow these days? China. German narrow gauge. Special trains in the former Soviet Union. And Hokkaido, Japan. Most public and preserved railways bring out their steam locos in the summer so finding a public railway running steam in what are guaranteed to be testing conditions is rare. JR Hokkaido now has a tradition of running single and double headed C11 2-6-4 tank engines in almost guaranteed snow from Kushiro. Thanks to an invitation from Mr Tsuzuki and his friends Yamashita and Yanno, I got to see this operation over the 'Coming of Age Day' long weekend 13-14 January 2002.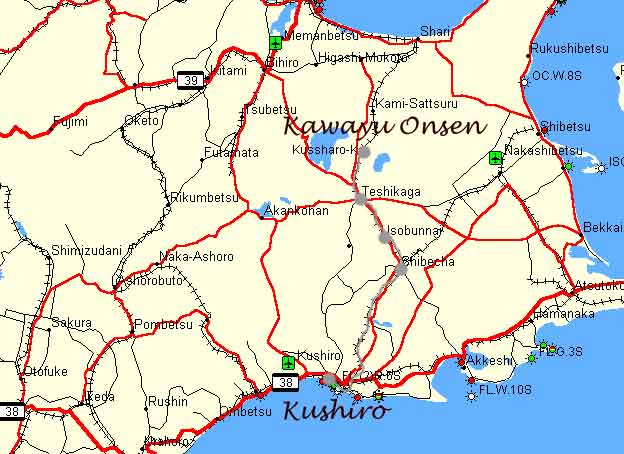 The details are to be found (in Japanese) at http://www.jrhokkaido.co.jp Good luck finding the relevant frame. (On the left column, click on the 3rd box down and select the 3rd item in this window (actually the 4th item as the first is the title.) This brings up a map of Hokkaido. Click on the South East section and you should be able to find the Steam Loco (SL) icon from there.) Here is a brief summary:
Single C11 operations occur on Sat, Sun and Nat Hols from Jan 5 - 27, 2002. The train runs from Kushiro 11:00 to Mashu 12:28, with a return departing 13:48 and arriving back at 15:19. The exception is that on Jan 12, 13, 14, 19, 20, 26, 27 the single C11 operation is replaced by a double-headed C11 train departing Kushiro 11:00 and terminating at Kawayu Onsen at 14:15 returning at 15:15 and arriving back at Kushiro at 17:54. The double-headed operation gives a good chance for night pictures at Isobunmai or Shibecha stations.
Historical note: In steam days, this line was worked by single and double-headed C58 tender locos. The inspiration for the double-heade C11 operation is probably a famous double-headed C58 mixed train that use to run on this line. Currently, the only working C58 runs on the 'Paleo Express' on the Chichibu line north of Tokyo.
Was it worth it? Take a look at these digital still from the video I shot:
Return to my index page http://www2.gol.com/users/jraby/index.html
Need more details about how you can see Steam in the Snow in Hokkaido in 2005? Email me at


and I'll try to help.