Linesiding with John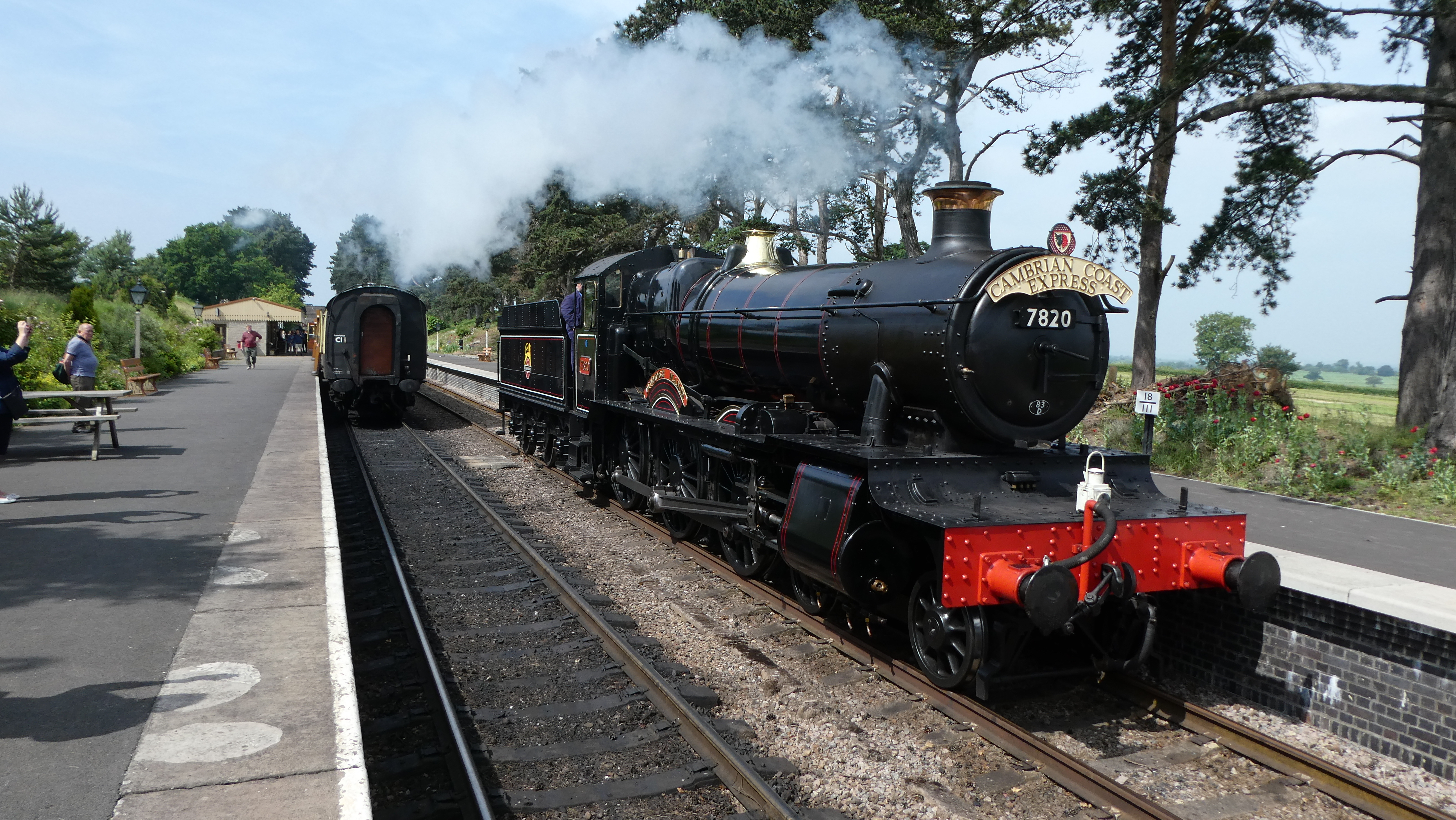 This is the latest version of my Index page dated beginning of July 2018. I plan to update this monthly around the beginning of the month. Below, you will find a version of my latest email update which goes out to those on my mailing list. Email me if you would like to receive this monthly email. My previous Index page has been renamed Recent Reports and has links to tours and visits in the last few years primarily to China, Bosnia and Indonesia. That page will be adapted to its new role. In setting up my new index page, I note that most of the other linked pages also require a tidy up. I'll see what I can do about that before next month!

Bosnia Tour October 2018 - only 1 place left & Final Call
Winter Sandaoling Tour December 2018 - dates confirmed
March-April 2019 China NG II Tour - tour overview
Summer 2019 Sumatra - Java Tour - initial ideas
Statfold Barn June Event Videos - now available on YouTube
Just For Fun - A souvenir you can make for your house/garden
Tours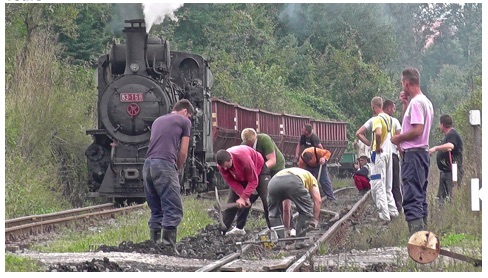 Bosnia
8 - 14 October
Real & Charter Steam Tour
Real & Charter Steam on the Standard and Narrow Gauge at Banovici and Kreka Mining, Tuzla with traditional Yugoslavian narrow gauge locos and German kriegsloks in action. Only one place remaining. Grab it quick as I need to close booking at the end of July so we can apply for specific permissions for the named tour members. The tour itinerary and tour details can be viewed at http://rabylee.uk/BosniaOct2018.pdf but note that there have been a few changes. With only one space left, it's more cost effective if I tell you about the changes by email rather than changing the tour webpage so email me to let me know you are interested and I'll explain the latest plans for this tour. Please note this could be my last Bosnia tour.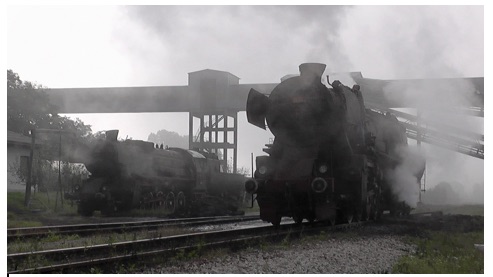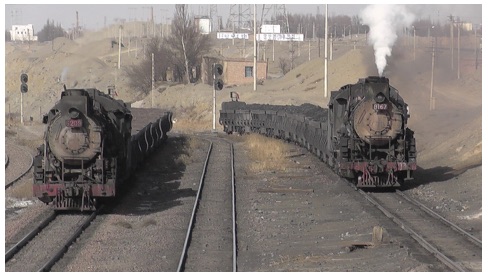 China
Sandaoling in Winter Tour
8 - 17 December - Beijing - Sandaoling - Beijing, flying Beijing - Hami - Beijing. Back home for Christmas.

December trip to Sandaoling when it's cold and when few local photographers and other steam fans are expected. With short days, we expect night shots to be a feature of the tour. We can also expect snow on the mountains and great steam effects with daytime temperatures mainly below freezing. Last season, Jun established himself at Sandaoling for several months so there could be some flexibility with dates if you want to go earlier or later or stay longer.

You can read about the January 2018 visit to Sandaoling here: http://rabylee.uk/sandsnow.html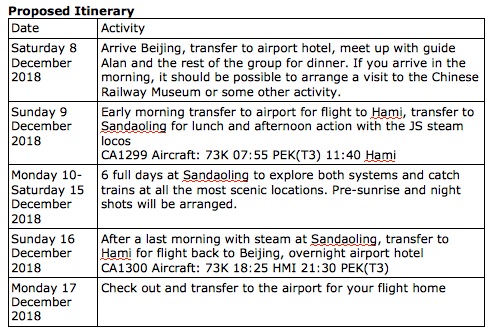 Price guide: Yuan 14,000 for arrangements 8 - 17 December except flights to/from Hami (booked for you but at additional cost). Arrangements include land transport, 3 meals a day including beer with meals, single en-suite hotel rooms, service of national and local guides and drivers, all permissions.

The following (unescorted) options may be possible: arrive earlier or later, depart earlier or later, meet up in Sandaoling or Hami

Let me know if you are interested.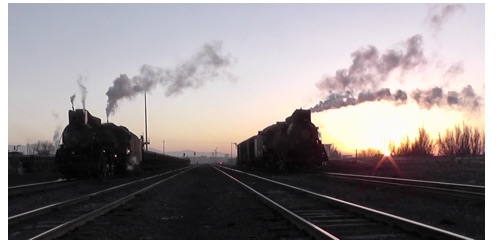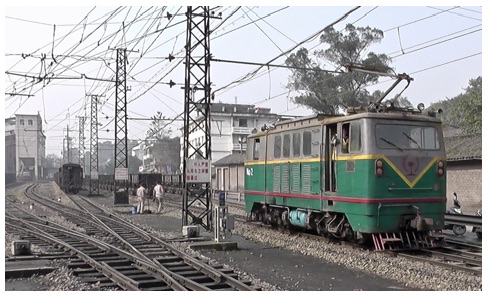 China Narrow Gauge II
24 March - 14 April (provisionally) - back home for Easter
The concept for my second China narrow gauge tour is that we start from Chengdu, China (direct flights from Amsterdam and easily accessible via other Chinese cities) and travel across the country east to Nanjing stopping at narrow gauge lines along the way. The route from Guangyuan (the city close to Rongshan, 4 hours north of Chengdu) to Chongqing has around 10 narrow gauge coal mine lines. There will be time to find out what if anything has happened at Rongshan. There are 3 more lines close to Chongqing including the long 762mm electric line centred on Honglu. We will then move on by train to Hunan province where there are a further 11 narrow gauge lines (and possibly a chance to find out what happened to the Chenjia Narrow Gauge line - the last to use C4 locos) before taking another train to Zhengzhou in Henan with a visit planned to the Yujian narrow gauge steam and diesel tourist line currently under construction. We expect to have one or more charters here. The final hop by train is to Nanjing. There are 2 narrow gauge lines close by as well as a standard gauge industrial electric line and Maanshan which is only 90 minutes away in Anhui province. On completion of the tour, travel to Beijing or Shanghai for flights home.

The details are still being worked on. Jun has made contact with an experienced guide in Sichuan but plans to make a personal visit to Hunan to explore what is possible there. Jun is already in discussion with the Yujian Railway about possible charters. Let me know if you are interested in this tour and you can be involved in the tour planning as it evolves. To see the wealth of narrow gauge available, please see http://www.kii762mm.com/modules/pico/index.php?cat_id=251

You can read about the China Narrow Gauge I tour here: http://rabylee.uk/chinangtour2018.html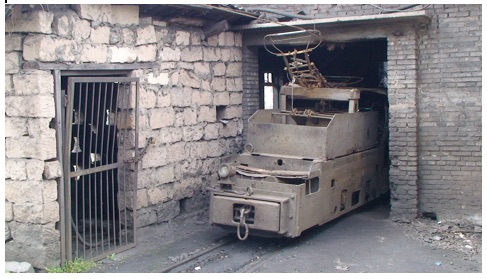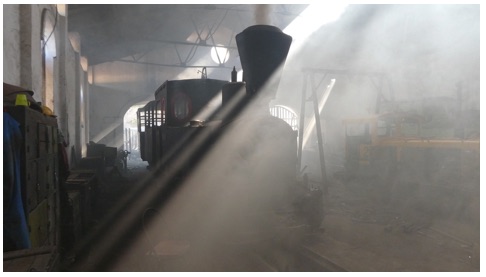 Indonesia
Sumatra and Java narrow gauge lines sometime in the period June - August 2019 - I'm looking at 10 days in Sumatra and 10 days in East Java - that should cover palm oil, rubber, gold and sugar cane lines. The East Java section will again focus on mills with diesel field lines, mills with real working steam and the the best mills for internal stationary steam engines. Steam charters are getting increasingly unreliable and may now be poor value for money and no longer satisfying. However, the steam charters at Kedawung are new and it's worth trying to get steam out into the fields there. Those signing up for the East Java portion of the tour will be asked whether they would like to also attempt charters at Olean and Semboro and a majority decision will be taken on these.

You can read about the 2017 trip here: http://rabylee.uk/java2017tourblogs.html

See also what Aditya our guide to Sumatra has to say: http://www.javanarrowgaugerailways.com/p/sumatras-last-industrial-narrow-gauge.html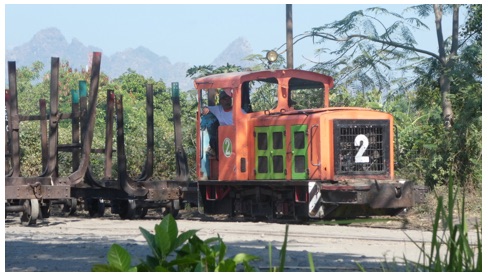 This month's videos
I have a large number of videos on YouTube but I now use this site primarily to make my videos available to a selected audience (those who read this update or who look at my website). You can se all of my videos here: https://www.youtube.com/user/trundlebahn/videos?disable_polymer=1

I try to add new videos each month and this month they are of Statfold Barn on the occasion of its June 2018 Open Day. If you've been to Statfold Barn, you'll know what to expect. If you haven't be prepared to be amazed by the quantity and variety of narrow gauge steam in use at this private location. If you only have time to look at one, I can especially recommend the views from the front balcony of the parallel running!



Statfold Barn June 2018 Event


1. Linesiding
https://youtu.be/2mak3CmeE-0
2. Train & Tram Ride
https://youtu.be/t20ZnW38x0U
3. From the Front Balcony
https://youtu.be/zl3waJvJ9uc
These 3 videos are also embedded below this update for you to watch on this page.

Just for fun
If you are one of the many who visited China and didn't come away with a souvenir more interesting than a railway spike, how about making your own Chinese railway souvenirs? All of us will have noted and probably photographed the rustic railway crossing signs on industrial and narrow gauge lines. Those photos can easily be the basis for your own Chinese crossing signs. Here are my attempts at copies. The originals appear below my versions.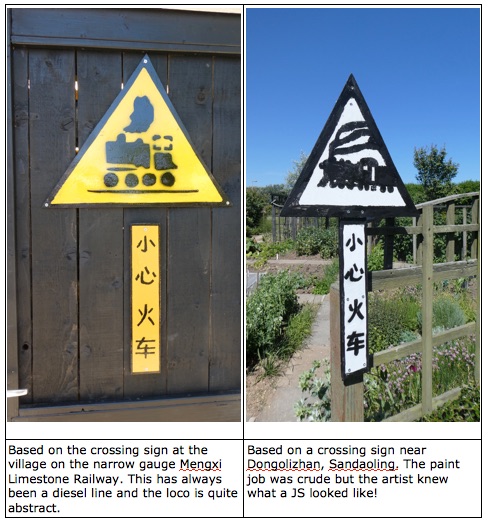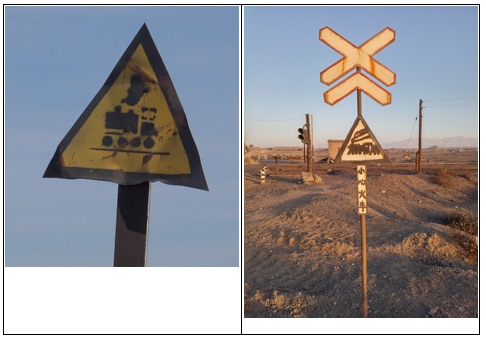 That's all for this month.



John Raby




29 June 2018