Linesiding with John
Tours & Videos
October 2018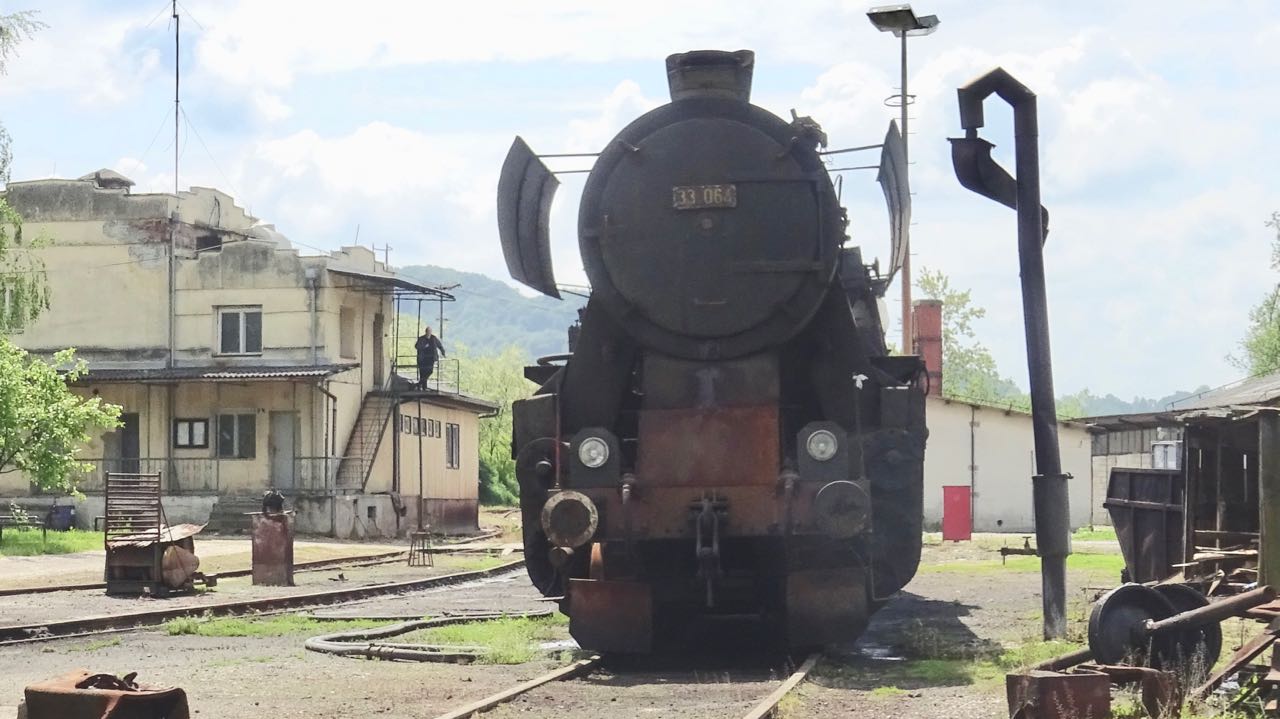 This is the latest version of my Index page dated October 2018. I plan to update this monthly around the beginning of the month. Below, you will find a version of my latest email update which goes out to those on my mailing list. Email me if you would like to receive this monthly email. My previous Index page has been renamed Recent Reports and has links to tours and visits in the last few years primarily to China, Bosnia and Indonesia. That page will be adapted to its new role.

Comment
This October Update will have fewer new items as I am preparing to head off for a Bosnia trip starting on 8 October in Sarajevo. It will also be less definite on future tours and, in fact, inviting you to have an input into how they evolve (or perhaps don't evolve).
I have no takers for Sandaoling in December and no-one has contacted me to say that January or February would be better for them. Jun does have one potential participant for the tour dates 8-17 December and has said that if anyone else is interested a small group tour for 2-4 people can be arranged. I imagine this would involve guiding by Alan who would take you from and to Beijing by plane via Hami airport. There is no deadline for signing up but as this is just 2 months away, I recommend you decide soon if you like this idea. Jun should also be able to assist people who want to go in January and February but I will not be pursuing this.
My thoughts are turning to March-April 2019. I will be on an NGRS members tour to see some Malaysian oil palm plantation railways from 12-15 March. This short visit comes around 10 days before the start of my proposed China Narrow Gauge 2 tour and I'm unlikely to return to the UK between these 2 events and I've been wondering what to do with the 10 days in between. My initial plan to offer those on the NGRS tour (and others) a visit to some Sumatran oil palm and coconut planation lines east of Medan has come to nought as Aditya the Indonesian enthusiast and guide I know who has visited them and might have been willing to guide another visit has taken up a Masters course at Newcastle University UK. With him not available, I think I have to drop this idea.
My thoughts have turned to flying to China from KL directly after the Malaysian visit. I see 3 distinct choices:
Choice 1
. Fly to Beijing for a visit to Sandaoling. (15 March overnight to Beijing, 16 March arrive Beijing, 17 March fly to Hami and drive to Sandaoling, 7 full days at Sandaoling 18-24 March, fly Hami - Chengdu 25 March depart 10:30 arrive 13:20 for the start of the China Narrow Gauge 2 tour (Hami - Chengdu flights are currently Monday, Wednesday, Friday). Anyone joining for Sandaoling-only could return to Beijing to return home. Longer days and warmer weather at Sandaoling should give a pleasant visit where waiting for a train is less of a chore than it would be if it were colder (or hotter).
Choice 2.
Fly to Chengdu for a visit to Shibanxi which would probably include a stay at Bagou, a visit to see both sides of the Sanjin coal mine and a return visit to Water Heart Village (a former bandit stronghold with 5 gates on top of a plateau) where I would hope to arrange for a family to cook us local food for lunch. We could also have another drive around to see what coal mines exist in the arc from Sanjin to Huangdan and Mamiao (see http://rabylee.uk/nigel.html). The downside to this is that Shibanxi has one (possibly more now) steam-outline diesels which tend to appear on the head of chimney-first, uphill trains just when you don't want them to between Mifeng and Xianrenjiao. Although 'real' steam is still used, some people might think the pretender is the final straw following the end of steam coal trains, the end of electric-hauled coal trains and the increasing tourist traffic with only 2 early and late local passenger trains during the tourist seasons.
Choice 3.
On 15 March fly from KL to Chengdu and start the China Narrow Gauge 2 tour early on 16 March. At the end of the narrow gauge tour on around 5 April in Beijing, finish the tour with a 7 day visit to Sandaoling.
I invite your help in deciding which of these options to adopt. Right now, expressions of interest are all coming in for Choice 3 so it's likely that I will discuss this option with Jun and work this up to a full tour proposal.
The lines which we are considering for a visit are on Keiichi Kii's pages
http://www.kii762mm.com/modules/pico/index.php?cat_id=251
under Sichuan (19), Chongqing (4), Hunan (11), Henan (Yujian only) and Jiangsu (2)
Bosnia Tour October 2018 - Tour Starts 8 October
Winter Sandaoling Tour December 2018 - Would January or February work better?
March-April 2019 China NG II Tour - Now including a Sandaoling option?
Summer 2019 Sumatra - Java Tour - Updated Ideas
Night Train at Statfold Barn September 2018
Just for Fun 4
Archive
Jurassic on Regular Passenger Trains on the Lincolnshire Coast Light Railway
Just For Fun 3 - Railway Novels
Statfold Barn June Event Videos - now available on YouTube
Just For Fun 1 - A souvenir you can make for your house/garden
Tracks to the Trenches 3 - Footage from the Saturday available on YouTube
Just For Fun 2 - A souvenir you can make for your house/garden
Tours
Bosnia
This fully-booked tour runs 8 - 14 October with an extension to Mostar (for general railway and non-railway explorations). A report of this tour in the form of daily updates (internet access permitting) will be here http://www.rabylee.uk/bosnia2018.html starting early in the tour.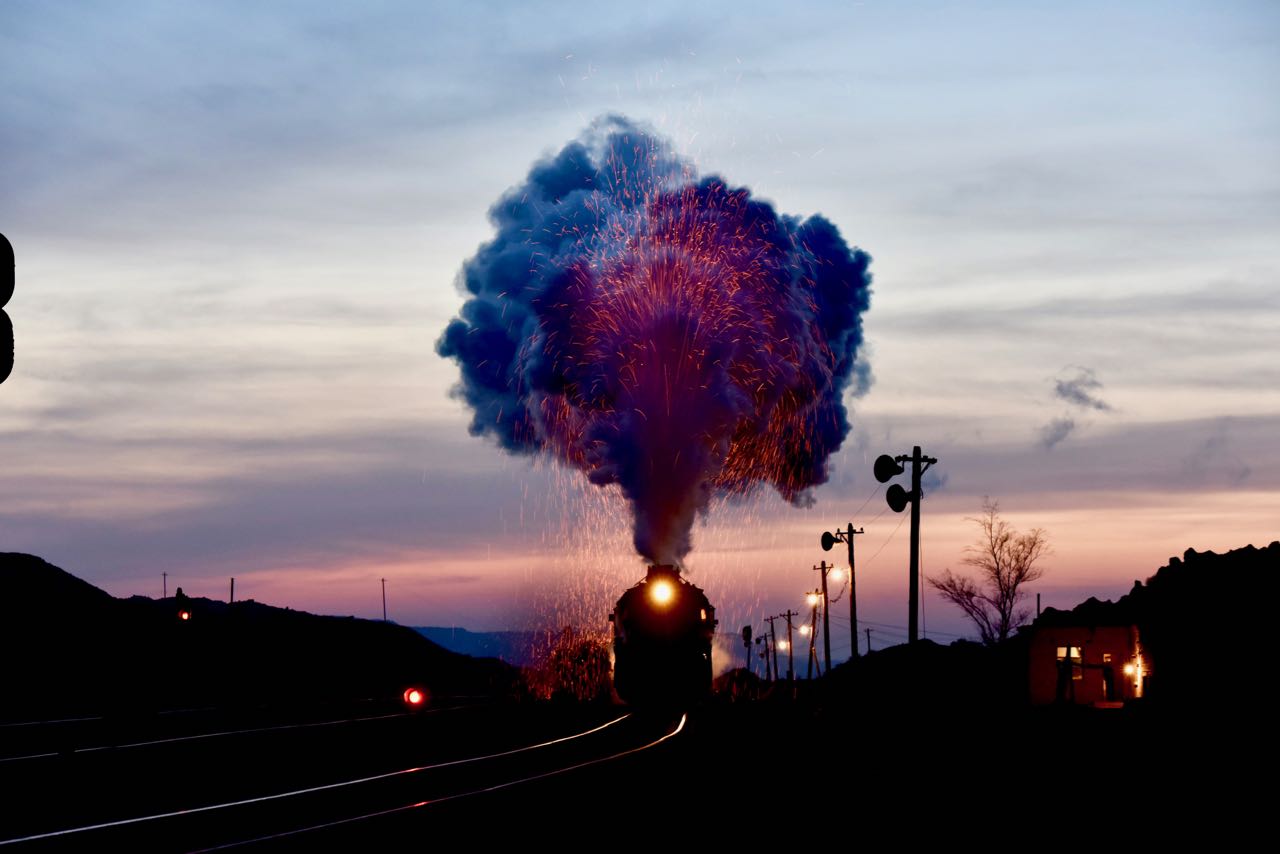 China
Sandaoling in Winter Tour 8-17 December




See update above.



In September I wrote:
I've uploaded a portfolio of Jun's 2017-8 Winter Photos
http://rabylee.uk/junsandaoling.pdf
Tour details are here: http://rabylee.uk/SandaolingDec2018.pdf
Please contact me as soon as possible if this is of interest.
China Narrow Gauge II
& Sandaoling? 16 March - 14 April
(new dates) - tour now includes a Sandaoling option
See update above.
The most popular version seems to be to start the tour on 16 March, end it around 5 April in Beijing and then offer a 7 day visit to Sandaoling prior to the end of the China trip 14 April.
Part 1 Sichuan and Chongqing 16 - 24 March 9 days
Part 2 Hunan, Henan and Jiangsu 25 March - 5 April 11 days,
Part 3 Sandaoling 5 April - 14 April 10 days (one day 5 April duplicated with Part 2 so = 9 days)
The total tour would be 29 days and people can join and leave along the way. I would expect to be able to offer a 'full tour' discount on the full narrow gauge tour (excluding or including Sandaoling).
The comments below are still valid:
The idea for my second China narrow gauge tour is that we start from Chengdu, China (direct flights from Amsterdam arriving 25 March and easily accessible via other Chinese cities) and travel across the country east to Nanjing stopping at narrow gauge lines along the way. The route from Guangyuan (the city close to Rongshan, 4 hours north of Chengdu) to Chongqing has around 10 narrow gauge coal mine lines. There will be time to find out what if anything has happened at Rongshan. There are 3 more lines close to Chongqing including the long 762mm electric line centred on Honglu. We will then move on by train to Hunan province where there are a further 11 narrow gauge lines (and possibly a chance to find out what happened to the Chenjia Narrow Gauge line - the last to use C4 locos) before taking another train to Zhengzhou in Henan with a visit planned to the Yujian narrow gauge steam and diesel tourist line currently under construction. We expect to have one or more charters here. The final hop by train is to Nanjing. There are 2 narrow gauge lines close by as well as a standard gauge industrial electric line at Maanshan which is only 90 minutes away in Anhui province. On completion of the tour, travel to Beijing or Shanghai for flights home.
The details are still being worked out. Jun has made contact with an experienced guide in Sichuan but plans to make a personal visit to Hunan to explore what is possible there. He is already in discussion with the Yujian Railway about possible charters. Let me know if you are interested in this tour and you can be involved in the tour planning as it evolves. To see the wealth of narrow gauge available, please see
http://www.kii762mm.com/modules/pico/index.php?cat_id=251
You can read about the China Narrow Gauge I tour here:
http://rabylee.uk/chinangtour2018.html
Indonesia
Sumatra Palm Oil & Rubber Railways 16-23 March
See update above. This idea is a non-starter as my guide is studying in England for the next year.
I had hoped to explore these railways after a short NGRS members' visit to the United Plantation palm oil railways in Malaysia. I now plan to fly straight to Chengdu, China after the UP tour finishes in KL.
Java Sugar Mills 2-3 weeks in the 23 July - 22 August period
My thoughts at the moment:





Agus as driver/guide with Combo for a short time in the Situbondo area.




Depart UK




Fly to Surabaya (arrive + 1)




Meet up in Yogya




Train or plane from Jakarta or Surabya (my own choice would be train via Surabaya) +2




Yogya - 1 mill +3




Solo for Tasikmadu - 1 mill in passing (no overnight) +4




Madiun - 4-5 mills (2 with real working steam, conventional and fireless) +5, 6, 7




train to Probolinggo for +8




Kedawung - steam charter, field lines +9




Lumajang for +10




Jatiroto - field lines +11, 12




Jember for




Semboro - field lines, fireless + 13




Prajekan in passing + 14




Situbondo for




Wringinanom field lines + 15




Olean field lines + 16




Asembagus mill re-opened? field lines still in use? + 17 (or repeat Wr or Ol)




extra time in Situbondo for Wringinanom primarily or




transfer to Surabaya and home + 18




arrive home + 19




(depart home adds 1 day = 20 days)



The East Java section will again focus on mills with diesel field lines, mills with real working steam and the the best mills for internal stationary steam engines. Steam charters are getting increasingly unreliable and may now be poor value for money and no longer satisfying. However, the steam charters at Kedawung are new and it's worth trying to get steam out into the fields there (but I note two visits have not had a steam charter due to boiler tube issues). Those signing up for the East Java portion of the tour will be asked whether they would like to also attempt charters at Kedawung,Olean and Semboro and a majority decision will be taken on whether to organise those.

At this point,
an expression of interest
is all I need.
| | |
| --- | --- |
| Jatiroto Steam Shed in 2015 - around 20 locos were stored here and despite the appearance of smoke, none had moved in many years | Jatiroto Steam Shed in 2017 with all of the steam locos removed (and scrapped). Only 3 locos survived outside, the sister of the Semboro Jung and 2 others stuck behind it. Their fate is unknown. |
Wilson reports that this shed has now been razed to the ground and the area redeveloped. Read the summary of his recent visit to Java - see link below.

You can read about the 2017 trip here: http://rabylee.uk/java2017tourblogs.html

See also what Aditya our guide to Sumatra has to say: http://www.javanarrowgaugerailways.com/p/sumatras-last-industrial-narrow-gauge.html

You can read an illustrated summary of Wilson's emails about the 2018 Java sugar cane season at http://www.rabylee.uk/wilsonjava18.pdf

This month's video - October
Sit back, relax and watch this gentle night ride at Statfold Barn in the growing darkeness with 'Harrogate' in charge of a special run for staff, volunteers and the crew of the steam road and farm vehicles that attended the September Statfold Barn Gala.



Just for Fun - October
There is no Just for Fun this month except to add that there are various Indian and Sri Lankan railway novels including (about Indian) The Penguin Book of Indian Railway Stories, Ruskin Bond (editor) and John Masters 'Bwohani Junction'. From Sri Lanka we have 'Yakada Yaka' by Carl Muller part of the Burgher trilogy. More ideas for good reads that are also railway novels would be most welcome. Email me with your ideas.


Archive


This month's video

- September


I've uploaded a video to YouTube showing the Lincolnshire Coast Light Railway's steam loco Jurassic on regular 2 coach passenger trains this summer. The line now has a short extension and a new run round loop.

https://youtu.be/jYkg2G_nrbM
Just for Fun 3 - Railway Fiction
How many of you are fans of railway fiction? Not many, would be my guess. However, if the railway background and operating practice is authentic, they can be an enjoyable way to relive the days when steam was in regular use around the world.

I think the first book of railway fiction I read after Rev. Audrey's 'Thomas the Tank Engine' books was 'Jennie' by J.B.Snell which is based on the Talyllyn Railway in Wales.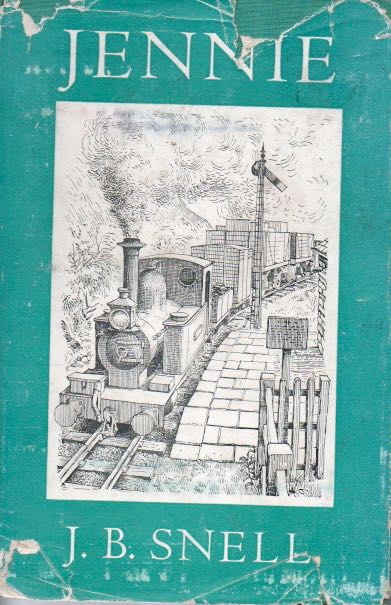 A more recent find was C Hamilton Ellis who is famous for his non-fiction railway titles. However in the 1940s he wrote several ripping yarns based on railways with illustrations by Terence Cuneo no less! The most difficult to acquire was the first one I heard about in 'A Railway Holiday in Spain' was 'Who Wrecked the Mail'. If you can find this or any of his other fiction titles:

The Grey Men (Scottish in WWII)
The Engineer-Corporal (American Civil War)
Rails Across the Ranges (Australian North East)

they are all recommended.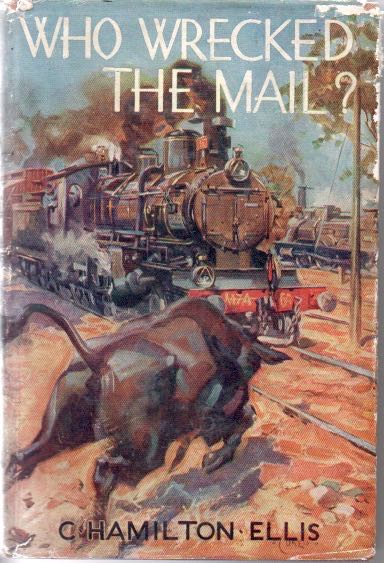 Did you know that the C in C Hamilton Ellis stands for Cuthbert?
Railway Detectives


This seems to be the modern approach to the railway novel. The best writers use their extensive historical railway knowledge and research to create a realistic railway crime story. The lesser ones skimp on the historical accuracy and tell a crime story in a vaguely plausible railway setting.



Andrew Martin


I consider Martin to be the best of the authors in this genre. The specific historical locations are well researched and described and his detective is a former loco driver so he tends to get hands on on the footplate at times as well. The topics include the London Necropolis Railway, WWI in France, WWI in Iraq, Colonial India, etc. All of the railway detective novels by Martin are worth a read.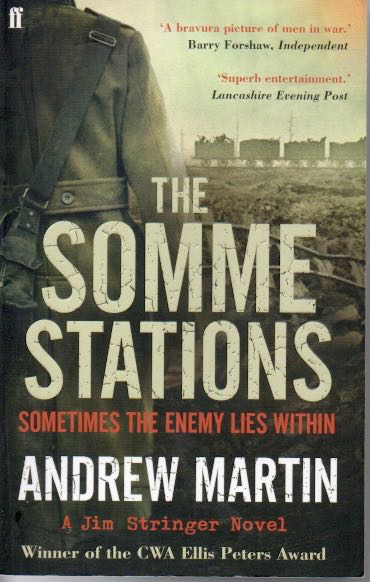 This one is topical with the WWI 100 year commemorations taking place 2014-2018

Can anyone recommend other railway fiction that I (or other readers of this mailing list) might enjoy?
This month's videos
I have a large number of videos on YouTube but I now use this site primarily to make my videos available to a selected audience (those who read this update or who look at my website). You can se all of my videos here: https://www.youtube.com/user/trundlebahn/videos?disable_polymer=1
I try to add new videos each month and this month I am uploading my video from Saturday at the recent Apedale 'Tracks to the Trenches 3' event. Volunteers from the Lincolnshire Coast Light Railway were invited to attend, man a stand and enjoy the event as 3 of our stock items were in use - bow-framed Simplex 'Nocton', our unique WWI Ambulance van and a WWI 4-wheel rations wagon.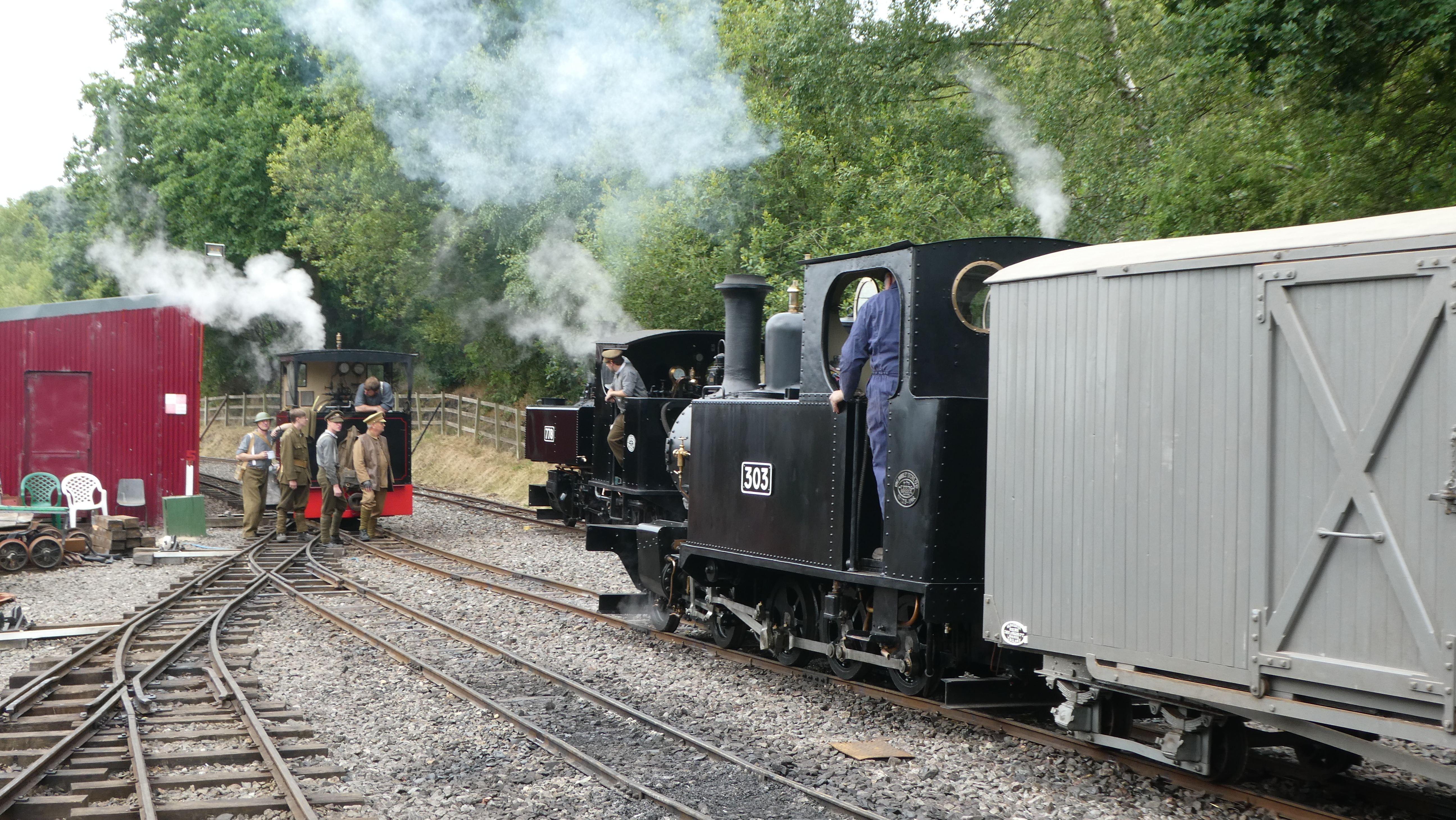 Tracks to the Trenches 3, Saturday 14 July
https://youtu.be/0b1Fdb_xYSU
Just for fun
2
Sometimes, the only way to begin to appreciate something is to model it. The Alford & Sutton Tramway (1884 - 1889) lasted such a short time and disappeared so long ago that it's hard to image its slow roadside progress along the A1111 from Alford to Sutton on the 7 mile run, climbing up the 'hill' at Hannah and the steam trams running round their trains outside the Bacchus Hotel on Sutton High Street.
There are a few photos (see
https://en.wikipedia.org/wiki/Alford_and_Sutton_Tramway
)
and a book by George Dow on the subject but I made a 7 mm ng* model from Smallbrook Studio to try to replicate this photo.
* O scale running on OO track
http://www.smallbrookstudio.co.uk/kits-parts/4569521214/'zeus'-model-of-alford-sutton-tramway-no.-1/3771775
along with a suitable carriage and a couple of trucks. I also needed to replicate the A&ST logo for the sides of the tram and vehicles. I just need a Lincolnshire roadside tramway for it to run on. The loco is vertical boilered No. 1 which was joined by No. 2 and No. 3 both horizontal boilered
No. 1 of 1883 Black, Hawthorn & Company
No. 2 of 1884 Merryweather & Sons
No. 3 of 1885 Dick, Kerr & Company
I wonder if No. 1 was up to the job. I suspect Nos. 2 & 3 ended up doing most of the day-to-day work.
My model with the photo of the original on the left and the Bacchus Hotel, Sutton-on-Sea where the tram terminated and ran round on the right.
When the line closed, all 3 locos seem to have disappeared without trace but surely all or most would have found new use elsewhere around 1890.

My best attempt at the A&ST logo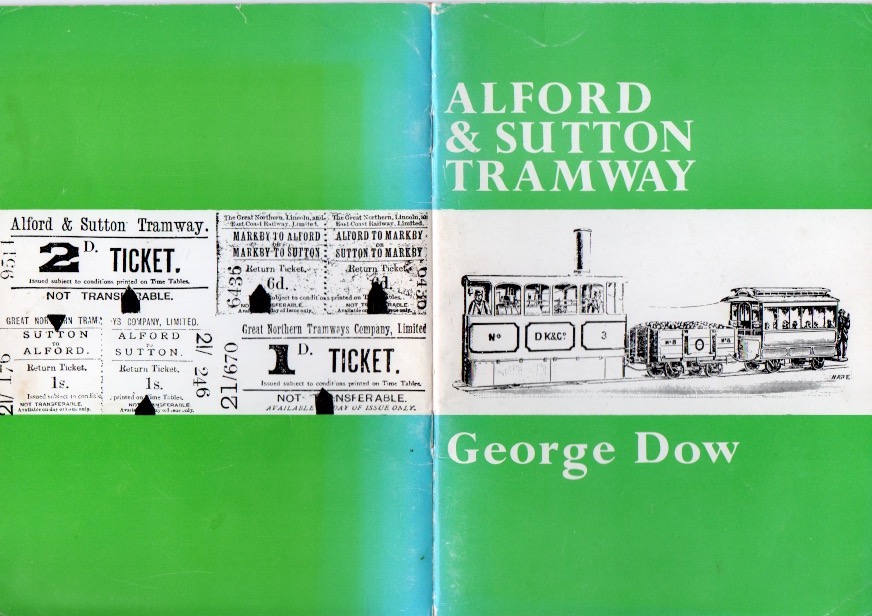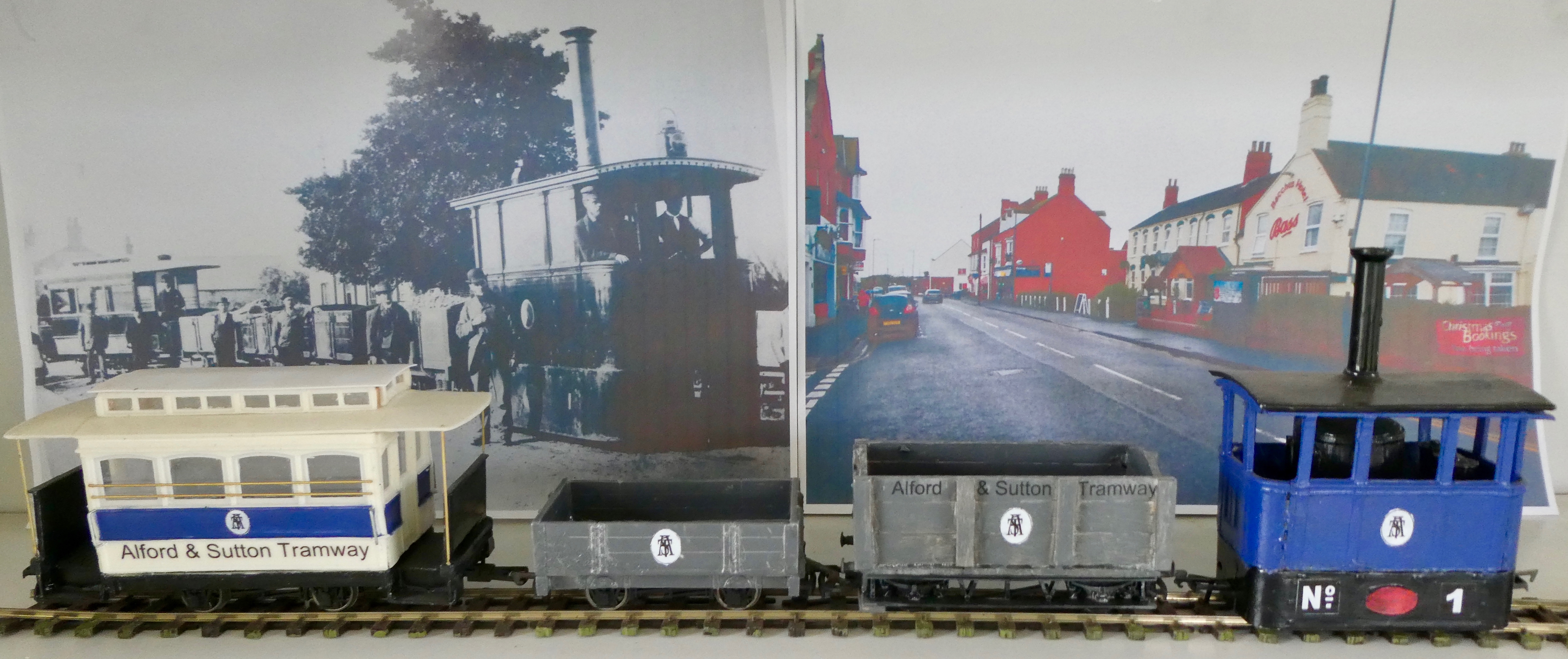 Have you created models of long lost railways or locos?
This month's videos
(from July)
I have a large number of videos on YouTube but I now use this site primarily to make my videos available to a selected audience (those who read this update or who look at my website). You can se all of my videos here:
https://www.youtube.com/user/trundlebahn/videos?disable_polymer=1
I try to add new videos each month and this month they are of Statfold Barn on the occasion of its June 2018 Open Day. If you've been to Statfold Barn, you'll know what to expect. If you haven't be prepared to be amazed by the quantity and variety of narrow gauge steam in use at this private location. If you only have time to look at one, I can especially recommend the views from the front balcony of the parallel running!
Statfold Barn June 2018 Event
1. Linesiding
https://youtu.be/2mak3CmeE-0
2. Train & Tram Ride
https://youtu.be/t20ZnW38x0U
3. From the Front Balcony
https://youtu.be/zl3waJvJ9uc
These 3 videos are also embedded below this update for you to watch on this page.
Just for fun
1 (from July)
If you are one of the many who visited China and didn't come away with a souvenir more interesting than a railway spike, how about making your own Chinese railway souvenirs? All of us will have noted and probably photographed the rustic railway crossing signs on industrial and narrow gauge lines. Those photos can easily be the basis for your own Chinese crossing signs. Here are my attempts at copies. The originals appear below my versions.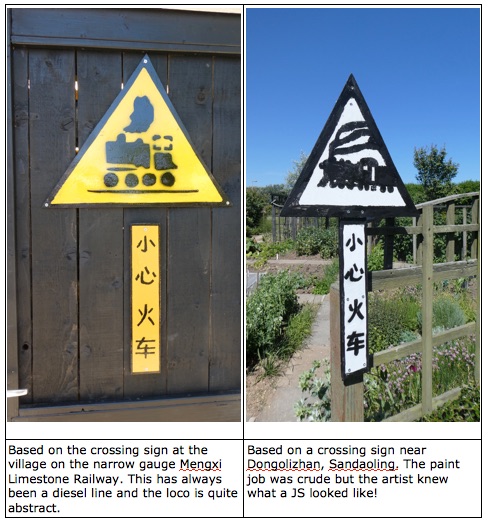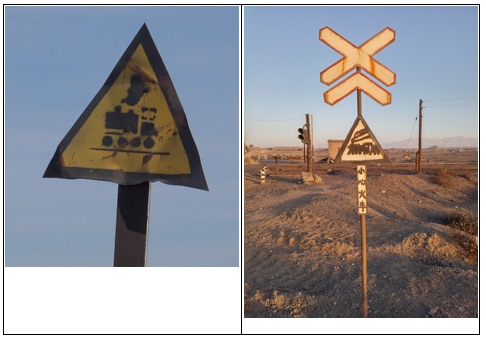 That's all for this month.
John Raby
29 June 2018