Out-takes: Things we laughed about but couldn't keep in the main report.
Warning: this attempt at Adult humour is (like most Adult humour) strictly non-PC. People of a sensitive disposition or those easily offended such as Betty my mother-in-law should not go any futher!
Exit to a safe place now
or
Continue at your own risk
Our mottos are 'Fortuna Fortibus Favet' and 'Bullshit Baffles Brains'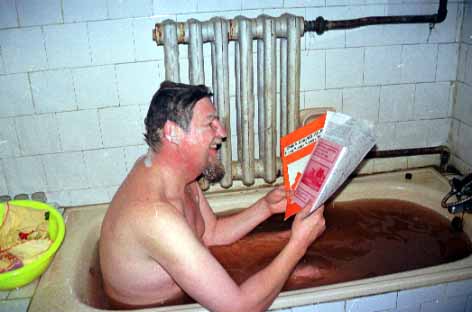 caption: All mod-cons at the Yabuli Hotel. Notice the well placed (very hot) radiator and the tasteful water colour.
alternative: Catching up on essential reading (Pritchard, Quail and Dickinson) in Yabuli.
Here are a few impressions of the trip:
'Shit Mountains'(a haiku)
what happens in spring
when the winter shit mountains
begin to thaw out?
Frozen Feet (another haiku)
frozen feet on snow
is the train ever coming?
where's the bloody sun?
How to maintain British standards while gricing China
In your hotel room;
insist that your toilet flushes and stops flushing,
demand toilet paper and put it down the loo not in the basket provided,
then demand that the loo is unblocked,
demand 24 hr hot water (not just between 8 and 10 pm if you are lucky),
to be brought in flasks by long-haired virgins if hot running water is not available
Tell your hosts that you prefer not to eat:

ma (horse)

lutzu (donkey)

chuan (dog)

mao (cat)

she (snake)

shu (rat)

shiao shu (mouse i.e. little rat)

kotou (tadpole)

i (ant)

cha meng (grasshopper)

note 1: hard men will choose to ignore this list (at their peril).

note 2: space does not permit me to list all of the individual animal body parts such as chicken feet, pig's tail and sheep's testicles that you may also prefer not to eat.

'The only thing wrong with this trip was no tits to play with at night. Roll on Cuba.'

A. Gricer

My thanks to Ted Talbot whose idea it was to ignore Jingpeng and to bash the Chinese narrow gauge on this trip.