Shibanxi: The People
Shibanxi Twilight DVD - now available
includes This Little Piggy Went to Market (10 minutes)
I went to Shibanxi in Sichuan, Western China for the narrow gauge steam railway but this is a railway that provides the only reliable public transport for the local community at the top end of the line. Rough, dirt roads often impassible to anything but coal trucks do get someway towards the top end but there is no public bus service as yet and none in prospect. The local people live with the train, complain about it and depend on it. When the Jaiyang Coal Company that owns the line revised the timetable to replace the early morning 0530 train with one at 0700, the school children lost their transport and now have to walk. Their path, of course, is the railway line.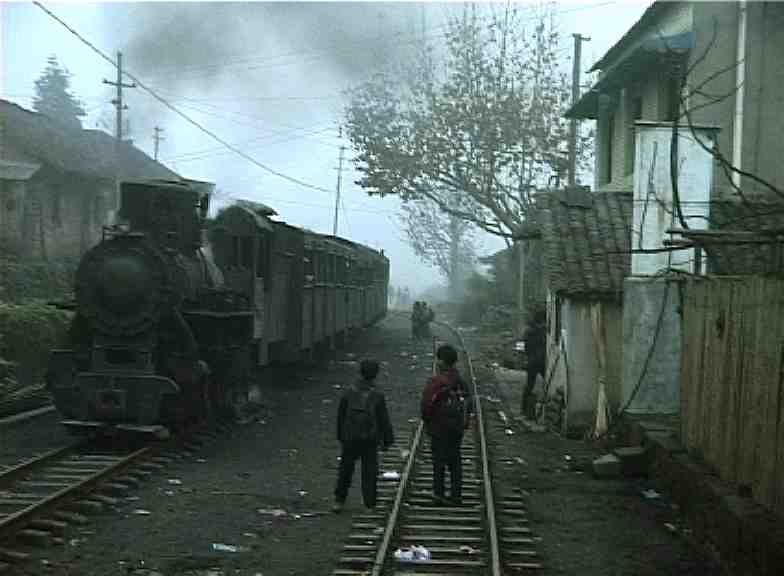 This collection of stills is from the roughly 3 hours of video I took on my visit 18-24 December 2005. If you are also interested in the trains see Shibanxi: The Railway and if your interest is in very narrow gauge coal mine railways (300 mm) see Shibanxi: The Mine. There will be a DVD in due course.
The banner reads 'Comrades, let's earnestly do our best to prevent bird flu' or words to that effect.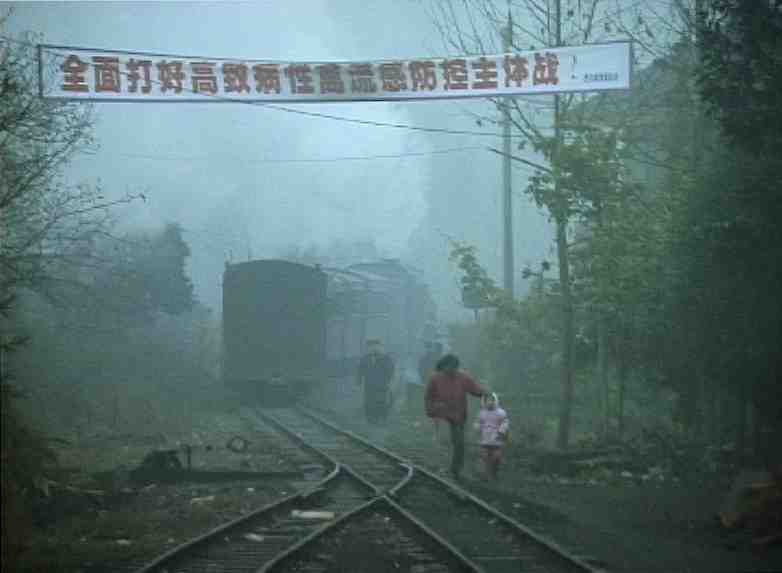 Just before the terminus, the railway is the street.
Much like places in Nepal, Bagou has never seen a four-wheeled road vehicle on its streets.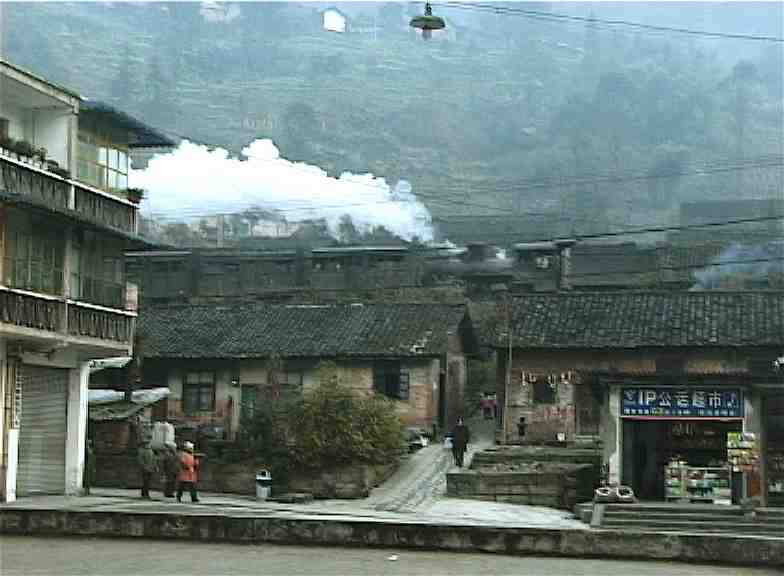 Local children.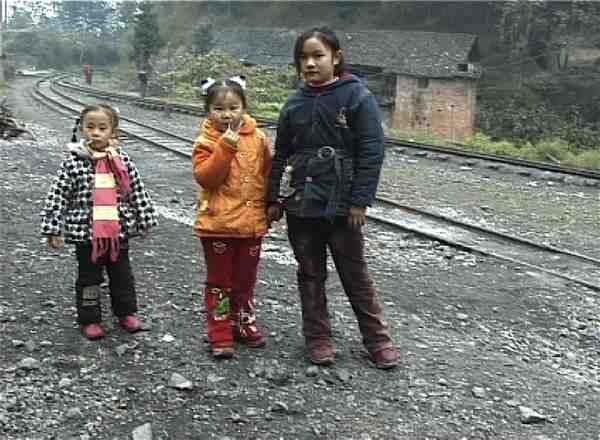 The blacksmith.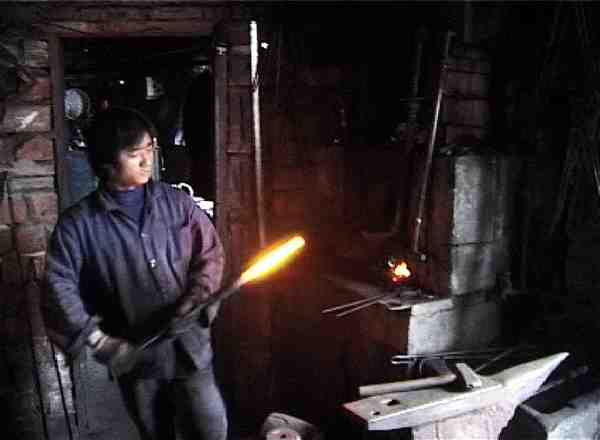 Shutting up shop after the last train of the day.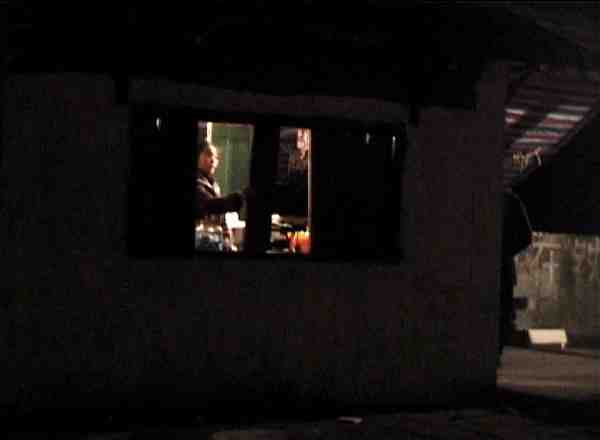 Houses along the stream have indoor loos. Others have to use the public toilets.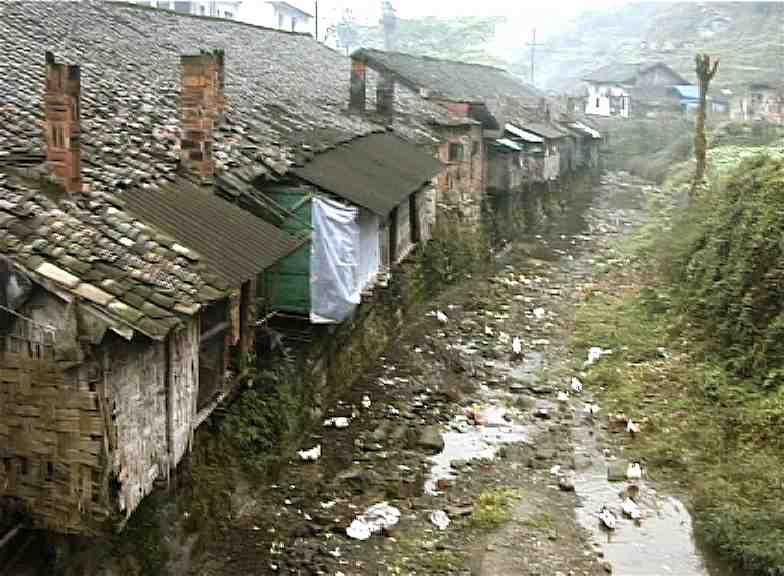 The rearing of pigs is a very important local pursuit. Many of the pigs go to market on the passenger train.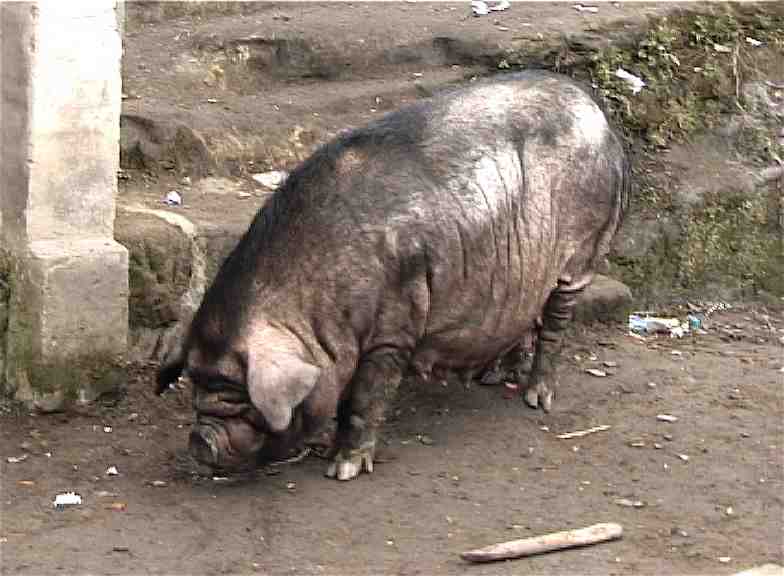 First they have to be walked to the station.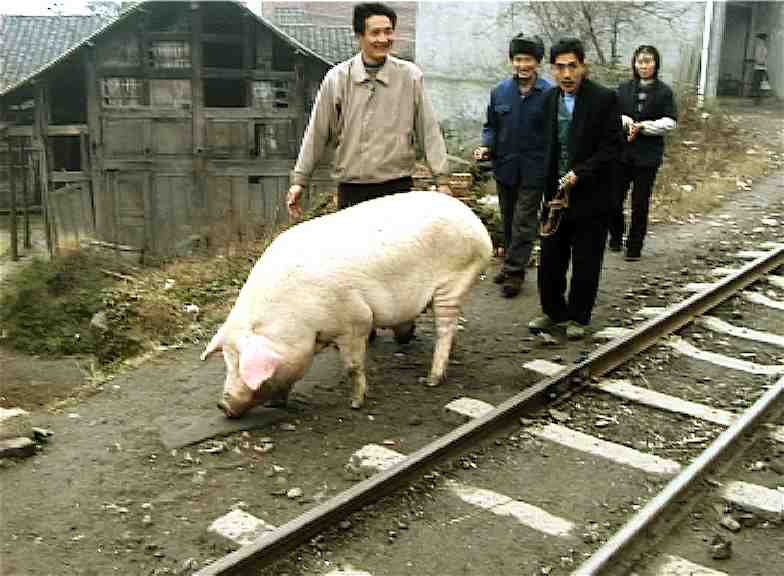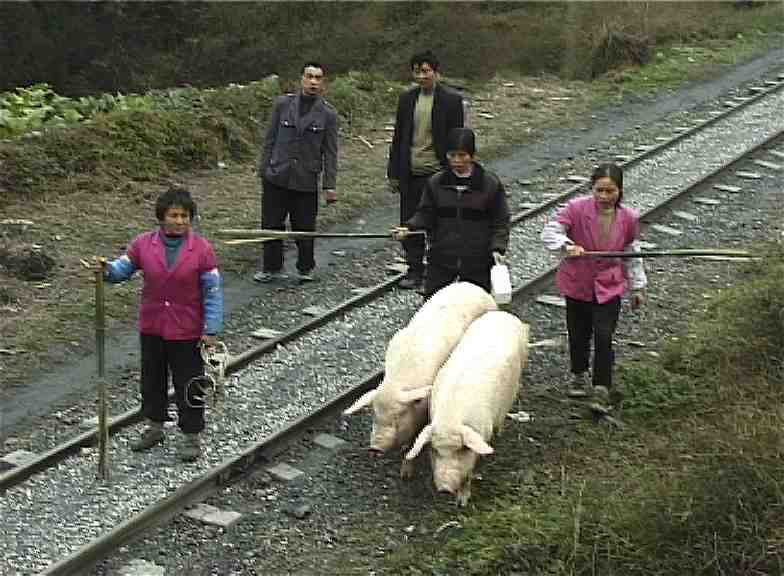 Then they have to be loaded onto the train.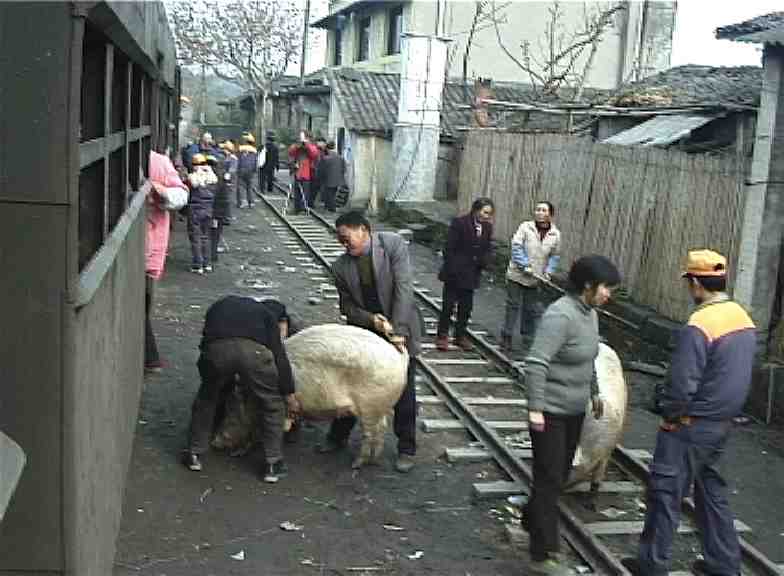 Ears and tail provide suitable handles.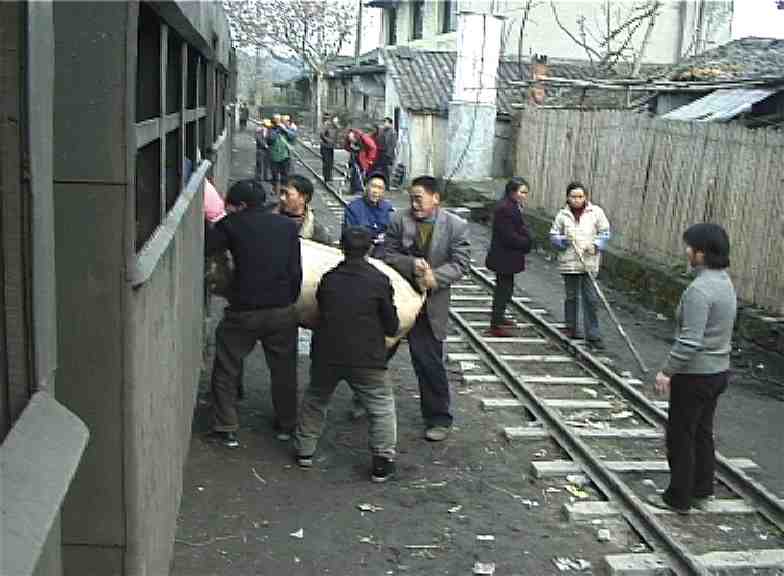 Vegetarians skip the next photo.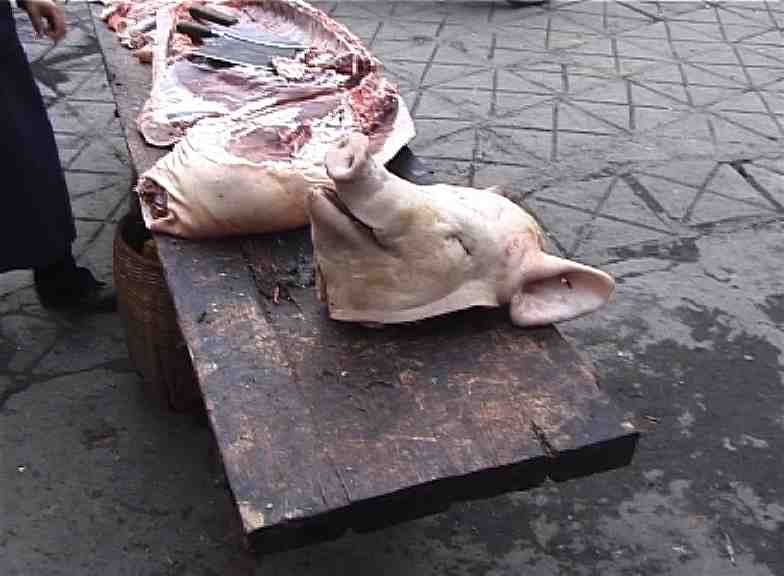 The locals produce some excellent dried, smoked sausage, ham, chicken and duck.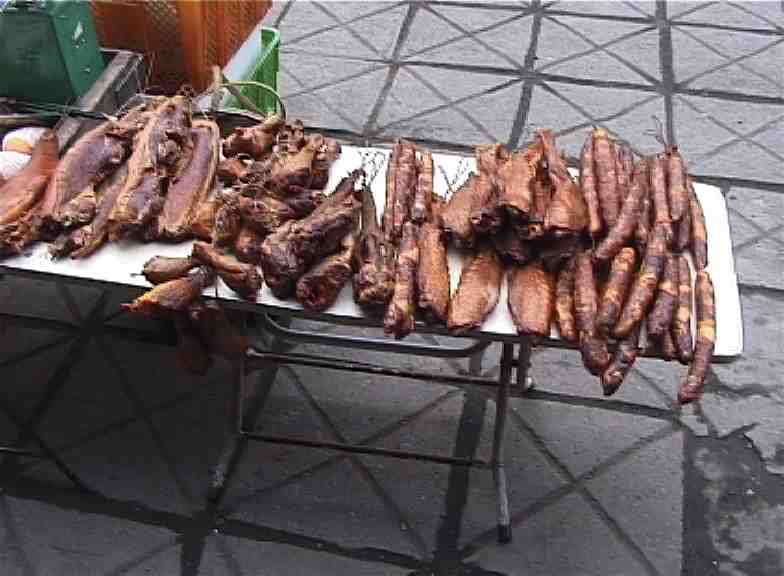 The loco crew have seen it all before.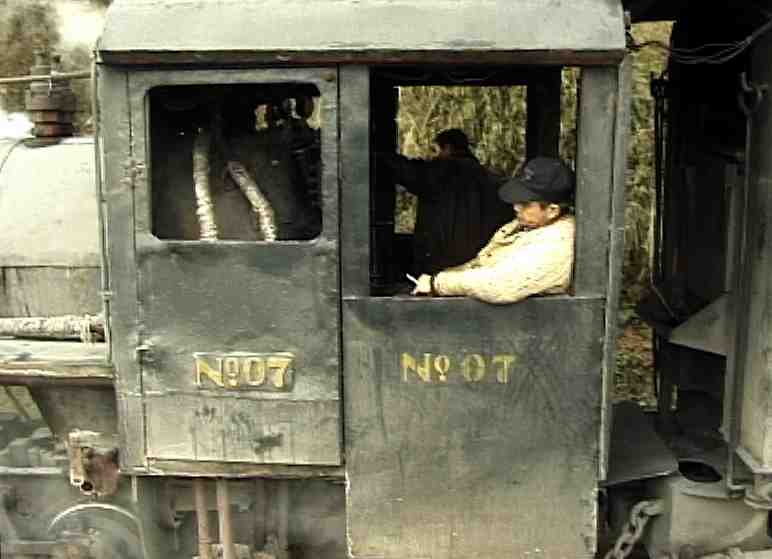 My guide Zebedee lives down the road in Emeishan.