The Statfold Barn Railway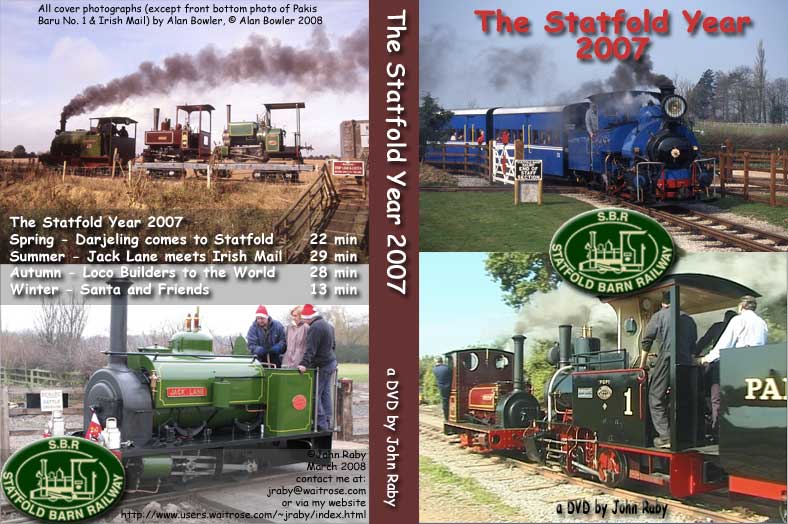 This DVD features a great selection of narrow gauge steam power working passenger and demonstration freight trains on the field and garden railways at Statfold. This is one of six Statfold Barn DVDs I have produced from 2007 until 2012. A 2013 DVD will probably be produced for the 2014 season. They were initially produced for sales at Statfold Barn Open Days by the Friends of Statfold Barn Steam Railway Trust. These DVDs are priced at £15 + postage apart from the 2012 double DVD which is £18 + postage. Email me if you would like to order any or all of these DVDS. I offer second and third DVDs for no extra postage and orders for four DVDs or more will be offered at a special price.


20 September 2008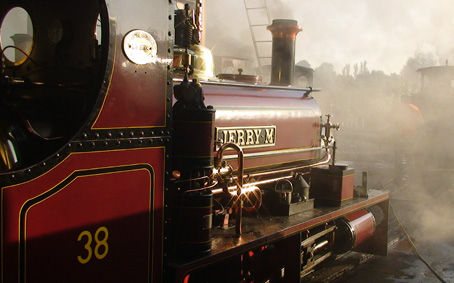 Jerry M visiting from the Hollycombe Steam Collection
The 3rd open event of 2008 saw 4 ex-Java sugar mill locos in steam.
The latest to return to steam is Sragi 1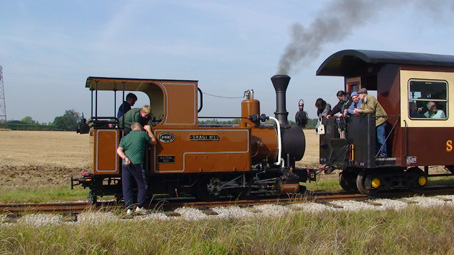 The chocolate livery is definitely not Sragi mill loco colour (which is green) and is actually more like the Pangka mill loco colour.
Also in use was Pakis Baru No. 1.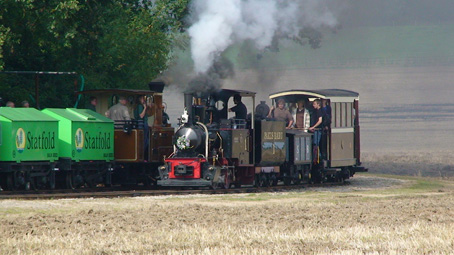 Both locos are a similar vintage and both were used on light yard work (typically on trains of empty wagons) in Java.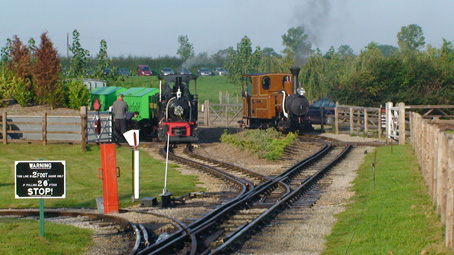 Here they are seen together before the start of the day's services.
Trangkil No. 4 was also in use after its travels to the National Railway Museum and other public events. It is seen here with another wanderer, Stanhope from the West Lancashire Light Railway, which was at the Mosely Railway Trust the previous weekend.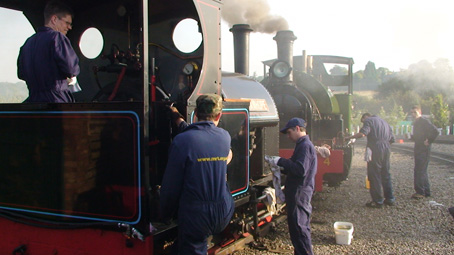 The final ex-Java loco was mallet Pakis Baru No. 5, seen below with Jack Lane on the left and Isibutu on the right. Both were in use at the start of the day but were taken out of service due to problems during the day.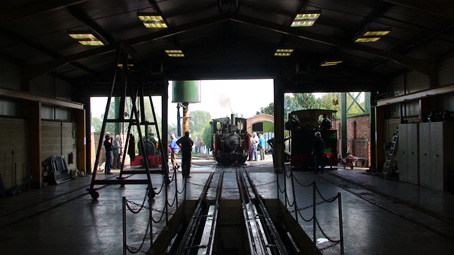 The final shot is an early morning shot I've been working on ever since my first visit - the view across the fields to the loop. I'm still working on it.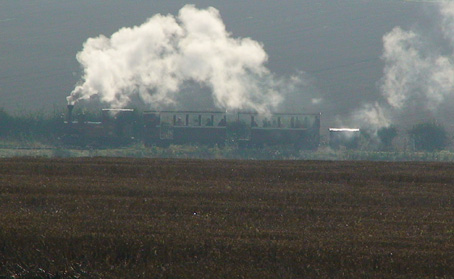 This working farm and the railway near Tamworth, Staffs is only open to the public by invitation on certain days. The Industrial Railway Society normally co-ordinates these events: http://www.irsociety.co.uk/ but by joining Friends of the Statfold Barn Steam Railway Trust (Statfold Barn Steam Trust, Statfold Barn Farm, Ashby Road, Tamworth, Staffs B79 0BU), you will receive direct invites to all open days and support the development of this railway.
Contact me at: