Coal Railways in Sichuan and Chongqing
Illustrated Report
July 2007
This is a report of a trip to the Mojiang and Jiayang Coal Railways in Sichuan Province and the Yongrong and Yongchuan Coal Railways in Chongqing City. Various other lines (not all coal carrying) were researched for this trip and updated information on other coal/steam railways in Sichuan and Chongqing are summarised at the end of this report.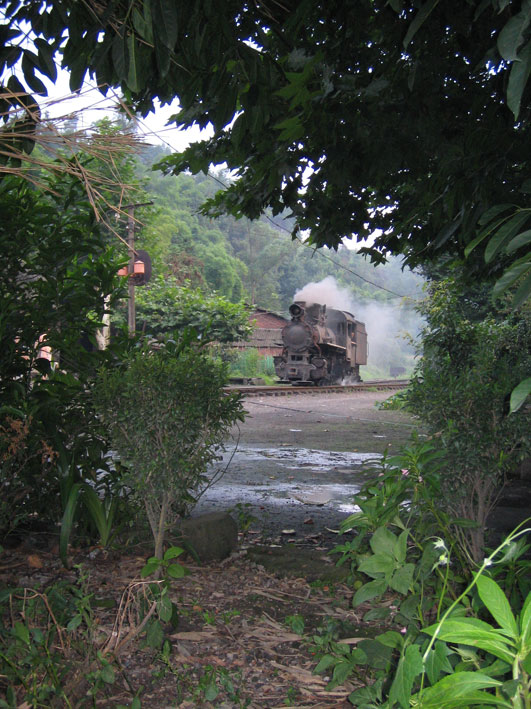 Loco running round at Mifeng framed by the plants in the garden of the Pharmacy Guest House
All photos used here are by my guide Zebedee (zebedee_china@hotmail.com) who made dramatic progress with his digital camera during the trip and is now quite adept at photographing steam trains. Zebedee will be happy to guide you in Sichuan and nearby provinces. He lives in Emei which is convenient for Chengdu, Mojiang and Shibanxi.
A DVD of this trip Coal Railways in Sichuan and Chongqing is now ready. You can see more information about this and my many other DVDs here. Or, you can click here to send me an email order enquiry.
Trip Summary:
Mojiang Coal Railway, Shawan
(762mm oh electric)
Passenger trains running normally but coal production suspended at both mines for mine maintenance. Mine supply trains of sand, concrete blocks and other supplies were running instead. All 5 locos and both railcars seen in action.
See also Bernd's 2003 report.
Jiayang Coal Railway, Shibanxi
(762 C2 steam, 762mm oh electric, 600mm battery electric, 600mm/300mm hand tramming)
Loco No. 14 regular on the passenger, No. 10 on the coal trains and tourist specials. New tourist coach No. 1 appeared on trains 2 and 3 on Saturday and Sunday. Up to 2 steam-hauled coal trains a day after first and second passenger but sometime only the first of these runs. On last day (a Monday), the second coal train path was taken by No. 10 on a one-coach train (Tourist Coach No. 1) empty to Sanjin to pick up a bus-load of tourists for a trip up the line. No other steam seen in use. Other steam may not be serviceable. Two C2 steam locos ex-Pengzhou expected to be available for Autumn Festival extra tourist trains (October 1). Their (initially) smarter appearance and considerable detail differences (extended buffer beams, 8 wheel tenders) should make them attractive to enthusiasts.
See also Rob's June 2007 report.
Yongrong Coal Railway, Guangshunchang
(sg SY steam, 600mm oh electric)
Locos 1326 and 1661 in action on shunts and line work on both lines. Loco 1492 retired in favour of a diesel (under repair at time of our visit). Possibly the first visit by a foreign enthusiast to check out the line work. Guangshunchang normally only visited as a short stop for tour groups. Steam on longer line to Xujiagou video-ed over 2 days. Line pleasantly rural but no major grades and short trains mean locos don't have to work hard. Return of the diesel should reduce line work to occasional (i.e. non-daily) extra morning train to Xujiagou only making this location marginal for steam line work. 600mm electric line still in action and line explored for about 1 km until a long tunnel is reached. This is clearly not the mine entrance so the line could be explored further by walking over the hill. Traffic not frequent at times of visits (0800 and 1700).
See also Bernd's 2003 report.
Yongchuan Coal Railway, Yongchuan
(762mm oh electric)
Loco No. 5 under repair. At least 3 of locos 1-4 in action with No. 3 on line work to Shuangshiqiao and the other 3? locos on trips to LiuJin (6th Mine) and QiJin (7th Mine). New concrete road duplicates the railway and runs lineside especially either side of Hong Lu washery/depot (aka Yongchuan Xixuanchang). However, line is not threatened at present as access to washery and CNR transfer yard is by ng railway only (not road trucks). Road from Yongchuan to Shuangshiqiao in very poor condition.
See also Bernd's 2003 report.
Trip Details:
1 July Yinchuan - Emei
Mojiang Coal Railway, Shawan
Flew into Chengdu from Yinchuan at the end of a 9 day seminar trip to be met by intrepid local guide Zebedee (zebedee_china@hotmail.com). Recent reports suggest steam is still active north of Yinchuan so I could have done that first. By airport bus to Chengdu city centre and then local bus to the small Chengdu Nan station served by Chongqing – Panzihua trains avoiding the main station. There are 2 evening trains to Emei around 1800 and 1930 and we got on the second with genuine (not fake) black-market tickets to Meishan (¥30 each for hard class reserved seat) and then extended on the train. We got lucky and were sitting next to the train conductor who came from Shibanxi. Pleasant conversation ensued and we looked at the pix of the Dahuichang C2 leaving Beijing for the Ffestiniog on what was a reasonable local train ride (actually train N755 from Chongqingbei to Panzihua). At Emei, we were approached by female tout on the platform who led us to hotel opposite the station for a room at the back with toilet/shower and fan for ¥40 for 2. Beer and then bed.
2 July Emei - Shawan
Bus around 7 am from Emei Bus Station (short walk from train station hotel) to Shawan (pronounced Sa-wan). Left luggage at bus station and then taxi to Mojiang Coal & Electric Company on the other side of the river. Passenger trains running roughly as Bernd's timetable. Both mines closed for repair so no coal traffic but lots of mine-maintenance supply trains running. A nice little system so I decided to stay for tomorrow morning's rush hour. What a pity it's not steam. Took train to the end of the short line and walked back and then walked the long line and took the train back. Pricing is 'what the market can bear' and the passenger service seems to have been handed to a concession but probably will be ¥5 for a single on the short line and ¥10 on the long line. Of course, the locals pay much less. Walking the line is easy and the tunnel just after the terminus is lit and has a decent footpath. There are tunnel refuges in case a train comes while you are walking through. Stayed the night at the Hong Xian Hotel on the main street from the bus station towards the road to the river bridge (¥80 for an en suite a/c twin after discount). Food and internet were easily found along the road to the bridge.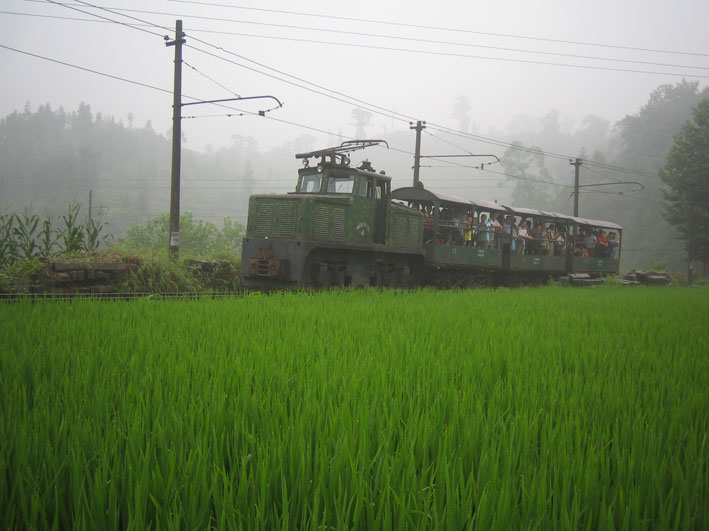 Morning Passenger on the longer line to Xiangyangzhan
3 July Shawan - Bago
Mojiang Coal Railway/Jiayang Coal Railway, Shibanxi
Taxi before 6 am to Mojiang just missing 6 am passenger departure but then a steady stream of rush hour trains in and out on both lines with some mine maintenance traffic on the long line. Then by chartered taxi to the Shibanxi ferry (¥200) and hopped on the vehicle ferry as it was leaving (free for foot passengers but you are probably meant to catch the pedestrian ferry from the nearby landing stage). Then local bus (¥2) to Shibanxi. Lunch and then 1400 train to Bago staying at Rob's recommended Tian Ya Luguan. Loco No 14 regular on passenger but No 10 on last train. Reportedly, only the morning coal train ran and we saw no coal train during our journey. Crossing point are Sanjin, Mifeng and Jiaoba. Pricing now seems to be ¥5 per stage, ¥20 per single and ¥30 same-train return.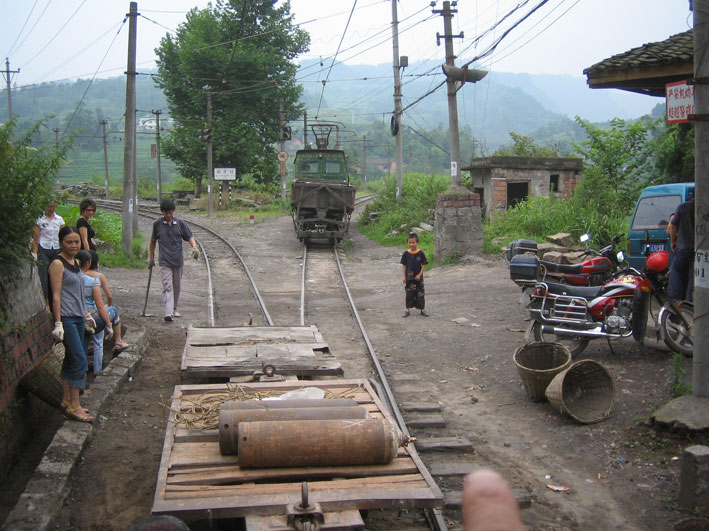 Maintenance wagons on the back of a passenger train from Xiangyangzhan just before the tunnel
4 July Bago
First train of the day photted at Jiaoba from the bridge/disused loading point then a coal train both ways at the scenic curve with lakes (pity it's chimney first downhill), the second pax close to the summit east of Xianrenjiao and the return between the tunnels. Then lunch of duck and beef at Jiaoba before hiking 6 km or so hot kms to a coal mine north of there with a 300 mm line (Kai-er Mine) at Fuxin. Management not friendly (and perhaps shocked by a first foreign visitor) and didn't appreciate the video so just a few shots of the man-powered skid braking of the loaded coal skips close up with a few more from a hillside view point. Back to Jaoba 12 km or so later having missed the 3rd passenger and also a second (10 wagon) coal train (which reportedly crossed the passenger at Jiaoba). After a shower and rest, went to a spot close to Bago on the way to Hungcunjing to phot the last passenger (hauled by No 14) and then to the sports square to get a shot of the train returning with kids playing basketball in the foreground.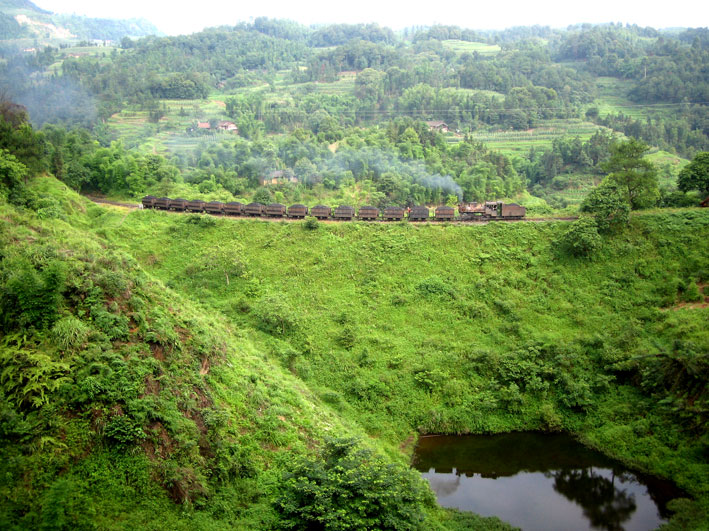 Loaded coal train on scenic curve near Jioba
5 July Bago
To Hongcunjing for the first train and a look at the coal mine. The 300 mm line is not much used these days but does serve the stores and also a new manually worked adit to the mine. The 600 mm new mine is busy (with mechanical coal cutting equipment, apparently) and production is sufficient for 1-2 coal trains a day totalling about 25 wagons. Today the first coal train was delayed by permanent way work near Nao Ying Ziu Tunnel (aka Bernd's or Eagle Beak Tunnel). It seems that the new tourist coaches are prone to jump the track due to their long wheelbases and so some easing of the curves has been necessary. Second passenger arrived after we had discovered the climb up to the old slag heap (looks like a dam) between Bago and the terminus with a good view down on the line and Hongcunjing mine and terminus. Taking a chance, we had lunch and walked back up to the viewpoint. Zebedee thought he could run up in 2 minutes but old age and lunch defeated him. He took close to 3 minutes while I walked it in just under 6. The empty coal train and the 3rd pax were video-ed from the top and a local (very proud to be 61 and older than me) pointed out where Rob & Yuehong and some unnamed Japanese gricers got their shots. Back down the hill for a rest and then to Bago station for the final train of the day.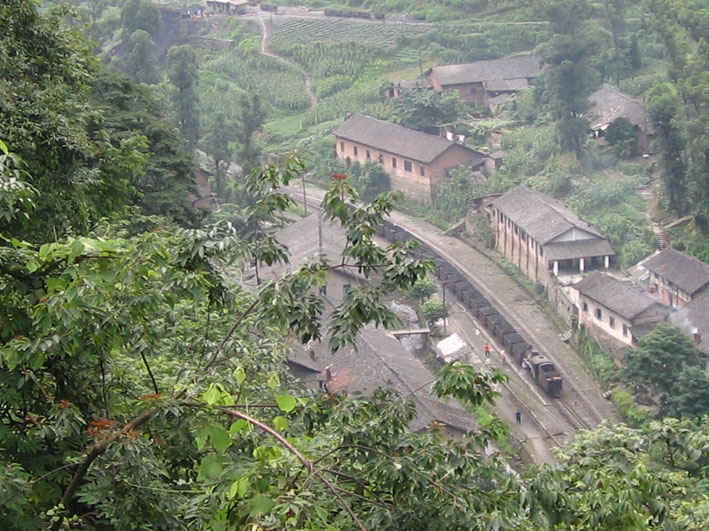 Coal train viewed from the fields about Hongcunjing
Historical note:
Prior to the current railway, there was a 300 mm (?) push cart line from Hongcunjing to Mamiao (riding fulls down and pushing empties back up) which followed the stream down to the main river. This route is now a path/road and it takes 1.5 hrs to walk to Mamiao
6 July Bago –Mifeng
Two coal trains today. We started at Bago for the first passenger and then to Hongcunjing for the coal train which delivered about 15 wagons and took the 9 loaded away. Managed to film 2 hand trammed wagons of cut rock (for tunnel reinforcement) on the 300 mm system and then checked out of the hotel (good value, highly recommended) and onto the 2nd passenger train to Mifeng where we had a dispute with the chief conductor over the ticket pricing system. It seems that he is ahead of management in wanting to double the prices for foreigners to ¥60 per trip! Checked into hotel above the chemist shop/paramedic's clinic (sign says Hostel, Pub & Food) which an exhortation (in Japanese) for Japanese gricers to enjoy the shower! (Just mind the mosquitoes!) Shot the 2nd coal empties at Mifeng and then walked up to Nao Ying Zui Tunnel to catch the down loaded coal train and the 3rd passenger coming through the tunnel. After a rest, saw the returning 3rd pax by the banana trees leaving Mifeng and the final up train above Mifeng (coming through the avenue of trees near the new house with the yellow door that spoilt the shot of the curve.)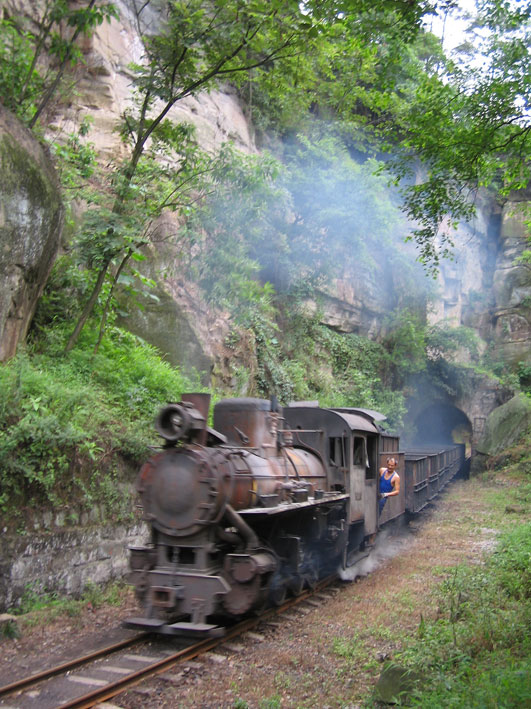 Empty coal train at Nao Ying Zui Tunnel
7 July Mifeng
Saturday: The sunny day. Sunshine from 9 – 3. One tourist coach on the 2nd and 3rd trains. 2 Coal trains. No further details recorded.
8 July Mifeng
Sunday: The normal weather day – overcast and muggy. One tourist coach on the 2nd and 3rd trains. 2 Coal trains. No further details recorded.
9 July Mifeng
The wet day. 2 Coal trains. Walked over the hill to the back end of Sanjin mine and saw 2 600mm battery electric working spoil trains. The chemist or his wife will show you the way.
10 July Mifeng – Qianwei
Another sunny day. Rode down on the 2nd passenger to Shibanxi after photting the first 2 trains up and the 1st coal train. At Shibanxi, the second coal train path was taken by No. 10 on a one-coach train (Tourist Coach No. 1) empty to Sanjin to pick up a bus-load of tourists for a trip up the line. On to Baihe Binguan in Qianwei for a double with ac (¥80), draft beer, internet and to check out buses onward.
Read Rob Dickinson's reports on his June 2007 visit to Shibanxi including details of a planned DVD Shibanxi Heaven.
See details of my own two DVDs which feature or include Shibanxi; Shibanxi Twilight and Sichuan Narrow Gauge 2001. My plan is to include Shibanxi: Coal Trains on my forthcoming Coal Railways in Sichuan and Chongqing DVD as my previous two DVDs have focussed on the more frequent and more dependable passenger trains.
11 July Qianwei – Quangshunchiang
Worse bus trip of the visit. With the main road bridge at Qianwei under repair (until September 2007?), bus travel requires a local bus to the bridge, a walk across the bridge and then the long-distance bus on the other side. Bus very hot and gang of card sharks trying to fleece single women of ¥100 or so before they eventually got off and the driver turned on the ac. Then 20 minutes delay as some passengers have mistakenly turned up at the bus station (not the other side of the bridge) at departure time and need to be ferried to the bus. Next incident is a problem with back axle/brakes which requires a trip to a repair shop and jacking up both sides of the bus. On our way again, the road deteriorated and a stone hit the already well-chipped windscreen. The driver swung the bus round and haired after the bus he said flung the stone at the windscreen. After cutting off and stopping the local bus, we then waited about an hour while the police turned up and wrote a report. Then we were on our way again until, after a late lunch stop, the driver reported a loss of electrics (for the ac) and couldn't get the bus in gear. Finally, we limped to an electrician for a quickie repair. After that, apart from kids being sick all the time, the trip got less surprising and we were dropped off somewhere on the expressway to leave by a back gate and take a local bus to Quangshunchiang. En route, the bus passed through Weiyuan where the nearby ng line is reported closed and lifted.
Yongrong Coal Railway, Guangshunchuang
We checked into the appropriately named Qian Jin (i.e. QJ) Ludian close to the depot where we found 2 SYs (1326 and 1661) in steam and the news that one of the locos had worked to Xiaochong earlier but that this line did not see daily traffic. We also heard that the longer line to Xujiagou would be served next day around 1 pm. Staff generally friendly and we were invited into the cab of 1661. Also heard that loco 1492 had been replaced by a diesel and this now normally does the line work. Luckily for us, was away for repair.
12 July Guangshunchuang
A very wet day here but we headed out to Shuanghe via Yunchan (8km + 15km). The direct route is (temporarily?) closed. The shorter branch to Xiaochong roughly parallels the road and crosses it just before Yunchan and there could be photo potential after this crossing but loaded trains are chimney first trains downhill with light 'up the rear' makes photography a challenge in the morning. Yunchuan has a decent hotel and two bus stations and could be a better place to stay if one had coal railway train information from the transport office in Guangshunchang. Second bus to Shuanghe 15 km. From here, it is only 3 km by rail or road to the end of the line at Xujiagou and 8 km back to Guangshunchuang by rail. Xujiagou has several coal loading points (loading by front loader) as well as a larger hopper-type loading point. Some coal is very high quality and goes out in sealed boxcars! Just before the Shuanghe road crossing is a short branch (rarely used) to an army depot. At Xujiagou, by way of a reversal, there is a very short branch to another loading point.
We got lucky and SY1326 worked some wagons out to Xujiagou around 10:30 and after some shunting returned with one wagon. In the afternoon, around 14:00, 1661 worked a second longer train and around 16:30 (after shunting and waiting for loading) worked back. This would appear to be the maximum line work you can expect in one day and if the diesel is in action, only the occasional morning train is likely to be steam.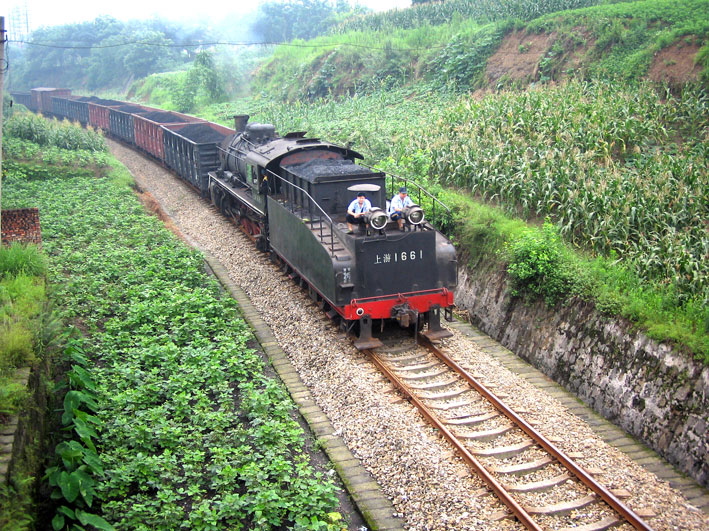 Zebedee and I are still trying to work out the role of the officials on the tender. SY 1661 heads back to
Guangshunchuang with the afternoon train
13 July Guangshunchuang – Yongchuan
Sunny and hot. We decided against waiting for 1326 on the morning train on the Xiaochong branch partly for logistical reason and partly because of the lack of suitable photo positions on a line with the return train chimney-first train downhill out of the sun. Instead we spent some time on the 600mm oh electric railway that heads at right angles out from the washery at Guangshunchuang. However, apart from one light engine movement on the branch to the bottom of the tip incline, we saw no trains from shift change (around 08:00) until 10:00 when we gave up and checked out.
Decide to have another go at the afternnon train on the Xujiagou branch and to explore from Shunaghe back towards Guangshunchuang. Scenery here is more dramatic but loco really doesn't have to work much on the short trains and minimal grades. Photted the afternoon train (13:00 out and 14:30 return) with 1661. The video from these two days is probably unique as I am not aware that anyone else has seen line work on this system.
Around 16:00 we took a slow bus from Yinchuan to Yongchuan (Yes, even the Chinese have problems making it clear that they want to go to Yongchuan not Yinchuan.) The road was in an appalling state with mud and chaos on one hilly section under repair but we got through and it was quite good fun. Current object of speculation (and next bubble) is piglets which are increasing in price at an alarming rate. We had 3 in a bamboo basket on the bus. Stayed at Long Ten Hotel near the train station (¥180 for a good room with ac and ethernet).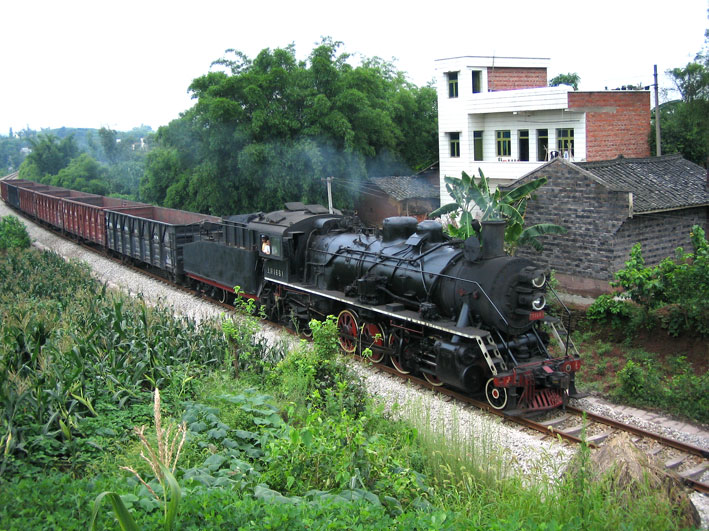 Our best shot at line work up-hill, chimney first in the sun. Unfortunately, the sun went in just before the train
came and the line appears to be level rather than up.
Yongchuan Coal Railway
14 July Yongchuan
Despite attempts to explain the system to him, Zebedee had not understood that his previous visit had not been to the depot and washery at Hong Lu (aka Yongchuan Xixuachang) but only to the transfer point with the CNR at Shuangshiqiao and so we had an exciting 10 km motorcycle ride from Shuangshiqiao to get to the centre of the line. The road which follows the narrow gauge railway is a new concrete road so it was a fast and dangerous but relatively comfortable ride. We crossed loco No. 3 on a coal train heading for the transfer point at Shuangshiqiao (around 10:00) but didn't have a chance to get a shot. However, once in Hong Lu we were able to establish the pattern of operation and video-ed a loaded train from Qi Jin (7th Mine, 8km away) and an empty train back from Shuangshiqiao late morning. However, we then headed off to see Qi Jin where we expected to also find a train. What we hadn't understood was that some trains go only to Liu Jin (6th Mine, 2 km away) so we gave up after looking at the loading hoppers and the end of the line and returned to Yongchuan (about 1.5 hrs) and one final trip on the very bad road from Shuangshiqiao to Yongchuan.

No. 2, one of the 5 identical electric locos on the line, seen at Hong Lu.
15 July Yongchuan – Chengdu
End of Trip
Unable to book anything more than a hard-class ticket (no reserved seat) on the only day train to Chengdu that stops at Yinchuan, we resorted to the more accessible bus service which takes just over 4 hours to Chengdu. Morning buses start from here but afternoon buses come through from Chongqing (perhaps with more problems getting a seat). No advance booking system but at 6:30 am, we were able to buy tickets on the 8 am bus. Smooth ride on the expressway to one of the Chengdu bus stations (east?) and then taxi (¥30) to the reasonable (¥180 with ac and en suite) Traffic Hotel (popular with foreigners on their way to Tibet) next to the central bus station.
16 July to UK
KLM (3 times a week) Chengdu – Amsterdam KL891/2 and on to Humberside airport, UK.
Exchange rate ¥14.5 = £1
A DVD of this trip Coal Railways in Sichuan and Chongqing is now ready.

Additional details on remaining steam operations (S) and known loco-worked coal railways (Electric or Diesel) in Sichuan and Chongqing, July 2007. These notes update information at sy-country Steam Operations in China.
(All additions or amendments greatly appreciated and will be used to update this list.)
North of Chengdu
Chengdu Seamless Pipe Works/Chengdu Glassworks (S)
The pipe works has moved but one of their former steam locos now trip works silica sand (daily?) from the CNR to the glass factory. Zebedee reports local news item that locos can only do 5 kph because locals (especially the elderly) treat the track as a path and, being somewhat deaf, don't hear the train coming. It could be worth a bit of time to document this.
Pengzhou Local Railway (S & D)
Line closed and track lifted. One C2 loco plinthed locally. Two C2 locos are reportedly due to go to Shibanxi by October 2007 to supplement the current fleet.
This line features in my DVD Sichuan Narrow Gauge 2001
Guangyuan Prison Railway (S)
This line is off limits unless you can pretend to be Chinese.
South of Chengdu
Mojiang (E)
See above
Shibanxi (S & E)
See above
Weiyuan (S)
Line closed and track lifting due to finish early July 2007. Information from the manager via Zebedee.
Panzihua (S & E)
Over 20 SY here in 2005 but much line work is electric. No recent visits or reports but steam probably survives. Distance from Chengdu is around 700 km and it is much closer to Kunming.
North of Chongqing
Jianghe (D)
Interesting 600mm operation north of the airport using strange van-like diesels hauling wooden trucks. Possibly originally a British operated line. Trains run in convoy on track laid on stone sleepers. Good rural scenery. Managements and local police very hostile so visits need to be done without permission and keeping a low profile.
See my DVD footage of this line on Sichuan Narrow Gauge 2001.
West of Chongqing
Yongrong (S)
See above
Yonchuan (E)
See above
Maogang Ferry Transportation Company (S)
(Maogong huo yun ji tuan) There are two SY 1016 & 0257, (Nearest place with accommodation – Luohuang), This operation uses the SY for shunting within a compound and for trip working on a branch 10+ km long north of the Yangtse River. Trains are not very frequent. Zebedee can arrange visits through the manager. Chasing the train will be difficult and probably only possible by motorcycle. Line not visited but I have seen Zebedee's pictures of the locos.
John Raby
Nottingham, July 2007