Weihe
Weihe has a steam passenger service. Is this the only remaining forestry line with a steam passenger service?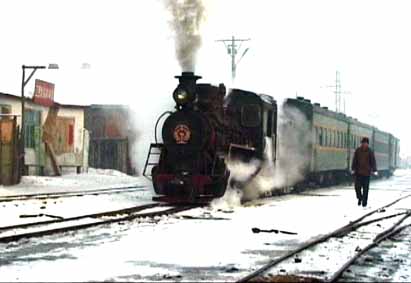 Most of these illustrations are still captures from the superb new Sony TRV900E 3CCD digital video camera. Three captures for slides are included. Can you spot which ones?
System Map added to end of report 21/1/99
The Weihe Forestry Railway is a truncated system with a mainline via Zhen-zhu, Xin-li, Shan-he and Dung-feng to Liu-shan and an 18 km branch from Zhen-zhu (km 6?) east to Xin-an. Log trains operate on both. A passenger railbus serves Shin-an and a steam passenger train operates to Liu-shan (journey time 3 hrs?). Other branches shown on the Quail map including one west to Ping-lin are disused. Ping-lin is now served by road. The terminus is Keyunzhan (literally passenger station pronounced Kir-yun-djan) hidden away at least 1 km from the CNR station. The first station out Wei-he is the log yard and probably the original terminus. The depot is at Keyunzhan. (see system map for details)
This line is listed in the Prichard IRS book and shown on the Quail map but seems otherwise unknown to British gricers. It is only 20 km west of Yabuli on the expressway (Yuan 10 each way at the toll gate). The expressway crosses the line by overbridge near Weihe station. It has a steam passenger service (arrive 7:30 depart 8:00 arrive 3:30 pm depart 4:00). Is this the only remaining forestry line with a steam passenger service? Our thanks to Mr. Fu of China Liaoning Steam Railway Photography Association for telling us about this. Nobody going to Yabuli in future should miss this additional attraction.
So far no mega phot spots have been found and being in a narrow valley the system seems to attract more mist than Yabuli.
30/12
Keyunzan SW-21030 took repaired wagon out, in shed 053, yard shunter 031, in on logs 034, Railcar arrived 2.30 turned, departed
3.00. 032 on 3:30 passenger arrival with glint.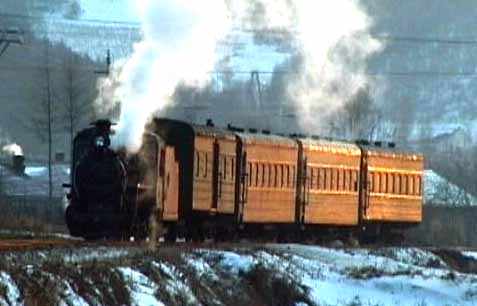 9 steam locos on system.
1/1
Keyunzan 10:00
034 arrived with coal hoppers of loco coal. 031 dead on shed. SW-21054 shunted wagons from wagon repair and left to 2nd station. Railcar departed 10:50. Two log trains due before 12. SW-21030 on first and SW-21033 on the second. Steam passenger due at 3:30 as previous visit but light had gone murky.
Locos seen:
SW-21030
(SW-21)031
(SW-21)032
SW-21033
(SW-21)034
(SW-21)053
SW-21054
SW-21055
(SW-21) in brackets, prefix no longer carried. Missing loco said to be 035 and also said to be oou in a shed at Keyunzhan.
3/1 Morning outbound passenger photted at Weihe station. 033 on shunt. Tender first with passenger from terminus was SW-21030 but after a slick loco change SW-21055 departed chimney first slightly after its booked 8:10 time. In-bound fulls ran through Zhen-zhu at 10:40. Railbus at Zhen-zhu 11:20 took east branch to Xing-an. Empty train due 11:40 but ran 30 minutes late. Fulls from east branch around 2:15. Empties out on main line 2:45. Railbus out on east line 3:15. (All observations near Zhen-zhu.) Passenger in-bound behind 055 arrived Zhenzhu 3:15.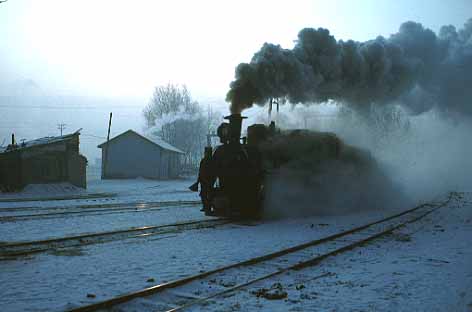 4/1
sequence from 7:50 am, 034 on shed, 032 on Weihe yard shunt, 055 on delayed 7:30 passenger inbound, 054 with breakdown crane to assist 030 with broken tender axle at Zhen-zhu which was stuffing up the system, 031 came by there on logs, 054 returned on empties,
10:30 Keyunzhan, 055 coaling, passenger working (8 am out - 3.30 return) was cancelled.
5/1
1:30 034 departed Weihe on empties. Crossed raibus at Zhenzhu and logs off branch SW-21055 departed next. Drove to next station Xin-li and village c30 inhabitants, Road and rail separate after Zhen-zhu, take left turn down bumpy track 500m to station. Former branch to east here disused for 10 years. 031 on passenger at 2:55 but failed to catch again before Weihe but could be done with an enthusiastic driver. The line climbs either side of Xin-li for the morning passenger and empties out from Weihe.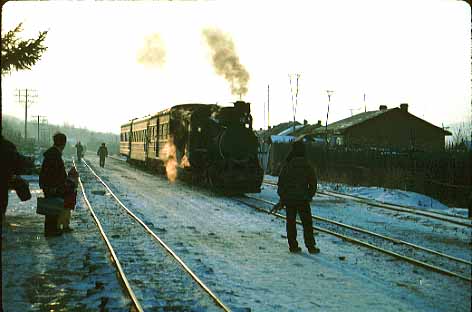 Back at Weihe 054? departed on short empties with brake van 3:30.
6/1
SW-21030 shunting coal hoppers at terminus at 1:30. Then departed with flat wagons to Weihe and departed there on empties at 1:45 after log train arrived behind 055. Zhenzhu, in-bound passenger SW-21054 with mega glint at 3:05.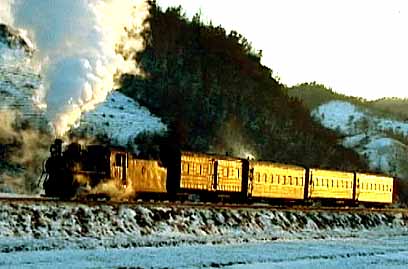 7/1
-26°C and a strong wind. Diesel railbus in Weihe around 8:20. Combined passenger/breakdown train with 054 photted at first halt around 8:40 and leaving Xin-li where it crossed 034 on logs. 055 on empties departed Zhen-zhu at 11 on main line. Wind blowing smoke everywhere. Sun hazy. Retired for lunch.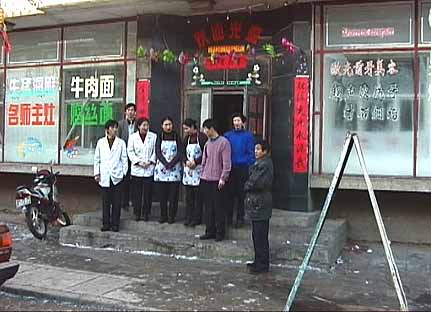 We recommend a restaurant in Weihe called Tong Chun Yuan which is in town north of ng Keyunzan terminus (head north towards mainline station, turn first right, cross 1 ng, and 3 sg sidings leading to log yard on right side and it is the last door of a long modern block on the left . Mickey Mouse above door, enter and take door on the left. There is a dentist on the right.) We have awarded it 'The Gourmet Gricers' ™ 5 Star Restaurant Award (motto; we stop HERE for lunch) which may be displayed in the window or inside. We have also designed a recommended English/Chinese menu to appeal to cold, hungry gricers. The food is good and the waitresses are pretty.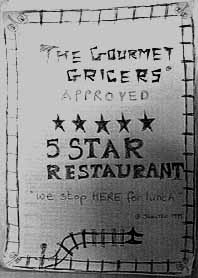 Weihe has a simple forestry hostel which Japanese gricers use. Alternatively Yabuli is about 20 km away.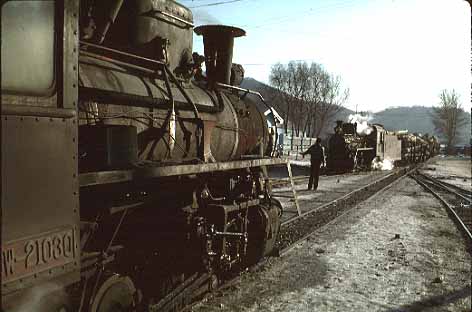 A visit up to end May should see steam on logs and passenger trains but by June the logging will be finished until December. On a Spring-Autumn visit, you could spend all day chasing the passenger trains.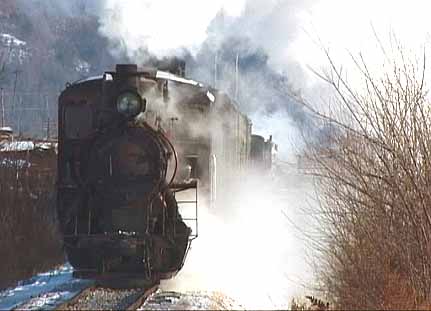 Return to China Index