Tracklaying on the Welsh Highland Railway
The Rest of the World Gang
10-12 October 2007
Updated 20 August 2012
The job is done and the railway is now operating throughout from Caernarvon to Porthmadog. To find out more and to see the current timetable, go to http://www.festrail.co.uk/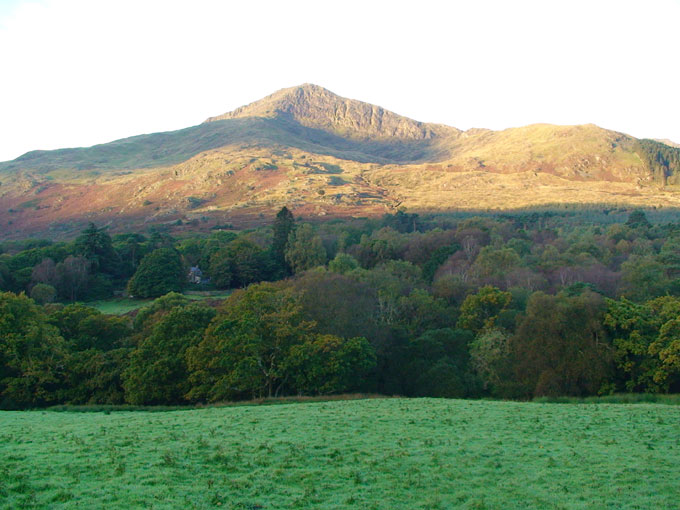 View of Beddgelert Forest from the Beddgelert - Rhyd Ddu road. There's a railway in there somewhere.
I recently spent 3 days laying track with the Rest of the World Gang going south from the Nantmor level crossing. The gang had begun just near the end of the long tunnel at the start of their week of work. They had run out of trackbed to lay track on by Tuesday as the contractors were still finishing the Nantmor level crossing. As a result, they had had a day of placing sleepers in position.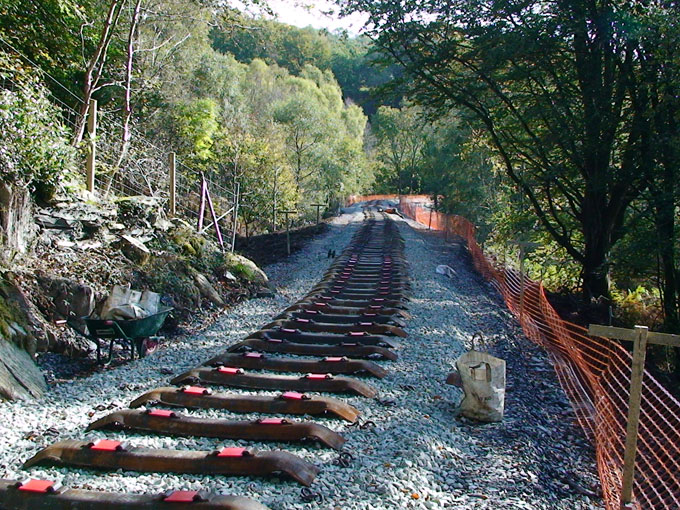 Trackbed with sleepers and pads ready for rolling out the rails below the Nantmor Level Crossing
When I joined on Wednesday, the crossing was ours and all of the track bed as far as the A4065 overbridge. The gang set to work with the intention of laying track as far as the roadbridge by end of work on Friday. They almost made it but were slowed down by a curve which required gauge widening, staggered joints, special curved rails and the use of South African metal sleepers and bolts rather than (the much more convenient) Indian metal sleepers and pandrol clips. As a result, they left a bit of tracklaying work for the regular weekend crew.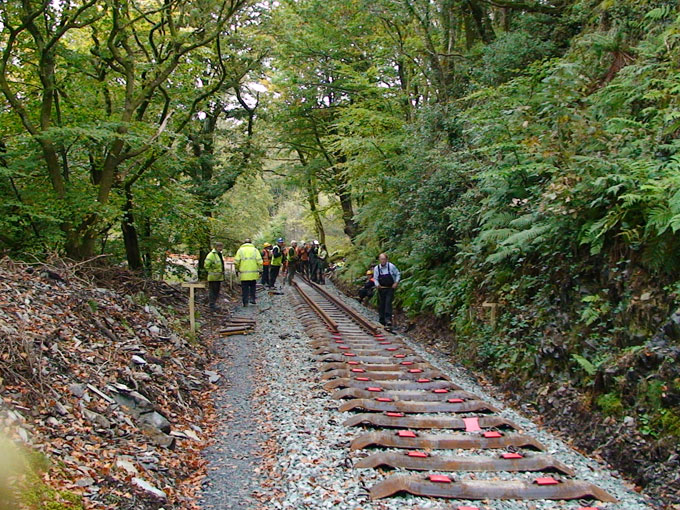 The head of steel as we left it on Friday
My contribution was small and I found out quickly what I enjoyed and what I didn't. As a result, I ended up quite a lot of the time on the rail supply train. With a driver plus a crew of 3-4, we went back towards Beddgelert to pick up pairs of rails and bring them to the head of steel. In this job, I got to ride back and forth through the three tunnels in the Aberglaslyn Pass and marvel at what had been achieved since I walked this route as a child.
Dolgarog and train including a stores wagon, 2 flat wagons and 2 rail movers
The rail gang worked really hard pulling rail off the rail movers, moving rail onto the sleeper pads and clipping or bolting the rail to the sleepers. They did a grand job while I played at trains. On the Friday, the rails were greasy and I became a brakesman. The brakes on the little Simplex 'Dolgarog' are not up to stopping a loaded rail train downhill on greasy rails but with the two train brakes screwed tightly down, we managed to avoid sliding into the stop blocks at the head of steel.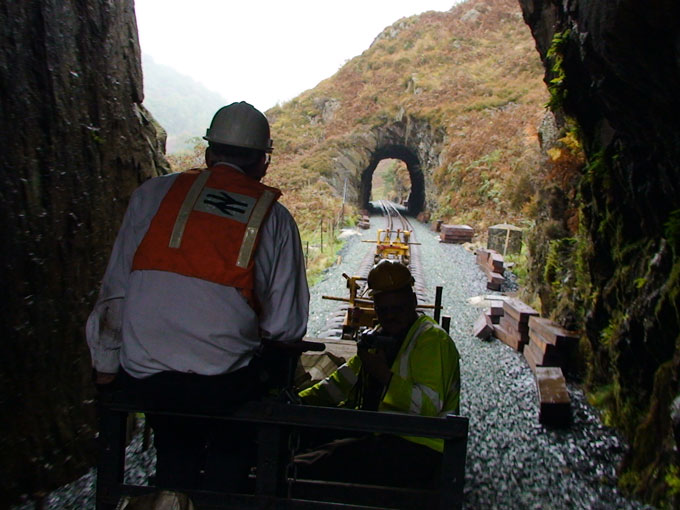 Brakesman's eye view returning with rails to the head of steel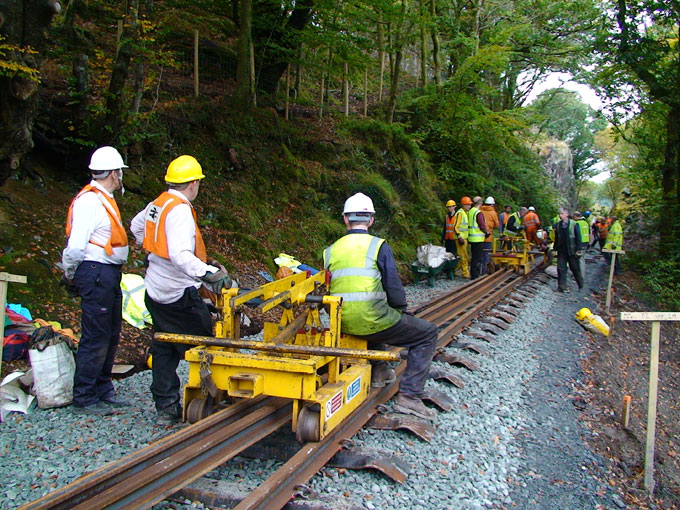 The rail movers with 2 straight rails ready to be rolled out
I will be happy to credit the people shown in these pictures if they contact me and if they would like to be named.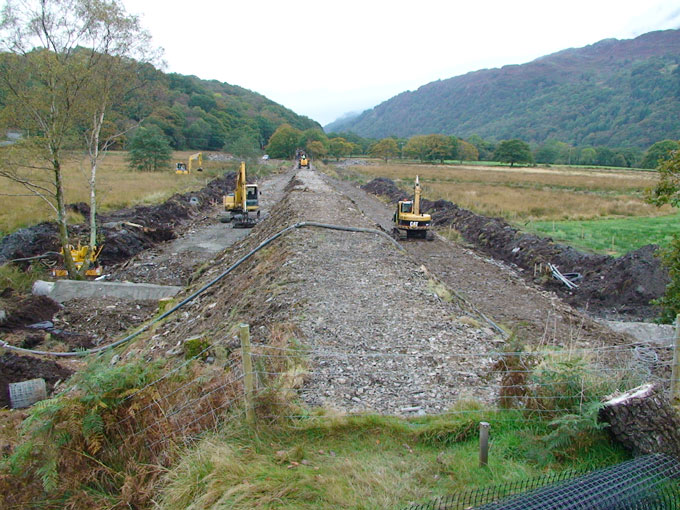 The trackbed beyond the road overbridge in the hands of the contractors

Go to my home page
Go to my illustrated reports' page
Go to my DVDs' page
John Raby
Nottingham, October 2007