Yabuli
The Yabuli Forestry Railway (truncated from its peak extent) comprises a mainline from Yabuli to Shung-li ending in two short branches from there to Hung-chi (northern branch) at km 78 and Jing-gou (southern) at km 76. The mainline heads north from Yabuli but at I-ma (around km 50?) the site of a former junction it heads east to Shung-li. From Liang-he (around km 30) a long branch goes east to Hua-shan. The mainline including the two short branches and the long branch both have a daily passenger railbus service. The major climb on the line is to a summit between Shin-fu (1st station from Yabuli) and Huong-wei. Log trains to Yabuli take a banker at Huong-wei and if no other log trains are due the banker drops off but follows to Shin-fu where it becomes pilot of the double header into Yabuli. If another train is due, it drops back to Huong-wei. The station after this and before the junction at Liang-he is Tuan-jie. All place names above are approximate. (see map for details)
System Map added to the end of the report 21/1/99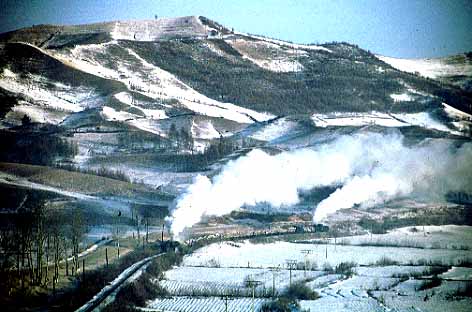 31/12
Linesiding at summit km 8 on road which is actually 9 km from Yabuli station. Pattern today from 8 am was all outbound; railbus, light engine tender first (banker?) and 2 trains of empties. It looks like a loaded train failed and after a brief lunch, at 12.15, a log train crossed another empties at station at km 7 on the Yabuli side of the summit, and banker went onto front for the final leg to Yabuli. Around 1 pm another empties headed by 07 and a final train of empties seen departing Yabuli station at 2.20 behind 03. (total five empties out and one full in) In shed, 3 locos 161, 06, C2-01, in yard 1 shunter B*309 plus 04 and 127 plus dumped 05 (also marked Z6-01014). All of the allocated 11 locos (including 1 dumped) seen but not all identified.
status of locos 31/12
dumped: 05
OOU in shed: 01, 06
not in steam: 161
shunter: 309 (127 on 1/1)
line work: 03, 04, 07, 127, plus 3 more seen on line but not identified.
Missing locos seen on shed 1/1: C2-02, 10 (and B*309 was in use as banker not shunter).
1/1/1999
Loaded trains expected around 9 am and 3 pm. At summit, railcar to Yabuli around 8:05. Around 8.15 train with banker visible in distance. A quick scramble from the car to the hill top and then 010 headed and B*309 banked the train past the best position on the line for probably the best shots of the trip. Location as previously described by Rob Dickinson

<http://www.steam.demon.co.uk/trains/yabuli.htm>. Ted's cameras both co-operated and I photted on digital video and still camera with 300mm lens. Temperature around -25°C, sun shining, no wind.
2/1
Two trains up the bank 9 am and 10:45 in snowy conditions with sun trying but generally failing to shine. Banker was B*309, first train engine 03. Second train had 02 leading failed tender-first 04 at the head and B*309 banker. 03 departed yard at 11:30 on empties.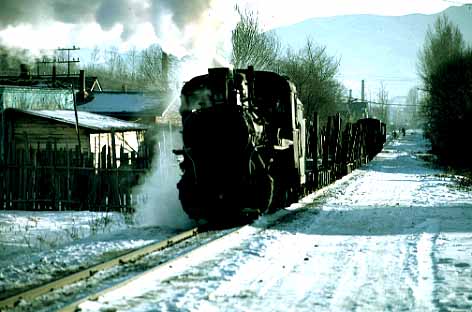 One loco departed tender first light engine around 2:30 (as banker?). It had not returned before railbus (see below) left at 3 pm and what light there was was fading fast. Yabuli station had a nice fresh white topping of snow.
Privatized passenger service: Railbus 09 departs Yabuli daily at 3 pm for Huashan via Lianghe (takes east branch of system) arrives Huashan 4:30 and returns next day departing 6:10 am arriving Yabuli 7:40. Single fare Yuan 4. The conductress sells long flimsy tickets which list fares up to Yuan 10. She cuts off the ticket at the appropriate fare and retains the remainder for accounting purposes. Huashan is described as a forest farm and has as hostel for visitors. Railbus 08 plus trailerarrives Yabuli from Hongchi at 2:50 daily and returns departing 6:30. Neither destination appears on the Quail map but Huashan is on the east branch from Lianghe while Hongchi may be onthe northern branch. Hong chi is not Hong Xing on the Quail map but may be closer to Yabuli on this branch.
Engine shed contained 161, 06 and 01.
5/1
Summit
Train of logs at top by 8:20 with 02 front and 03 rear. 03 returned for second train at top 10.15. Train engine B*309. Banker followed to Xin-fu and went on front. Empties departed Yabuli 10.45 and 12.00 with 07. No further action expected until 5pm apart from tripping to log yard towards CNR line (propelling chinmey first, return tender first on empties). This 12-5 hiatus is quite common at Yabuli. Drove to Weihe after lunch in a minority restaurant in Yabuli. This paid off as Weihe was having a busy afternoon as usual and was sunny for once.
6/1
Yabuli summit, 9:10, log train with 010 on front and B*309 cut into the middle climbed the bank. Second train 10:30 lead engine C2-02 with B*309 banking. B*309 went on front to double head into Yabuli.