Zhanhe
Bei-an arrive 24/12 evening
The only reason to come to Bei-an is to visit the ng line at Zhanhe 50km to the north. Don't come in November which is pre-season. While driving to/from Zhanhe you can phot the conditional steam freight 4185 JS hauled departing Beian 08:40, the regular Longzhen - Beian freight JS hauled dep Zhanhe 10.10 and Beian - Longzhen passenger 543 JS hauled with glint on the bridges south of Zhanhe 15.20.
Zhanhe 25/12
System Diagram added to the end of the report 21/1/99
JS 8246 dep in direction of Bei-an on freight 4186 around 10.30
Forestry Railway 138.5 km mainline + one branch
depot C2 SZ-31080, 31198
2 x 6w diesel mechanical, 1 x bo-bo
Erdaohe 20km out 12ish
CZ-31174 on log train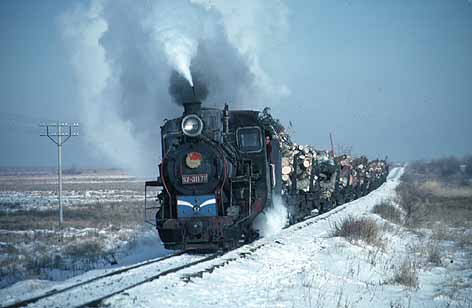 crossed single end bo-bo on empties at 2nd station (first station out?) on way in
At 2.30 on shed were:
CZ-31175, 31174, 31080, repair 31195
JMY380 386 bo-bo under repair (Changzhou 1990)
locos turn on table or triangle?
single end bo-bo no number pink buffer
Zhanhe 26/12 10:10
JS 6554 mixed goods no brakevan dep for Beian
ng line to Erdaohe SZ 31198 (or95)
foolishly continued to Sudaogang
1 pm SZ 31174 on logs semi-failed at Erdaohe, light had crapped out, back to depot
SZ 31175 on empties midway.
Depot SZ 31080 on departure road, steam shed empty, 1 0-6-0 diesel under repair
1 steam loco worked empties into yard
mainline near Zhanhe 14.30 pax from Beian at 15.15, another loco shunting? first station south of Zhanhe.
Day 3 27/12
Zhanhe
loaded train inbound no decent shot
SZ 31010
Sudaogang
photed train on way into Zhanhe
including big bridge
waited on hillside with view as far as Erdaohe but no steam visible after 40 min
single ended diesel went past on empties
On shed
SZ31175, 31010, 31036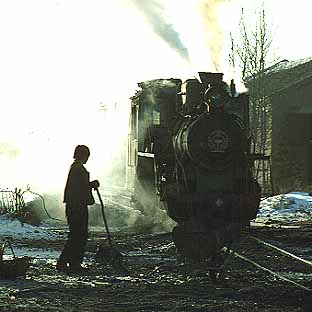 DF1? 1394 built 1968 on local pass Harbindong - Hehe at Zhanhe at 2.30
JS 8246 at 3.20 on Beian - Longzhen passenger with glint on bridge outside Zhanhe.
28/12 Monday
Final day for rooting around in the office fact finding. Zhanhe ng line was built in 1970. The 10 steam locos were built at various dates and the loco log books have often incomplete details. Harbin Forestry Machinery Factory was the only confirmed builder. No explanation for prefixes 'SZ' or '31' available. SZ-31037 first repair '71, SZ-31174, SZ-31175, 3/76, SZ-31180 6/96 no builder's are shown in the logs. Zhanhe has a large ng passenger station and some carriages can be seen still serviceable. The passenger service finished around 1992. Two railbuses with 'Harbin' on their sides provide transport for workers. One of these under repair.