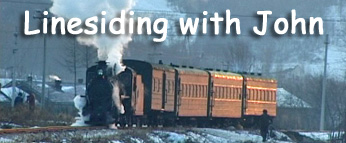 Steamy Java 2008 Photo Blog Part I
Updated 19 September 2008
A Steamy Java 2008 Double DVD is now available.
Details of our 2009 Java tour plans are at:
http://www.internationalsteam.co.uk/tours/java2009.htm
For the final part of the blog go to Blog Part II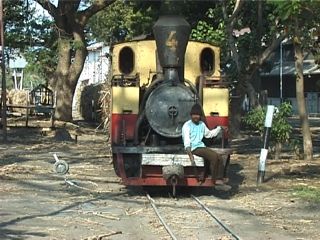 This blog is now getting quite long. Starting from my next posting, I plan to save the first part of the trip as blog1.html and will continue the final part of the trip as blog.html
24 July Mega Bintang Sweet Hotel WiFi, Cepu
The stands from the parade were cleared away late evening and so everything looked good for the Wonongiri train. We went to the junction station at Purwosari and enquired and, sure enough, the train was expected to run after the arrival of the through train with which it makes a connection at around 8:30 am. A small group of 8 of us rode the train and those who wanted a cab ride had one. One of our buses met us in Wonogiri to transfer us to Tasik Madu mill for the afternoon. We saw the vertical boilered steam roller in action but otherwise, railway action was slow as the mill was being repaired. We left around 4 pm to drive over to Cepu, arriving after dark around 7 pm.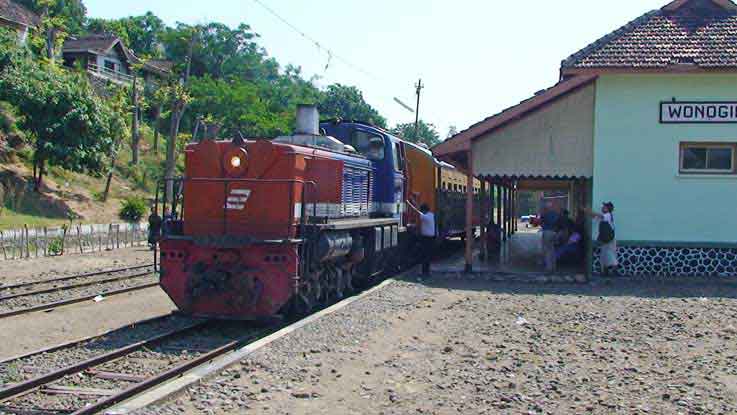 This is the one coach train headed by a BB301 class loco in Wonongiri.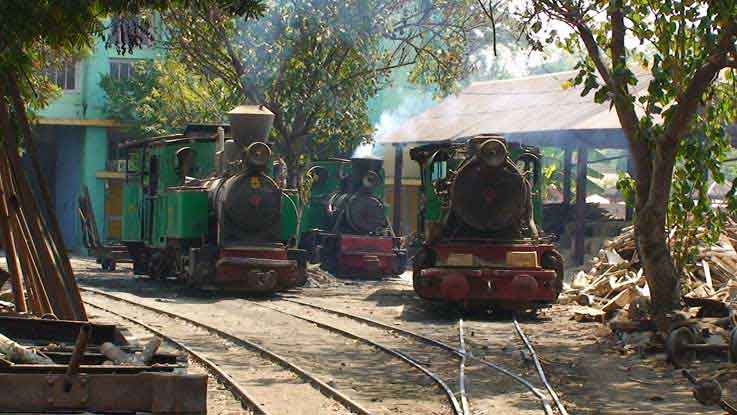 The lunchtime crew change saw several locos on shed at Tasik Madu including the larger locos No. 5 and No. 6 which are used to bring cane from the outer truck yard.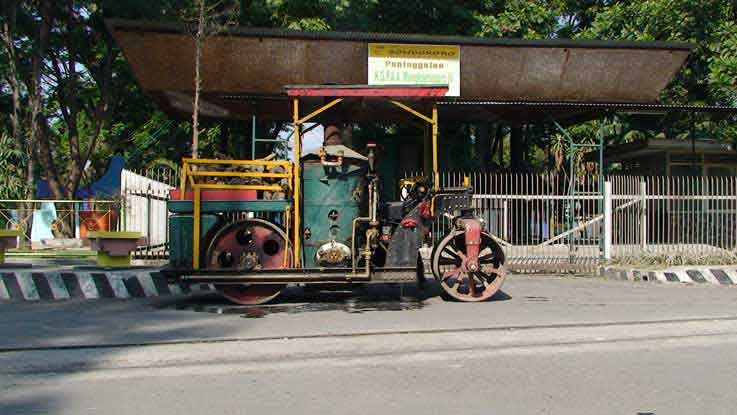 The Tasik Madu steam roller is a strange beast but still capable of being demonstrated in steam.
23 July Riyadi Palace WiFi, Solo
We left Ambarawa for Tasik Madu mill via the Solo bypass. At the mill, we just had time to obtain permission, drop off two people and take a few photographs before heading for Wonogiri and the last remaining Javan branch line train. Unfortunately, it was cancelled. On driving to our hotel in Solo, we could see why. The train runs down the widest, longest and grandest street in Solo and there was a parade due at 1600. With stands built outside our hotel across the tracks, the train had been cancelled. Anyway, the group enjoyed the parade and we plan to have another go at the train on the 24th.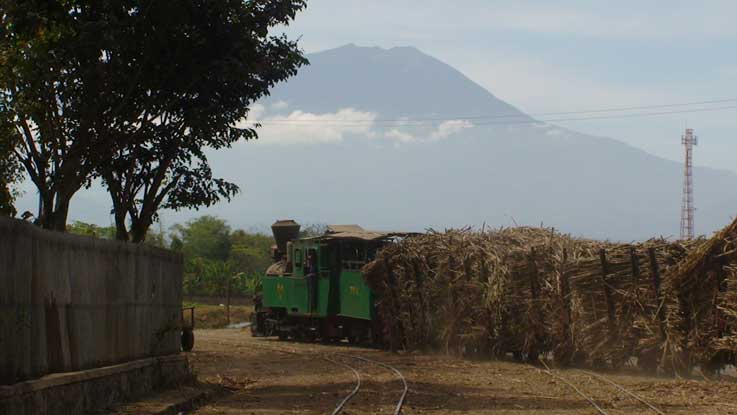 Mount Lawu towers over this scen at Tasik Madu
The parade featured horse-drawn carriages representing other areas of Java.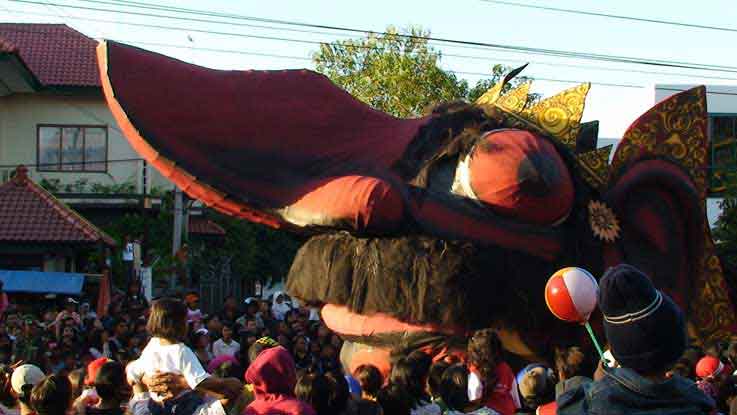 This monster head was at the front of a float carrying a gamelan orchestra.
22 July Ambarawa
An early start (6:30) got us down to the station for 7 and the pleasant sight of 2 locos in steam (C12 and B25). However, all was not well. C1218 had a problem with its cylinder packing and couldn't work. The B25 which we had chartered for the afternoon was being steamed up as a replacement but didn't have enough steam yet for any action. After a lot of waiting (and discussion), the B25 dragged the C12 to Jambu and we got some posed shots of the C12. This was the one loco on the whole trip that I hadn't seen in action before, having been restored in 2006, so this was disappointing. Lunch followed and then we took the B25 up the rack to Bedono. It's normal to do runpasts on the way down as the loco can water at Bedono before the return. However, the B25 was not considered capable of restarting the train 2-coach back up the hill so we only achieved 3 shots of the loco working past us down the rack. After the 3rd shot, the loco had trouble stopping the train and had to whistle up for the crew on the carriage brakes to help out. The loco bent some of its brake rodding before managing to stop some distance beyond us. Although most of the passengers on the train were unaware of what was happening, this was fairly dramatic and marked the end of runpasts although the train made it back to Ambarawa OK.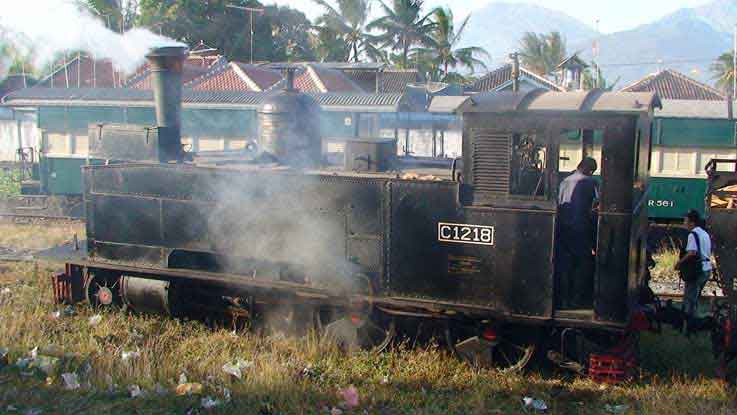 Things looked good when we got to the shed in the morning.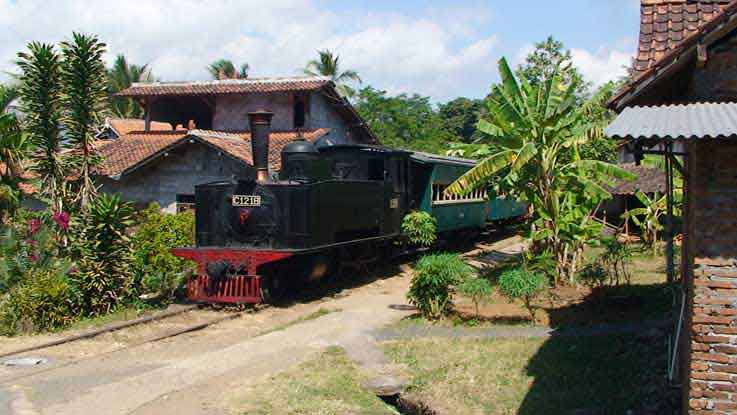 The C12 had to be dragged by the B25 to get this shot.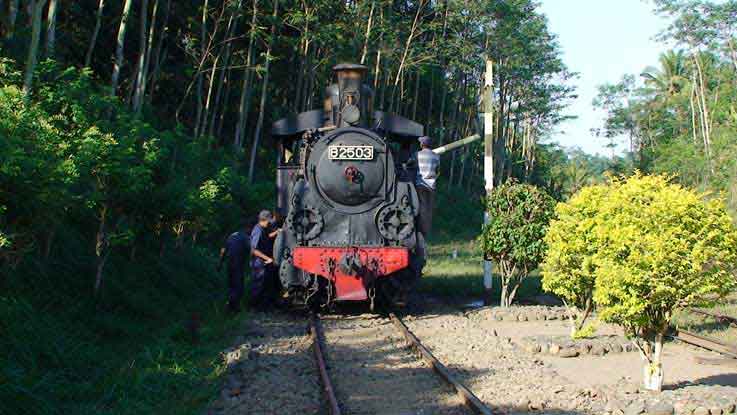 Watering at Bedono after climbing the rack.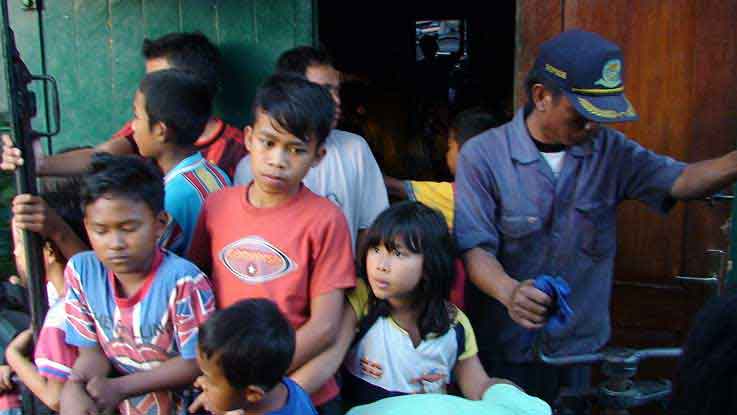 Of the two coaches, one was filled with loco children enjoying the ride.
21 July Bandungan nr Ambarawa
With no sign of WiFi in Bandungan, this will probably not be uploaded until we get to Solo in two days' time. Today our bus went back to Sragi mill for the early morning action while the other bus went to see the re-activated mill at Cepiring (no steam locos at present). The highlight was the first movement we saw with 3 locos propelling a long train into the mill. Previously, this usual operation had been seen with only 2 locos. When the sun got too high we drove on to Ambarawa museum and rack railway (3.5 hrs) and had a charter with E1060 from Ambarawa to Jambu. The light was good all day and we got some nice shots.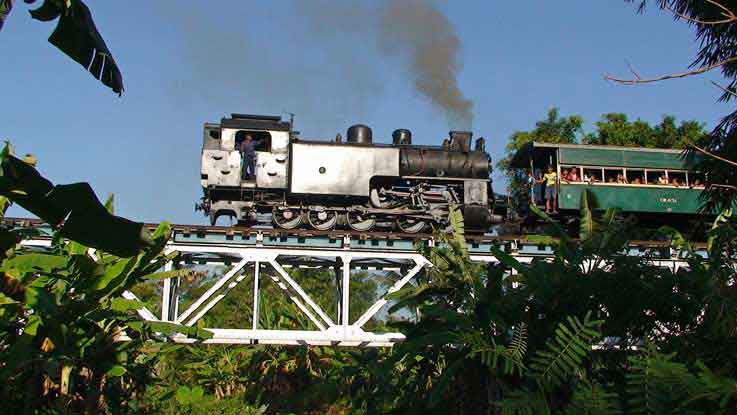 E1060 glints as it crosses the bridge at Jambu. This loco was built in 1966 for the coal railway from Solok to Padang Panjang in West Sumatra and was moved to Ambarawa for repair and further service. Despite being a rack loco, it's too heavy for the rack at Ambarawa and is restricted to the Ambarawa - Jambu section of normal track.
20 July Batang, Hotel Sendang Sari WiFi
Two mills today which provided plenty of action. At Sumberharjo, we saw 2 trains of empties going out to the fields hauled by steam locos. I chased one of them on foot for about 1km and got two shots. Then, after lunch to Sragi where things were a bit slow due to mill breakdowns and derailments. Things got going again late afternoon and we saw a number of train movements with 8 steam locos in action and only 1 diesel. Action here is now only from the truck yard.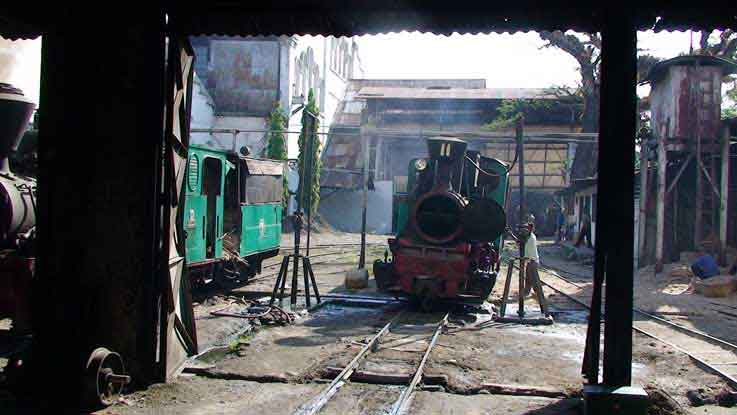 Early Sunday morning shed scene at Sumberharjo.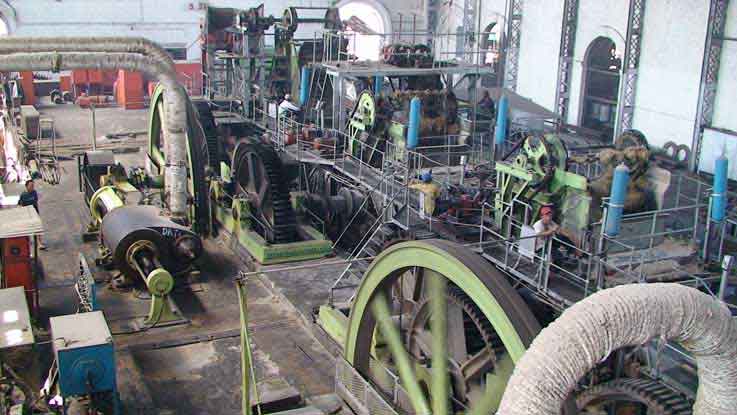 This is what it looks like inside the mills. Two milling engines at Sumberharjo.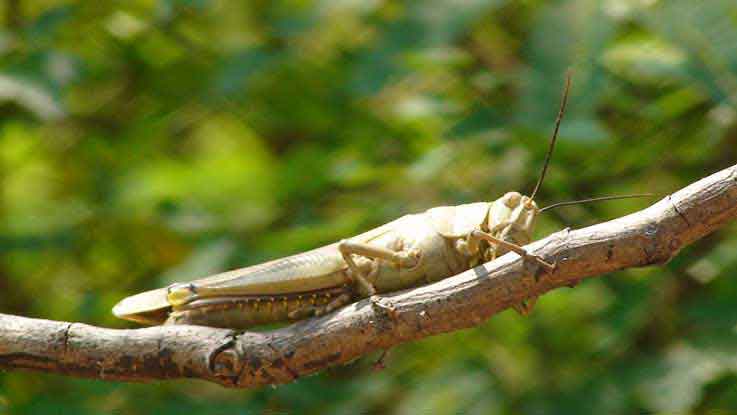 There is a bit of wild life. A hopper similar to this found its way onto our bus yesterday.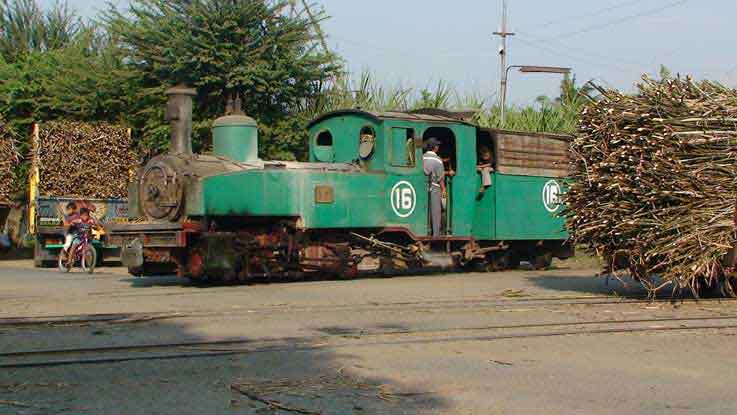 Sragi No.16 formerly worked for the Dutch East Indies state railway 600mm lines before closure. At Sragi, with no field lines left, it is now used to push the loads into the mill.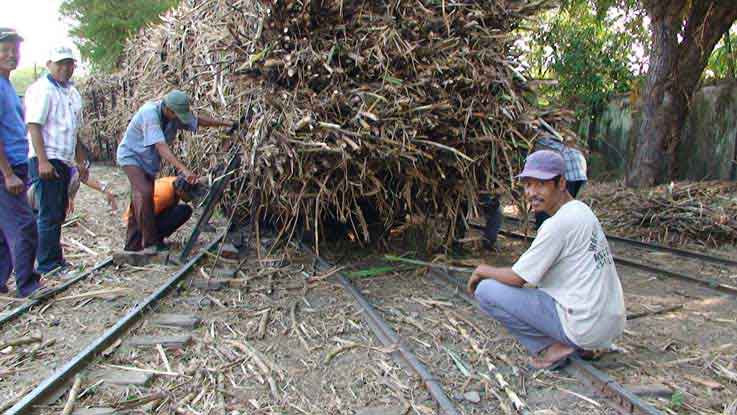 Derailments are common and nothing to worry about.
19 July
A really good day with our first real working steam loco (No. 5) at Jatibarang and then four locos in steam at Pangka. No. 2 and No. 9 were working the full loads from the yard, No. 10 was moving empties from the mill and No. 3 was spare. In addition, 3 smaller diesels were also working. After quite a long day we drove to Batang just beyond Pekalongan. These days Pekalongan is a dry town but just across the border in Batang you can still find beer to go with dinner.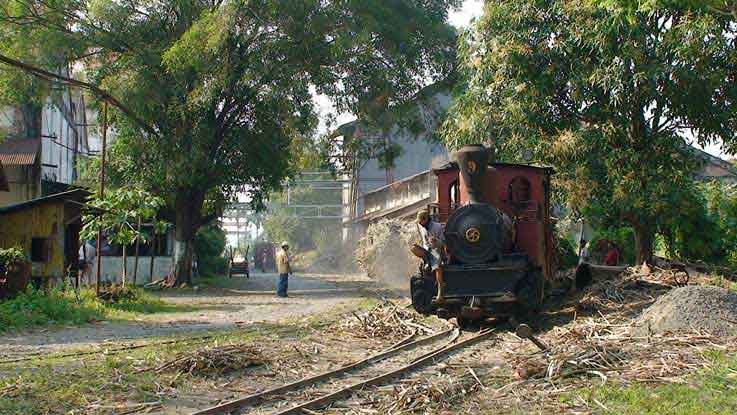 The run from the truck yard to the weigh bridge at Panka is one of the more attractive scenes to be found at the mills that no longer have steam field work.
18 July Cirebon, 'Eighties' WiFi zone
Today we visited 3 mills and only at the last one did we find a working steam loco. Karangsuwung mill uses tractors to hawl the wagons (lori), Sindanglaut is now all diesel and only needs 3 as there is no more line work and Tersana Baru is now diesel only although it still has field lines. Luckily, one loco was in steam here ready for a Japanese party due tomorrow. It was pressed into service and we got some nice shots and saved Rob having to offer free beers tonight. Along the way, we crossed several rivers close to the sea with their colourful fishing boats.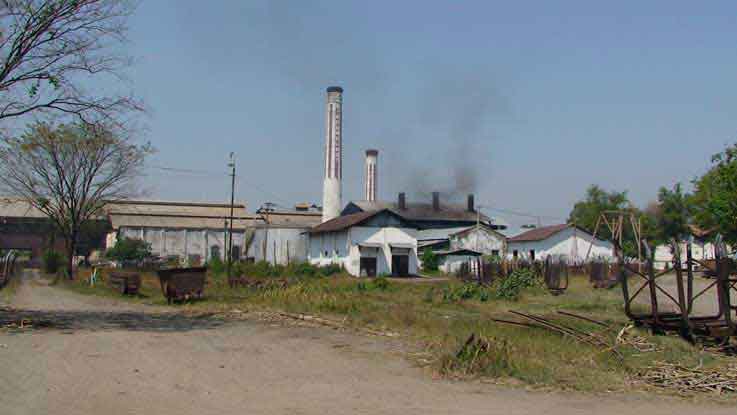 Our second mill of the day, Sindanglaut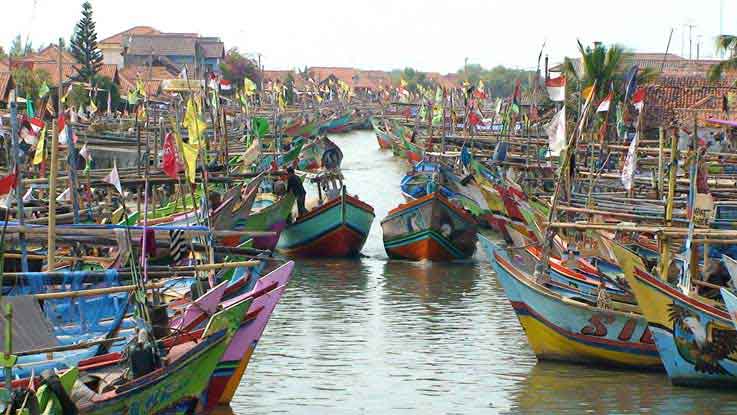 The fishing boats at the turn off to Tersana Baru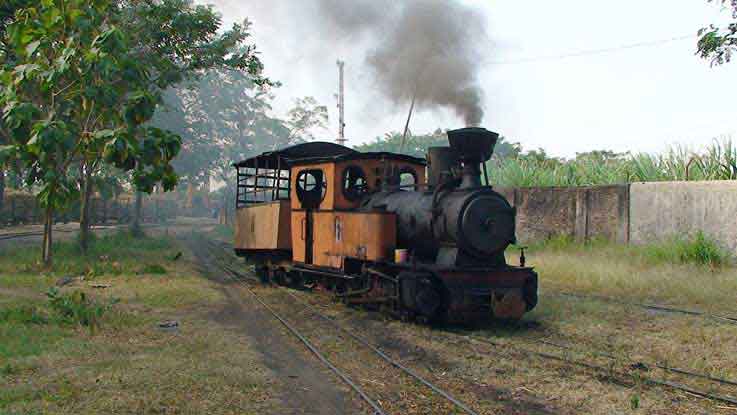 Our first working steam loco at Tersana Baru but this mill is now normally diesel
17 July
The tour proper begins and with quite a lot of driving around Jakarta to Taman Mini and then about 5 hours along the north coast we reach Cirebon. Tamam Mini has a good selection of PNKA locos (as good if not better than Ambarawa) and the museum grounds are well laid out.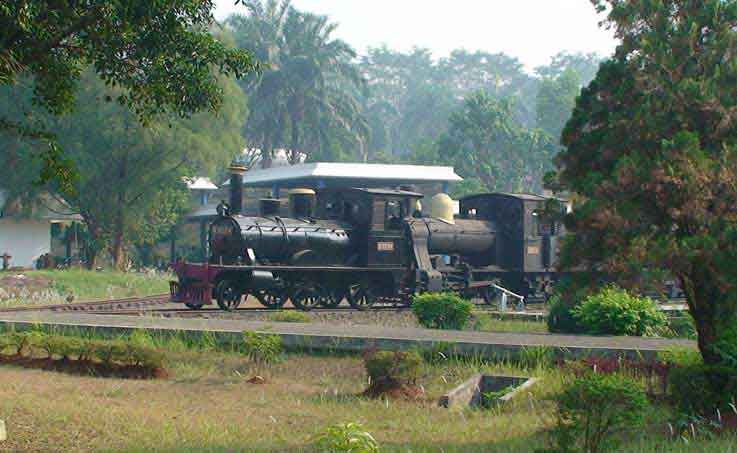 There are around 25 steam locos in Taman Mini. Here we see British-built B5004 without its tender in amongst the well established trees. B5004's tender is behind B2301 ( a loco I saw shunting oil wagons at Kediri in 1983).
16 July
Ensconced in the Batavia Hotel in the downtown area of Jakarta. After a full nights sleep, I still feel a bit tired as we wait for another party member to arrive at the hotel before we set off to explore the old port and Kota area. The hotel is based on an old Dutch building but it's not totally clear how much is 'authentic' and the two old Java illustration of the 'kantor pos' and a small bridge are repeated endlessly on the walls. In many ways, the tour proper starts once we leave Jakarta although we have a trip to Taman Mini to look forward to tomorrow on our way out of the city.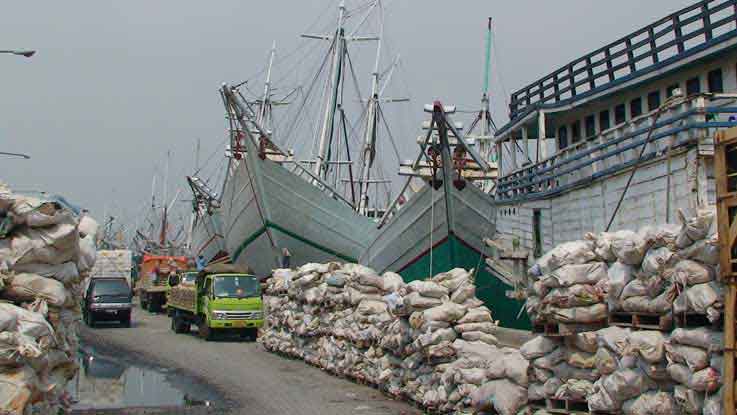 A morning visit to Sunda Kelapa revealed a decline in the number of wooden sailing boats since my last visit many years ago but still a reasonable number for coastal shipping of cement and other bulk items.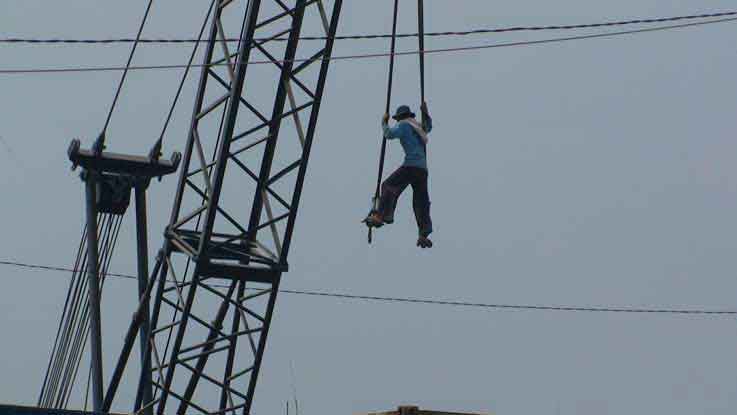 In order to lift a container without modern specialized cranes, a man is required to ride the hooks up onto the top of the container to attach the hooks at each corner.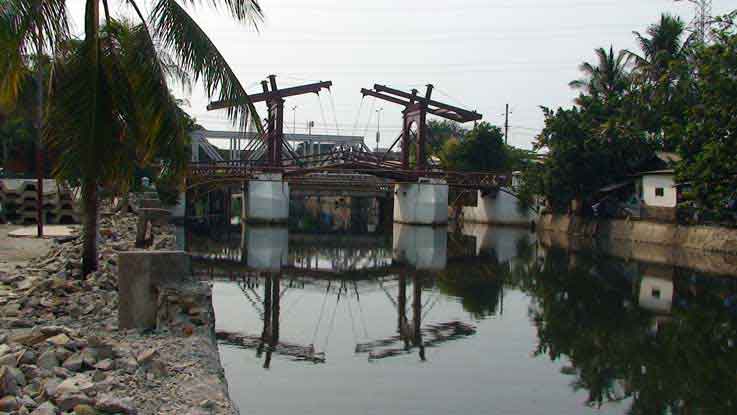 There are not many signs of Dutch colonial times but this preserved lifting bridge is one of the more impressive. It's a good job the internet can't manage smells!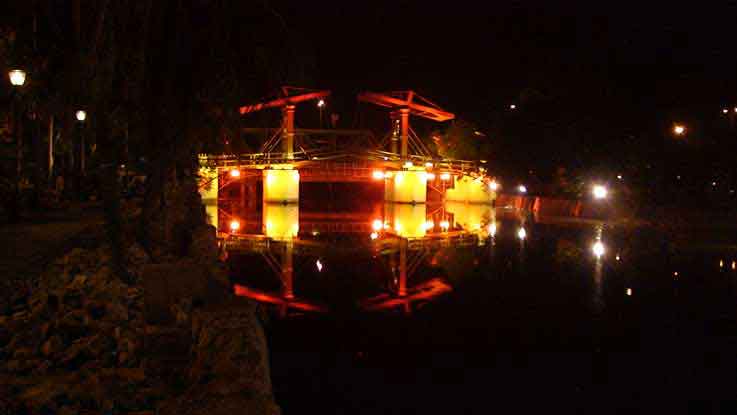 The same bridge by night. Two of us sat and had cold beers after our evening meal and enjoyed the view - plus bats and a few biting insects.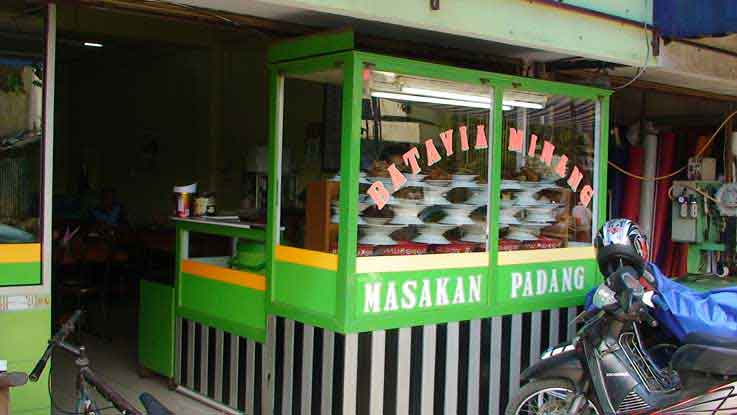 Lunch was Nasi Padang food (a specialty from the Pandang area of Sumatra but found widely). Food is served in several individual dishes brought to your table. You pay only for what you eat and a waiter comes round at the end to tot up the bill. The restaurants always have this characteristic display of food on plates in their windows.
14 July
The blog start at Heathrow Terminal 3 where I manage to get my wife's BT Openzone wi-fi account to work. Of course, there's not much to say about Heathrow except that there are vasts numbers of shops and few places to sit. I rode the Picadilly line via T4 to T 1,2,3 which I think must be a new loop. The other service serves T 1,2,3 before terminating at T5. Everything set for a good visit to Java.
To see the trip schedule, go to http://www.internationalsteam.co.uk/tours/java2008.htm
Contact John Raby:

This is not a hotlink. You need to type this address into the 'To' line of your email.
Go to my index page.