Steamy Java 2008 DVD
Updated 10 June 2009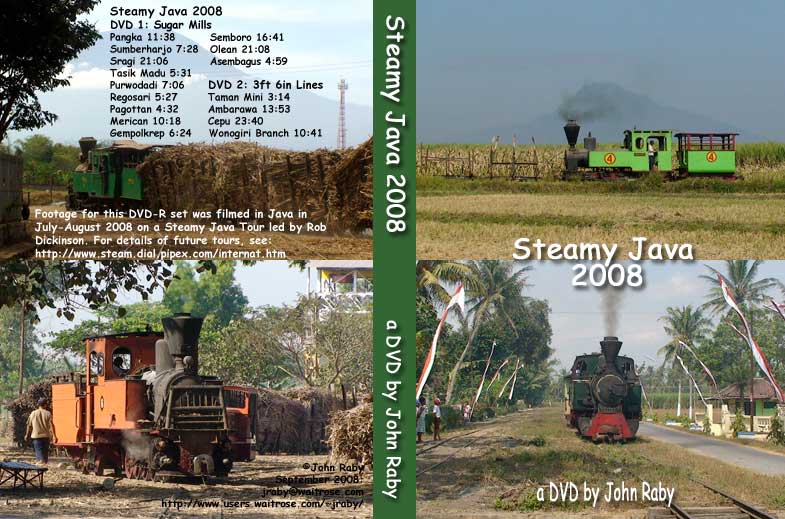 This double DVD is available for £18.00 plus postage worldwide.
It was filmed during the Steamy Java 2008 tour led by Rod Dickinson on which I assisted.
There won't be a tour in 2009 - I think the world recession spoilt our fun - but we hope to run a 2010 tour. Contact me if you are interested.

View the photo blog that I kept during the 2008 tour:
For the first part of the blog, go to Blog I
For the second part of the blog, go to Blog II
For the post-tour blog, go to Post-Tour Blog
| | |
| --- | --- |
| | |
| The Ambarawa Railway Museum | The Cepu Forest Railway |
| | |
| Semboro Sugar Mill | Wonogiri Branch Passenger Train |
You can also view these videos on YouTube. Go to http://www.youtube.com/user/trundlebahn
The now-cancelled 2009 tour details are on Rob's website. Go to http://www.internationalsteam.co.uk/tours/java2009.htm
You can find details of my other Java DVDs at http://www.users.waitrose.com/~jraby/indonesiadvd.html
Contact John Raby:

This is not a hotlink. You need to type this address into the 'To' line of your email.
Go to my index page.