Jianghe Coal Railway
is relatively close to the end of the expressway to the airport
Bus to Lianlu from Northern bus station
Fushin is the town at the middle of the line. The railway appears to skirt this town to the east of it. Without official permission to visit the line (denied in our case) this town, the mine and the coking plant should be visited with caution.
Taisansu is the scenic village with the passing loop and the aqueduct. The siding here goes to a sand store. The locos require sand on wet days for sanding on the descent from here with loaded trains. On dry days trains in convoy stop here to allow preceding trains to clear the steep section before following on.
current line runs from
Janhe (mine)
Fushin(town)
Taishanshr (loop)
302 Sanlinar (coking factory)
References:
Chris West, 'The Jianghe Coal Railway and other Chinese Narrow Gauge Railways' in Locomotives International no. 51 Sep-Oct 1999 pp12-15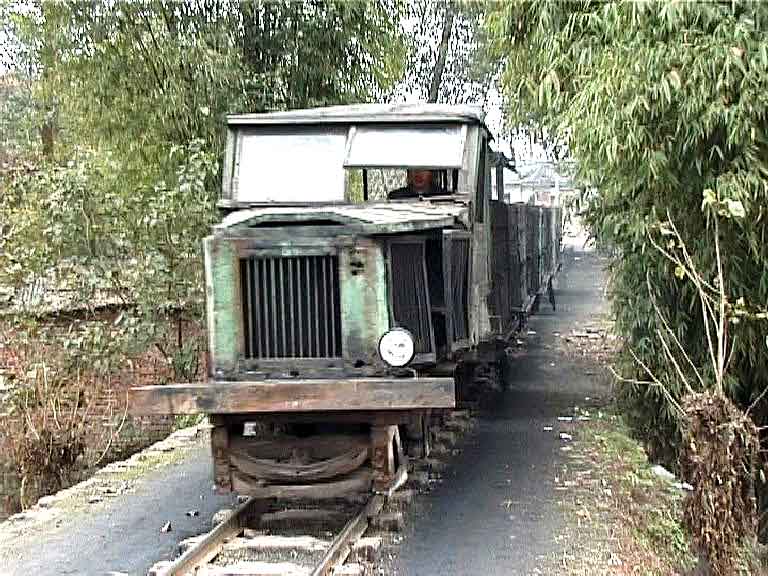 Four-wheel diesel (reported to be from Bulgaria) on the 610mm Jianghe system near ChongQing which started life as a British 2ft line probably using British saddletanks. Permission to visit here was denied so we went only to the pubic bits of the line. The reason (according to Li Nan) is that the manager is irate that his ugly diesels appeared on the cover of a glossy Japanese rail magazine and doesn't seem to understand the 'heritage' attraction of this line and these amazing vehicles.