Video Diary: Southern China Narrow Gauge and Industrial Railways, December 2001
November 2004
I produced a DVD of this trip entitled Sichuan Narrow Gauge 2001. Footage of Datong Coal Railway, Pingshi Coal Railway and Chenjia Railway was also used on two other DVDs. You can see more information about this and my many other DVDs here. Or, you can click here to send me an email order enquiry.
25 September 2002
No further work on this page is contemplated.
Update: Pengzhou line has lost its mixed train and the freights are diesel. Chengjia is on its last legs, operating only over part of the route or possibly closed. Pingshi is assumed dieselized. The video of the trip is still available in various versions and is a great narrow gauge/industrial video (if I say so myself).
8 February 2002
The Video Diary has been started! See the Pengzhou page for the beginning of this narrative to accompany the video footage.
24 January 2002
Each line given a separate page to allow for development. New photos added to Jianghe, Gansui and Pingshi.
Video of small mine railways ready (50 minutes) featuring mines marked * below.
Main video ready (4 hours).
Internal links added 7 January 2002
You are recommended to also look at Narrow Gauge Steam in China. This now has updated information on all of the lines listed.

Lines Visited (internal links added 7 January 2002)
On our visit to Southern China Dec 15-Dec 31, Rob Dickinson (aka Super Gricer) and me, John Raby (aka Gourmet Gricer the Younger) visited 6 narrow gauge and industrial systems in Sichuan and Hunan provinces. Five lines still use steam engines and 4 lines are narrow gauge lines. We also tried to visit any small mines in the areas close to the railways and ended up seeing 7 very narrow gauge lines using hand tramming, cable and electric (overhead and battery). The smallest gauge was 300mm (disused at Hongbitan). The usual gauge was a nominal 600mm and we also saw 400mm and 500mm gauge lines. The Hongbitan mine has 3 different gauges (300mm disused, 500mm and 600mm both in use). A separate video of these mine railways is now available (50 minutes).
Pengzhou - Baisuihe, 762mm (edited video footage available: 50 minutes)
C2 0-8-0 plus Mudanjiang diesels
Plus small 400mm coal mine* (cable and hand tramming) at Shuangxianzi between Guanzhou and Meisuling

Shibanxi - Huangchungjing (Jiayang Power Company), 762mm (edited video footage available: 45 minutes)
C2 (possibly really heavier C3 type) plus electrics
Plus Hongbitan coalmine* near Shenzhenjiao (there are 5 other small mines near here) , main gauge 500mm, graded loading line 600mm and disused spoil line from tunnel mouth up incline 300mm

Gansui - Baiyan (Songzhao Coal Company), standard gauge (edited video footage available: 32 minutes)
SY 2-8-2 plus railbus
Plus 2 600mm coalmines* (battery electric and cable) at Baiyan.

Jianghe Coal Railway, 610mm (edited video footage available: 15 minutes)
2ft gauge coal line* with British origins dating from c.1900 using unusual Bulgarian 'galloping geese' diesel locos. We were not allowed to see the ng oh electric mine railway here.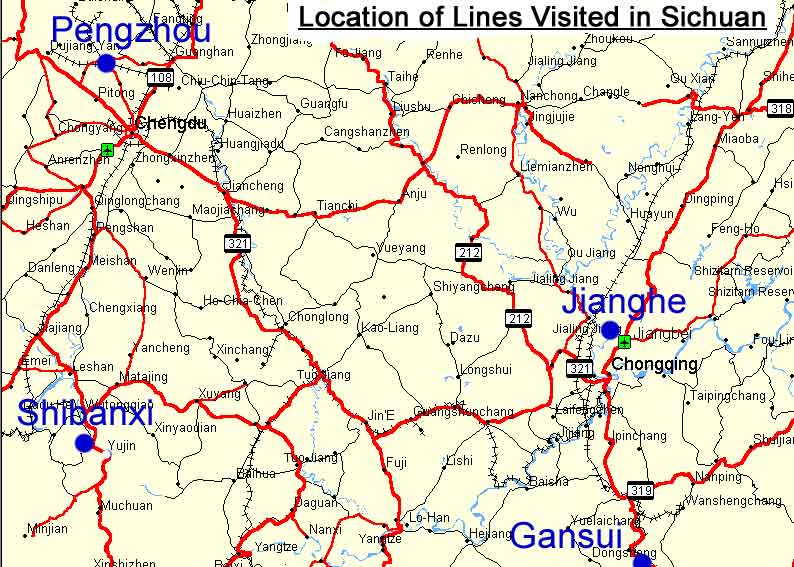 B. Hunan Province
Chenjia Railway, 762mm (edited video footage available: 53 minutes)
C4 (based on Polish Px48) 0-8-0
Plus mine railway* (no connection to Chenjia line), not coal, nominally 600mm with oh and battery electrics.

Pingshi Railway, standard gauge, (edited video footage available: 20 minutes)
JS 2-8-2 and DF4
Plus 2 coalmine railways* linking a mine to Hulukou sidings on this railway, both oh electric, one 762mm c.5km long fed by c.1/2km 600mm line from the mine to the tippler.
*All of the small mine railways marked * are available on a separate video (50 minutes). This footage also included on the videos for the main railways.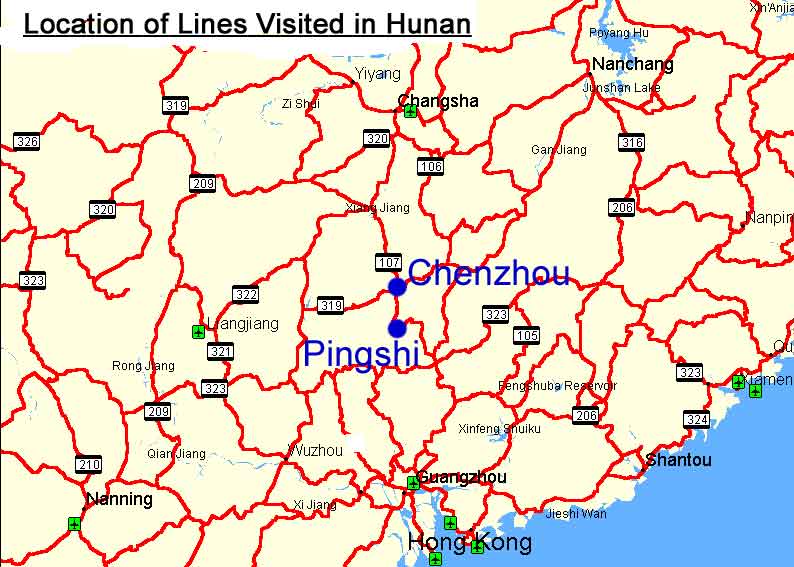 Video details (amended 24 January 2002)
The information about the narrow gauge, industrial and mine railways in Sichuan and Hunan is available for free by clicking on the links above. However, if you are planning to visit these lines, or if you are researching these lines, you may be interested to watch the digital video diary I shot. This video is different. I do not intend to edit it down to just the 'exciting' bits which tends to get a bit frantic and cuts out lots of local detail, rather I plan to leave it mainly intact (cutting out only ground shooting and long periods when nothing happens). The reason for this is to make available a better research tool for those who either plan to visit the area or who are researching railways in China. Those who just like to watch exotic working railways from their armchairs may also enjoy this video.
The video is ready but you can 'pick-and-mix' the lines that you want. The amount of footage for each line is shown above. Choose up to 2 hours on one VHS cassette for the usual £16 including postage anywhere in the world. It will all fit on 2 two hour tapes. If you want only the small mine railways, this is about 50 minutes. I will put another hour of your choice on the tape. I can now produce good quality NTSC copies (for those in the USA, Canada, Japan, etc.) as well as PAL. Contact me to order all or any of this video footage at

You are recommended to look at Narrow Gauge Steam in China. This has updated information on all of the lines detailed above.
Bookmark this page and come back to see more text and pictures as South China Video Diary develops.