Steamy Java 2012 Blog
Steam Tour Part 3
Completed 10 August
Steamy Java 2012 DVD
(Details Later)

Also blogging is tour leader Bernd Seiler. His blog is here.
Bernd's Steam Tour (last 4 days) is planned to provide:
6 August - In the morning we'll visit the impressive temple of Borobodur before we continue to the rack railway in
Ambarawa. After visiting the railway museum we'll board our charter train with a class B25 rack
locomotive and steam up in the mountains. In the rack section they do not like to stop for runpasts, that's
why you should take our bus which will run parallel if you want to make pictures in this section. Hotel
probably in Bandungang.
Our hotel was in Yogya which meant a 4:30 departure for Borobodur but also an excellent excuse to miss it again. The second bus left at 7:30 and we had a steady drive to Ambarawa arriving around 10:30. The railway museum is officially closed until August 2013 but unofficial access is possible and they are still running charters on request. The place is very sterile with no tourists and no vendors but the major changes have already been made. The station access road is now pedestrianized and in future parking will be close to the road turn off. The vendors who once 'lived' on the station and, in 2010, across the tracks have been cleared out. Some locos have received a new coat of paint and there is now a diesel shunter and several additional old carriages around and 2 Cuban-style box-van coaches which would look especially awful on a steam charter. The B51 is a work in process and there is no sign that completion is near despite steam tests being due in January 2012.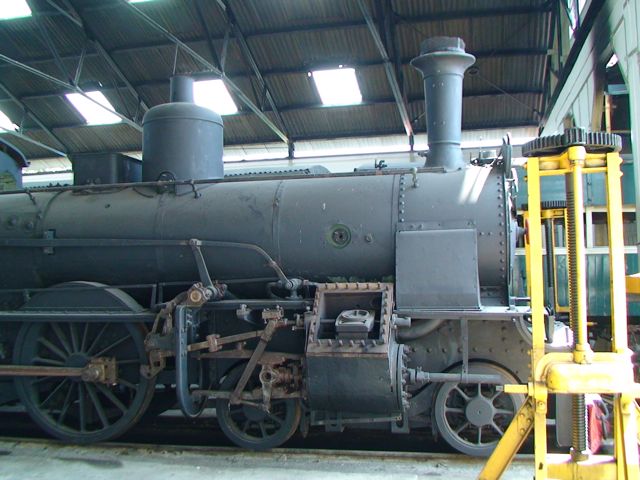 The B51 - I was looking forward to seeing this in action...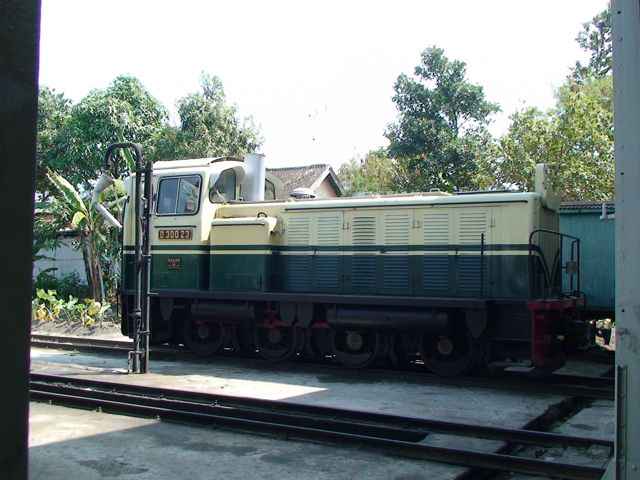 The new diesel shunter.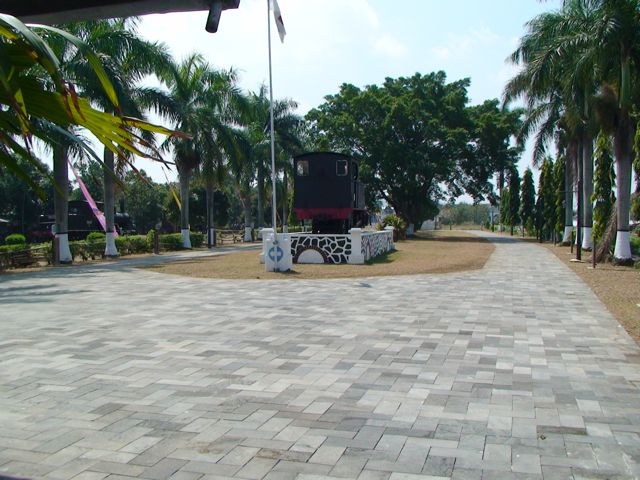 The Royal Palm approach to the station has been pedestrianized.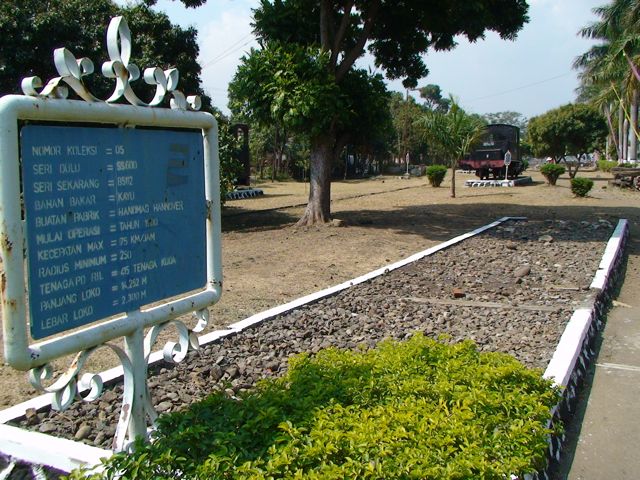 The plinth that the B51 under repair escaped from. They must have laid temporary track to release it.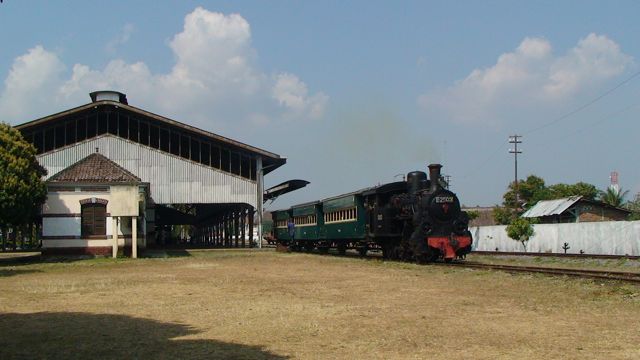 Our loco shuffles out of Ambarawa station with our train.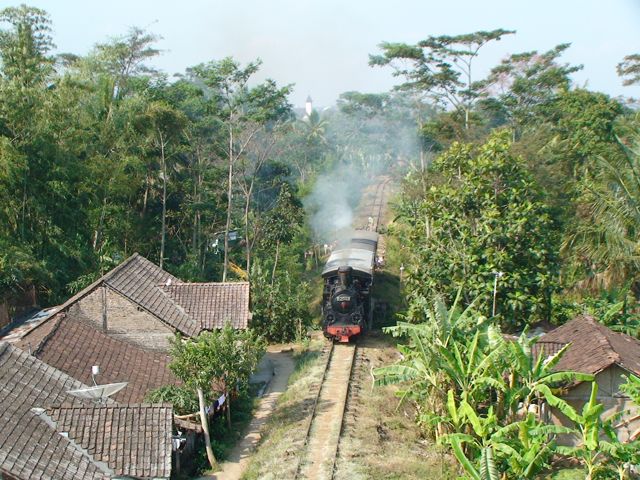 View from the new bridge which seems to be part of an eastern bypass to Ambarawa.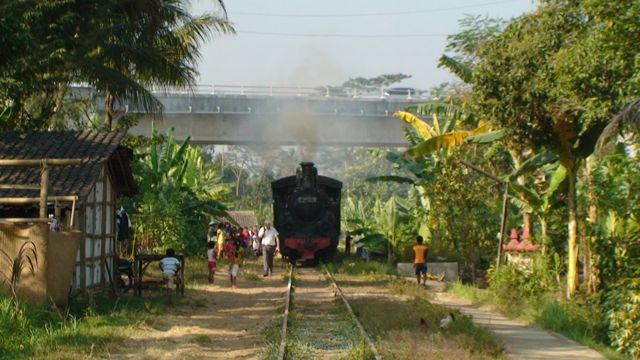 B2503 with the new bridge in the background.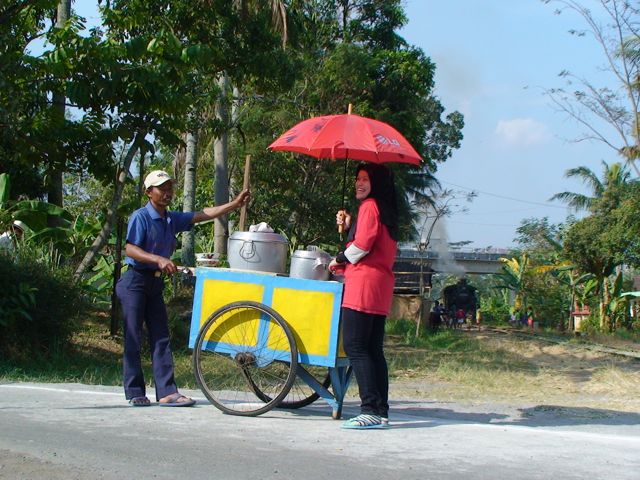 A cold drinks seller poses with a customer for the assembled photographers.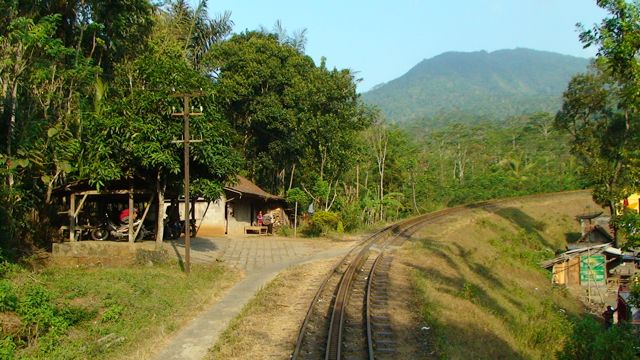 Unimpeded view from the front balcony going up to Bedono.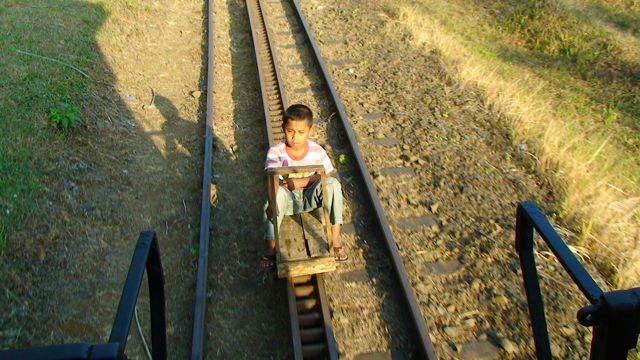 Little boys still ride their trolleys down the rack behind the train.
7 August - In the morning we'll return to Ambarawa and enjoy a charter train with the fantastic, freshly overhauled
4-4-0 locomotive on the flat section of the museum line of Ambarawa. In the afternoon we'll continue to
our Hotel in Pekalongan. On the way we'll stop at Cepiring. Here they've plinthed all their steam
locomotives (in a very sad shape and painted green). We should also find some diesel locomotives
dumped in the former depot.
Dream on! And it seems we also 'broke' the B25 yesterday as they had to buy a part 'from the market' before it would be available again so our morning ride to Tuntang was cancelled and we had another lie in (8 am departure) and headed to Cepiring directly by the back route through the mountains via Boja. At Cepiring, the steam locos and one diesel are parked at the back near the old office building with a Moes diesel plinthed closer to the mill. The mill works 10 months of the year. An internal rail system is in use but is reported to be operated by tractors. Can anyone confirm this?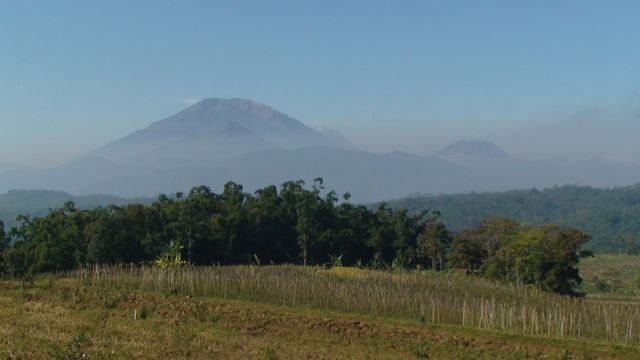 Mount Merbabu (3142 m) with Merapi (2911 m) hiding behind it.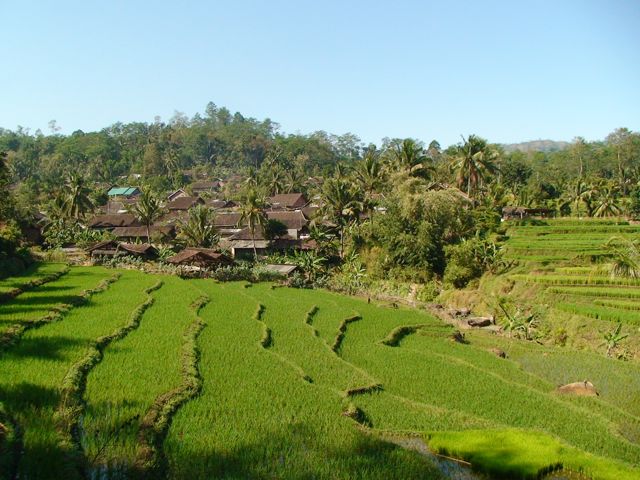 Rice terraces and a village on our mountain route.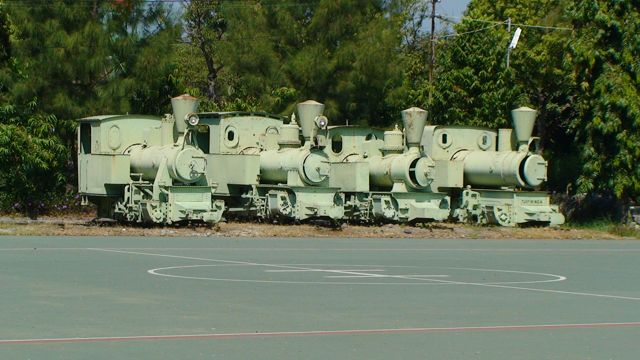 Four steam plinthed to the right front of the administration building.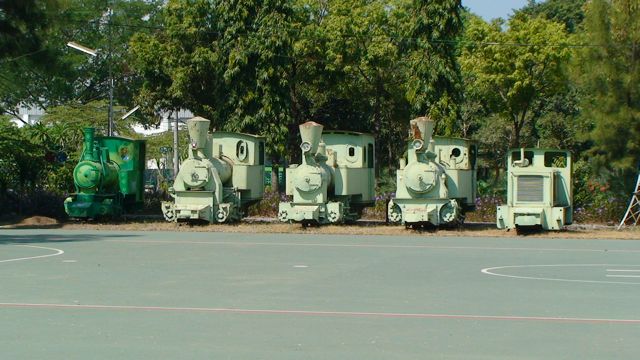 Four steam and one diesel plinthed to the left front.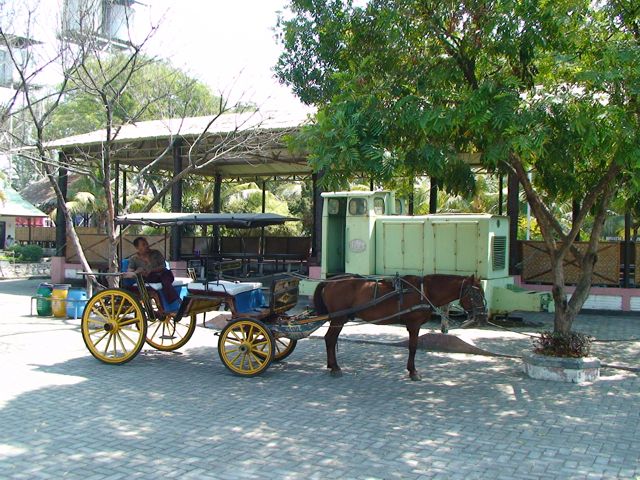 Moes diesel and even older method of transport parked in front.
Sragi had 7 locos in use in the afternoon - Nos. 5, 7, 12, 16, 17, 19 and 20. Action was slow as the mill was stuffed with cane.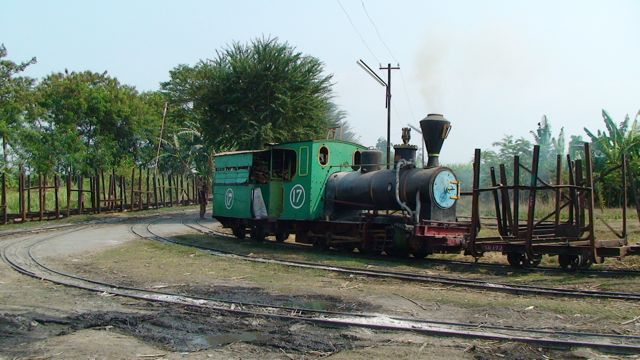 No. 17 was supplying empty lori to the unloading gantry.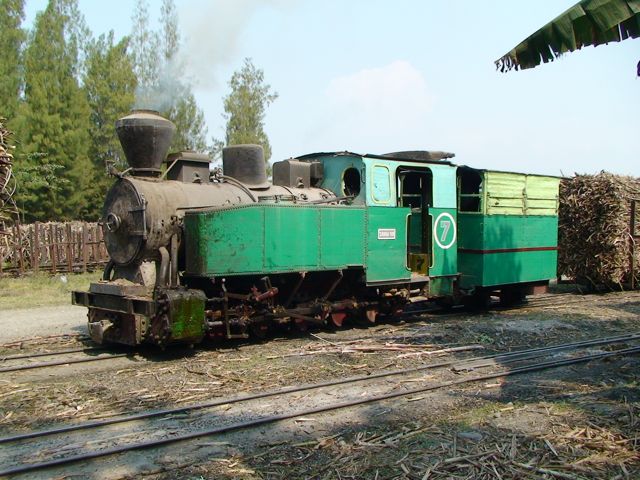 No. 7, one of the Schwarzkopf locos, was propelling fulls into the mill yard.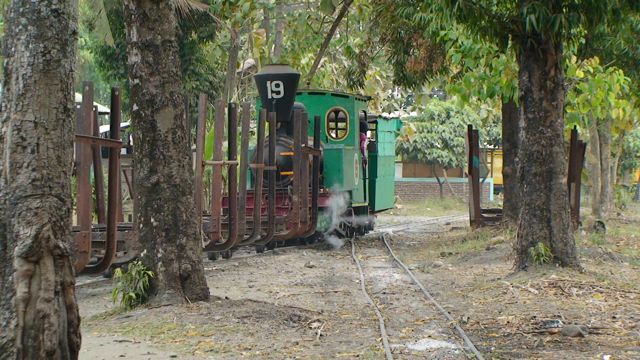 No. 19 taking empty lori from the mill to the unloading gantry. No. 20 was also on this work.
8 August - In the morning we'll visit the mill in Sragi. Besides up to seven steam locos Sragi uses a few diesels as
well. The morning light offers the best conditions for photography in the depot. Heavy trains are pushed
from the large loading area in the mill's yard. Sometimes two locomotives are necessary to do this hard
job! Such a spectacle can bring together locomotives from Hartmann, Schwartzkopff (0-10-0s) and
Henschel. We expect to find five or six steam locos in service (in 2011 we saw eight in steam). They also
use a very few diesel locomotives. Hotel in Pekalongan,
Back to Sragi for 7 am to get the best morning light with the locos on shed at shift change. The light was much better than yesterday afternoon and this was one of the most pleasant sessions of the whole trip. There were six locos in steam (one less than yesterday) as No. 20 was cold in front of the shed. Keio diesel No. 26 was also in use. We were done by 10 and off to Comal and then Suberharjo after lunch.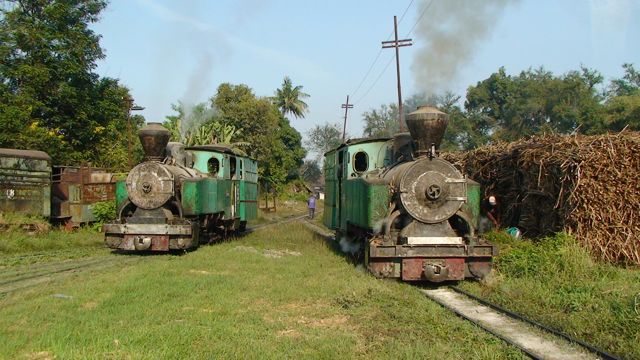 Two Schwarzkopf locos (Nos. 5 & 7) preparing for the morning's work.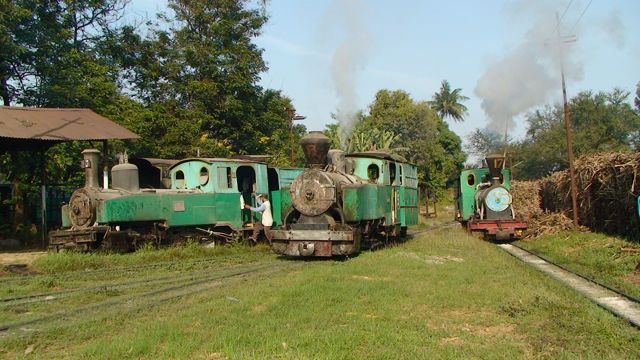 A Hartmann, Schwarzkopf and a centenarian Jung (built 1911). It's beginning to look interesting but see the next photo.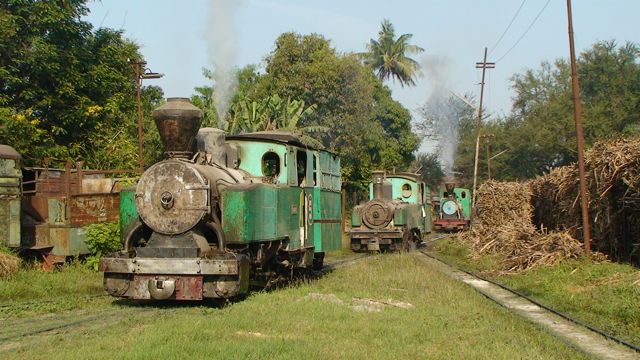 The perfect line up with the second and third locos in motion - Schwarzkopf No. 5, Hartmann No. 16 and Jung No. 17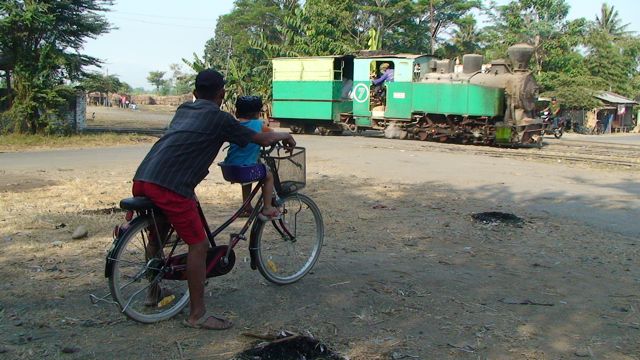 A father brings his young son to watch the trains.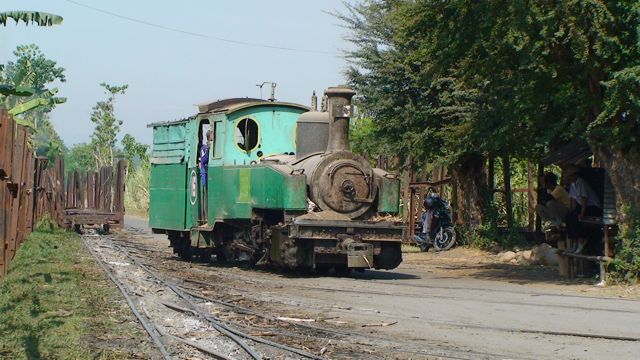 Hartmann No. 16 gets ready to push another load from the loading gantry to the mill.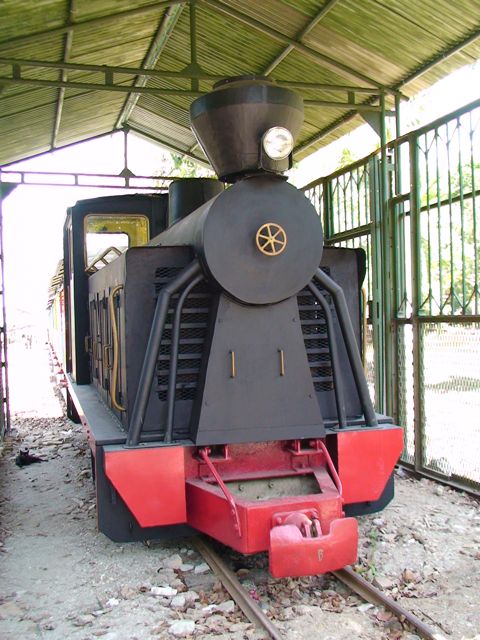 Steam-outline Hokuriku diesel on a passenger train in the park railway is the latest addition at Comal.
In the afternoon, Sumberhargo was not working at maximum capacity and cane was stacking up everywhere. As a result, the only field work we could find was No. 10 going out to collect temporary track. We rode the loco out to the east about 2 km but first they had to repair a broken rail. We collected the track and then came back to the mill derailing 4 times on the way arriving back at sunset. One steam field train (cutting 5 km from mill) and one diesel train further out, both on the line to the east, were expected after dark with 4 steam-hauled field trains expected tomorrow once the mill resumes full production.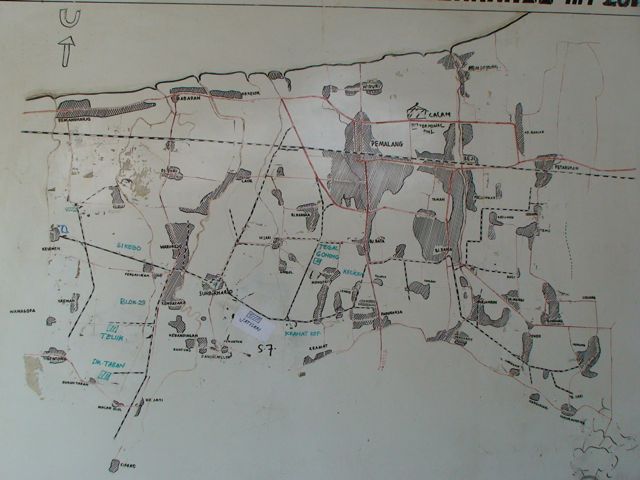 Map in the control office of the field system. Our afternoon train was to Jatisari.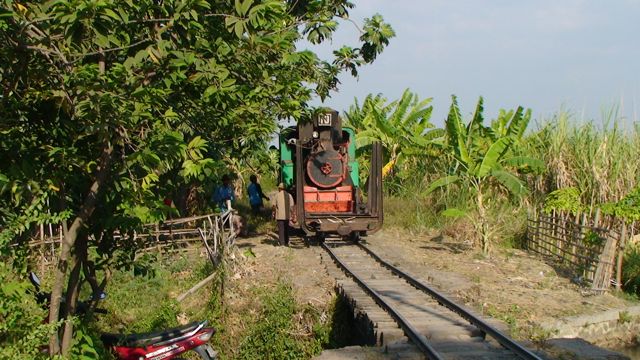 Our loco plus one lori held up by a broken rail.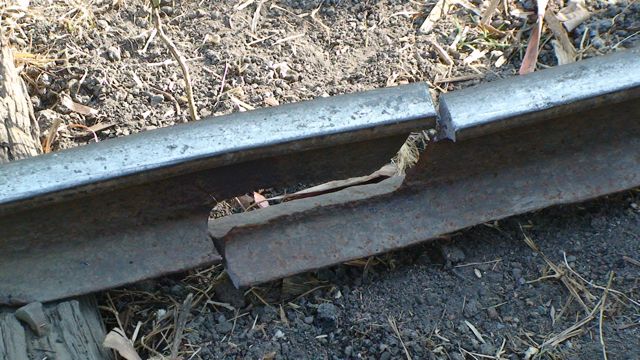 Broken rail.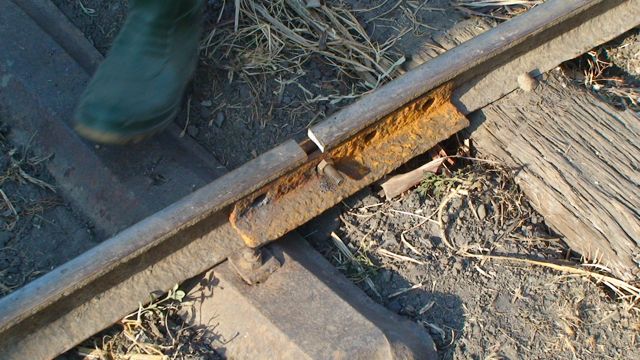 Quick fix.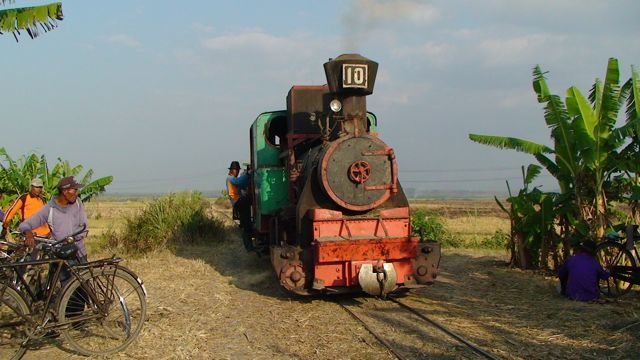 Our train of temporary track ready to head back to the mill.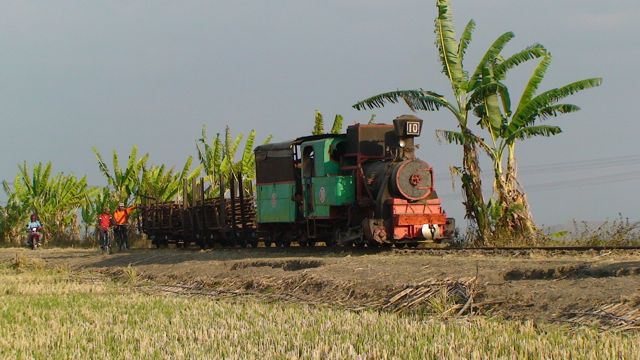 On the way back.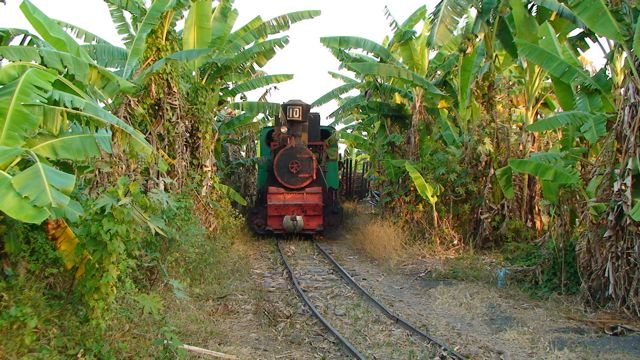 Despite 3 derailments with the loaded temporary track lori, we made it back before sunset.
9 August - Because it's one of the best mills regarding line operation with steam we've planned the full day in
Sumberharjo. In the morning all steam locos will be prepared for the daily duties. They are fired in or in
front of the shed, usually causing really photogenic sunray games when smoke is rising from the
chimney and spreading under the roof of the loco shed. In the late morning trains of empties leave the
factory, usually three to four of the trains are steam hauled. In the afternoon we'll visit the lines around
Sumberharjo in search of loaded steam hauled cane trains, again. We'll also see the fleet of diesel locos
here. About three of them are used for line service. Hotel in Tegal.
We arrived to get permission to visit the depot by 7:30. The morning light was nice as always with locos 3, 6, 7, 9, 10, 11 in steam and preparing for work. However, the mill was still not processing cane normally and there was a large backlog so all field trains for the day were cancelled. We, therefore, headed to Pangka in the afternoon and found 4 locos in steam and 3 in service.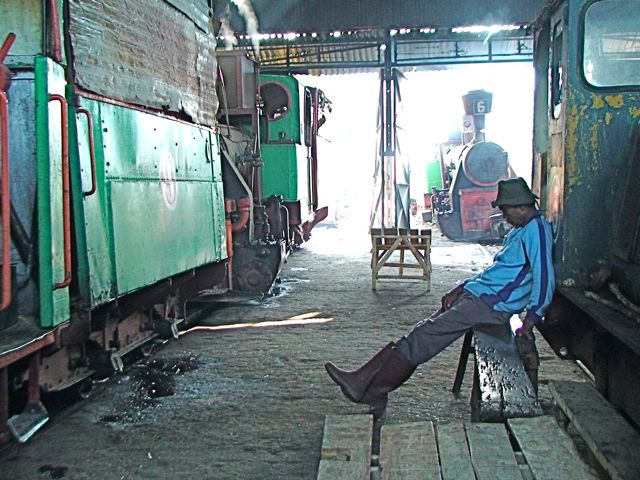 One worker finds time to catch up on a bit of sleep.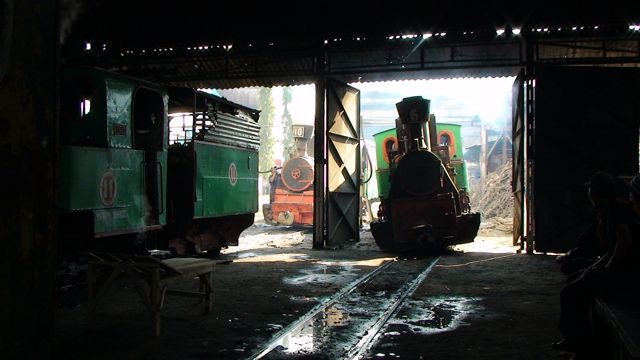 Locos on shed around 8 am.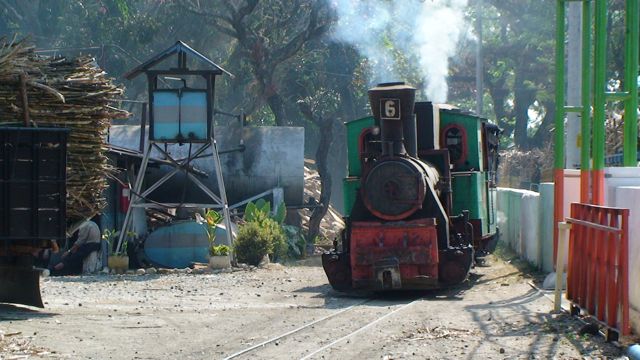 In steam and ready but nowhere to go. Line work No. 6 will spend the day shunting cane around the mill.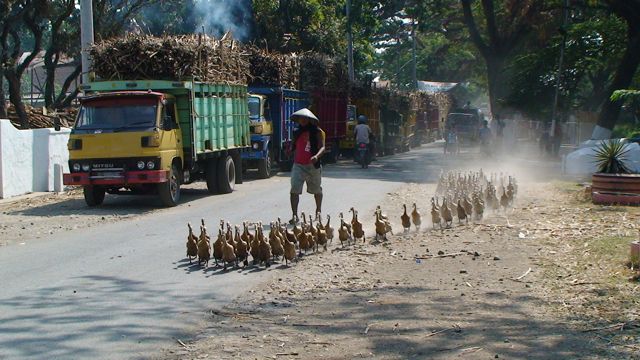 Duck runpast at Sumberharjo before we left.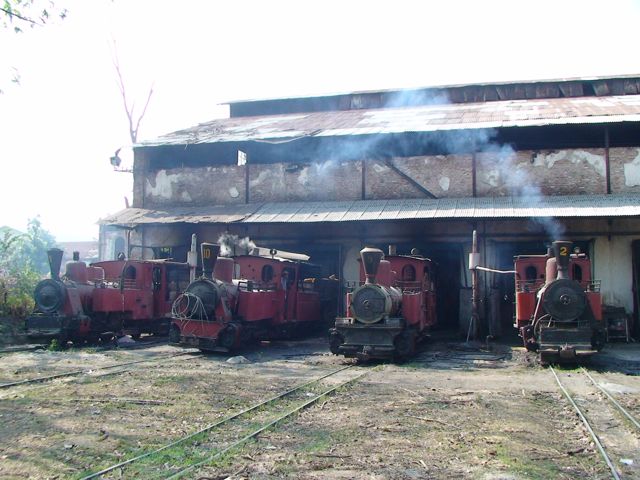 A good line up at Pangka between 1 and 2 with locos 1, 10, 9 (in light steam) and 2 outside the shed. Nos. 1 & 2 worked the trains from the yard with one diesel and one more on empties. No. 10 used a cable to pull lori closer to the mill train.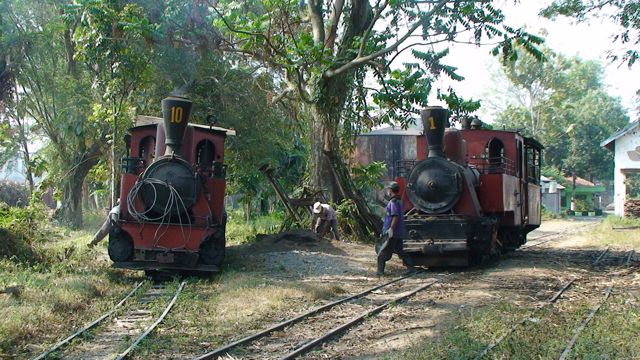 No. 10 and No. 1 load sand before starting work.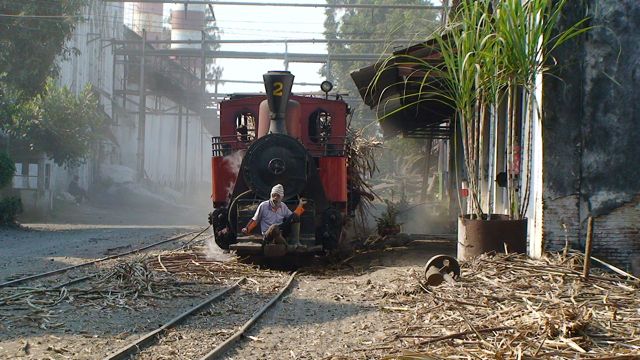 No. 2 heads for the mill yard.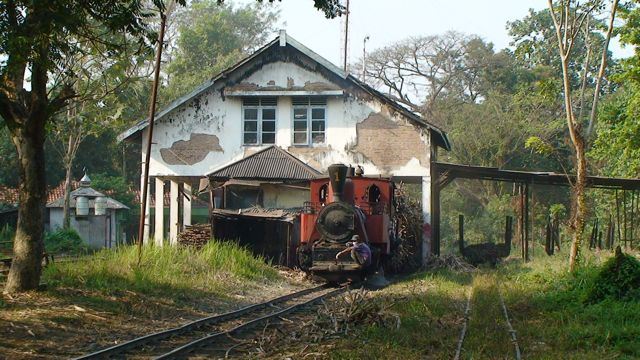 No. 1 brings a train past the weighbridge.
10 August - In the morning we'll again visit Pangka to see the usual hard shunting operation between the two yards.
They have two of the rare Moes diesels and the last 0-6-2 steam locomotives in a non-tourist operation
built by Jung. A visit to the sugar mill with all their stationary steam engines is planned as well. In the
afternoon you can either stay in Pangka or continue to the sugar mill at Jatibarang were two diesel
locomotives should be in use. Besides you'll find some steam locomotives dumped in the depot. A sight
of Jatibarang is the colonial roundhouse. Hotel in Tegal.
On our last day, we first returned to Pangka for morning shots while we waited to hear if Sumberhajo would have any field work today. We left at 10:30 for a hotel lunch and Sumberharjo on the strength of good news about empties going out to the cane we saw being cut yesterday.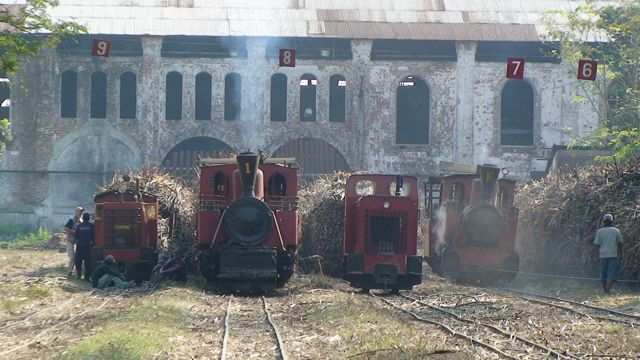 From left to right, Schoema diesel, Jung No. 1, Moes diesel and O&K No. 10 with a cable attached for pulling cane close enough for the mill cable winch to reach the lori.
The mill at Sumberharjo clearly still had problems but 2 diesel and 1 steam were sent out to the south west where we had seen cutting the day before. The steam loco was planned for the first train but much 'encouragement' was required to get several false departures before sunset. As usual, a real cane train heading back to the mill in daylight behind steam eluded us and that could be one of my last chances. I can remember the good old days at Trangkil, Gondang Baru, Pagottan and Olean (to name 4 of the best mills for daytime field trains) and think that it's over-optimistic to think that you can take groups to Java today to see such a thing.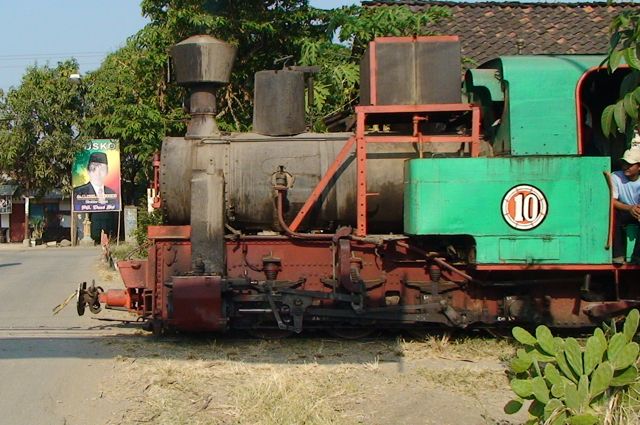 No. 10 heads to the fields light engine.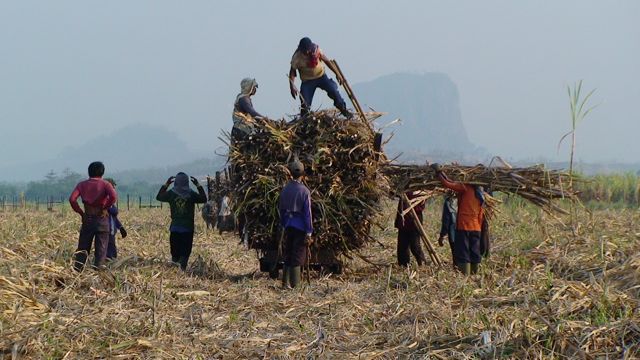 Lori were being loaded with the strange Sumberharjo 'rocks' in the background.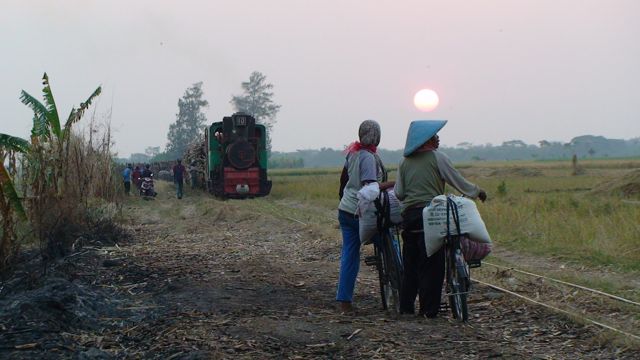 The last photo of the blog and the last still photo of the trip. Two women stop briefly, perhaps confused by all the false departures?!
I expect to prepare 2 DVDs of this trip. My current idea is for a Steamy Java 2012 - Part 1 'Mills with diesel field work' and Part 2 'Mills with steam yard and field work'. I will not cover all the mills we visited as some, although of historic interest, have little to point a video camera at. I will also be conscious of operations I have covered well in the past and my interest is more on 'real' operations rather than special charters. Expect only brief covereage of the Cepu Forest Railway and the Ambarawa Rack Railway or possibly these two operations can be a third DVD along with other special trains at the mills. I have footage of the stationary steam engines and sugar production process in Olean Mill which I will include on the 'Mills with steam yard and field work' DVD.
My thanks to Bernd Seiler for running a good trip when other tour organisers are taking a rest from running Java tours or have maybe decided to run no more. Bernd was ably assisted by Sisworo (from Cepu) and two drivers from Malang. Unlike my previous experiences, Sisworo and the bus drivers knew the way and didn't need my less-than-perfect Java navigation skills to get to the mills although I was able to suggest some scenic back roads (Ambarawa to Cepiring for one) and help a bit with the non-steam mills. Permissions and special arrangements all worked fine. We saw 32 working steam locos of which 5 were steamed especially for us (Asembagus, Rego Sari, Sodhono, Cepu and Ambarawa) which is a similar number to 2010. A major disappointment was the non-working B51 compound 4-4-0 at Ambarawa and the loss of daily steam at Asembagus and Merican. However, the search for diesel field work at Krebet Baru, Kedawung, Wringinanom, etc. and a visit to some rarely visited mills with diesel yard work (Madukismo, Krembung, Wonolangan, etc.) made up, to some extent, for the steady decline in steam. For the future, an Eastern Java tour visiting steam mills and those with diesel line work could be attractive. To see some of those trains in the field really needs rented motorbikes but who will drive the bikes on the main roads between the mill systems? I would probably go back for that but I think this is my last complete 'traditional' Java tour that visits all mills still using steam locos. However, the steam outpost between Tegal and Pekalongan with great action at Sragi and Pangka and, as always, great potential at Sumberharjo is still tempting. With new hotels near Pekalongan at Wiradesa and outside Pemalang (both with beer) along with a decent hotel in Tegal (cold Anker), means that a short trip to this area could also be offered (if only air fares weren't so high). Ramadan was not a major problem although I personally would prefer to visit at another time. The one advantage was that early breakfasts were readily available. So, that's it, the tour is done and, as usual, I now have lots of video to edit...
You can contact me at john@linesiding.co.uk