Viseu de Sus, Romania 2008
Update: The line was seriously damaged by flooding on 26 July 2008. The flood occured during the day while the steam tourist train and a logging train were up the line. Some of the dramatic pictures are from tourists on the train. Those on the trains spent a wet and probably very frightening night up the line until they could be rescued the next day. More details of how you can help with the rebuilding are likely to be published first on the above websites.
After the flood: Farrail has announced a new tour to this line 'Viseu de Sus After Reconstruction' for 26 September - 2 October 2009.
My DVD 'Viseu de Sus - Romania's Last Logging Line' which captures the line one month before the flood is available here.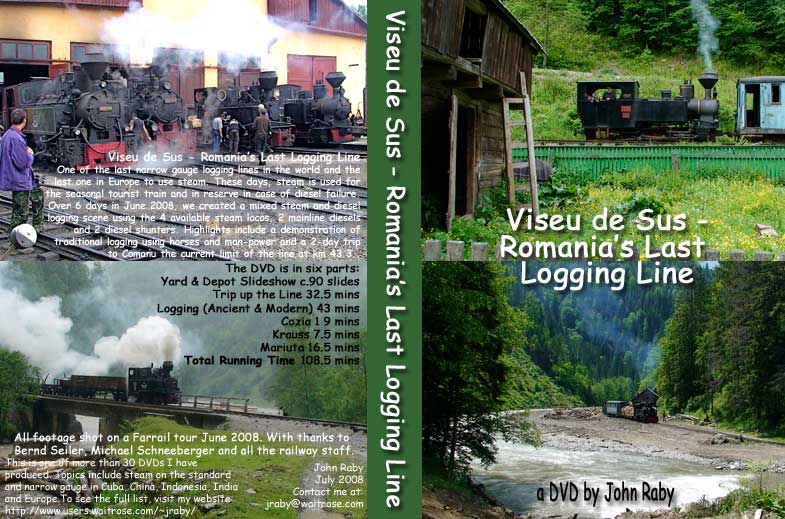 This DVD is available for £15 plus postage. Email me if you wish to buy a copy.

I joined one of Bernd Seiler's Farrail tours (details currently at http://farrail.net/pages/touren-engl/romania-2008-06.html) from 31 May to 7 June. This was a well organised event that used all 4 working steam locos over 6 days and managed to reach the end of the operational mainline at Comanu (km 43.3) as well as recreate traditional logging scenes and achieve some genuine steam logging pictures. Even the tourist train brought down logs one day although our train may have been partially responsible for that (our special brought down 15 rather than the normal 21 logging sets), It would appear that occasional steam logging may still take place but the chances of stumbling on this are minimal. The railway has 2 mainline diesels and 2 diesel shunters and does not need to use steam for regular trains unless there are diesel failures. There is a daily steam-operated tourist train to Faina from early May to mid September. As well as HDV video from which I am preparing a new DVD 'Viseu de Sus - Romania's last logging line', I also took some still images and you can see a selection of these below.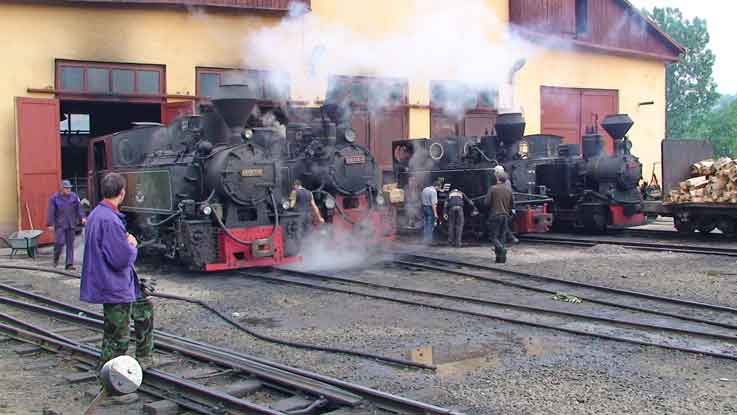 This depot shot shows all four serviceable steam locos. In steam, from left Cozia 1 (owned by RG Holz), Elvetia and Krauss. The loco not in steam is Mariuta. These 3 locos are owned by 'Verein Hilfe für die Wassertalbahn' a Swiss organisation set up to preserve locos and rolling stock for use on this line.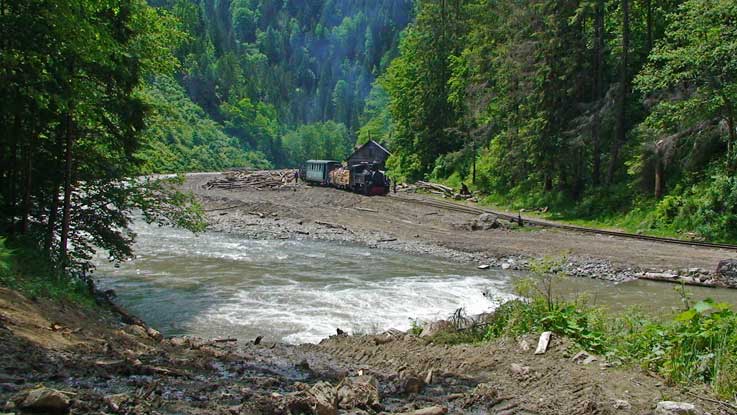 Elvetia on its way up the line on 1 June 2008 with our special train.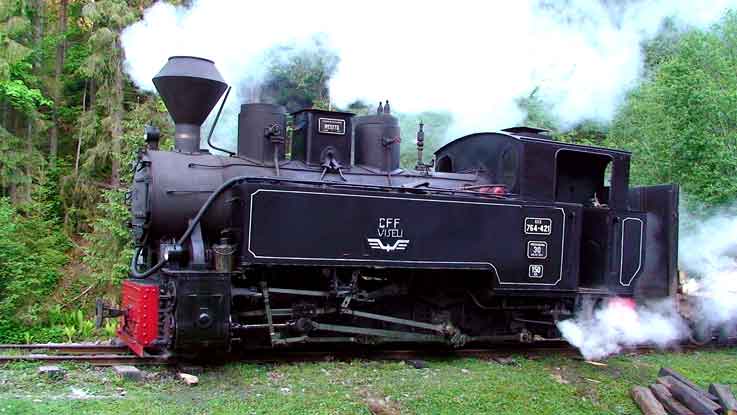 Side view of Elvetia at Valea Babei early morning ready for our onward trip to the end of the line.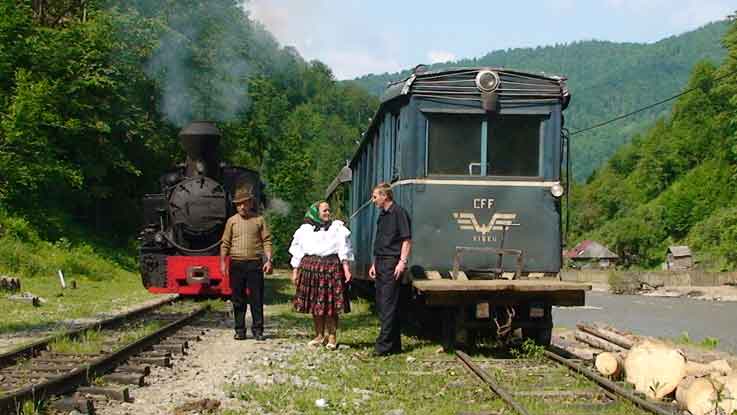 There are normally no train services on Sunday but on 1 June our special was joined by a local railbus service to take local people to vote in a national election.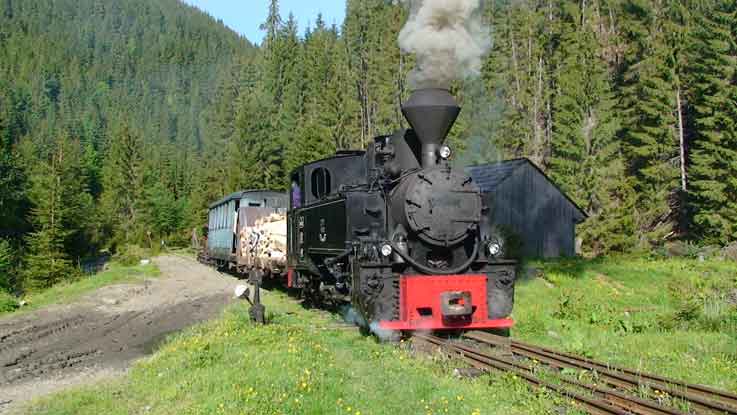 The end of the line at Comanu. Although the railway is open to this point, no logging is taking place above Ivascoaia. Beyond here, the track exists but the line is only used (if at all) by border police in converted road vehicles.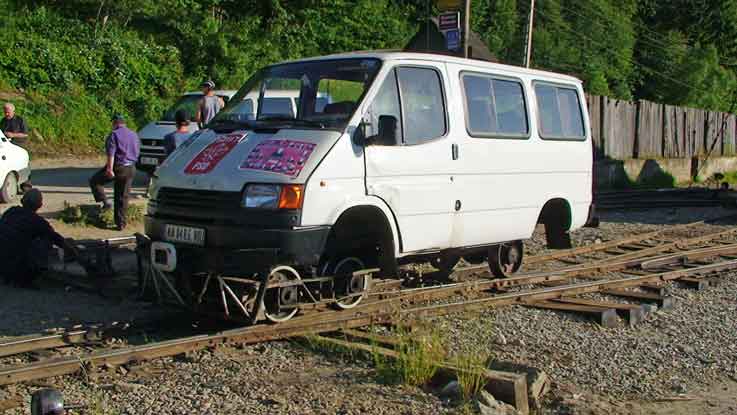 Example of a minibus converted for rail use.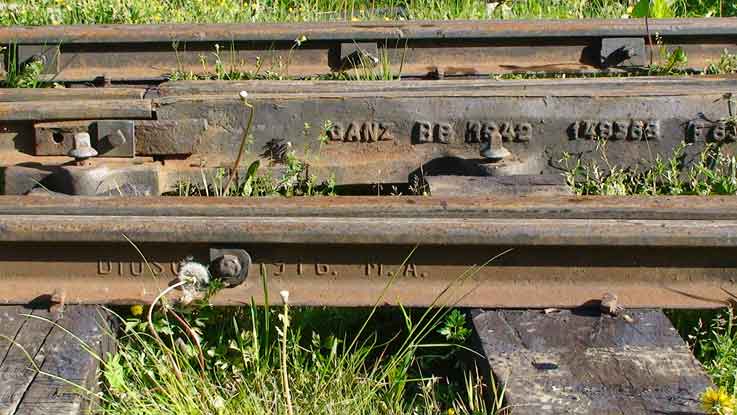 At Comanu, two rails one dated 1916 and the other 1942 happen to coincide with both WW I and WW II.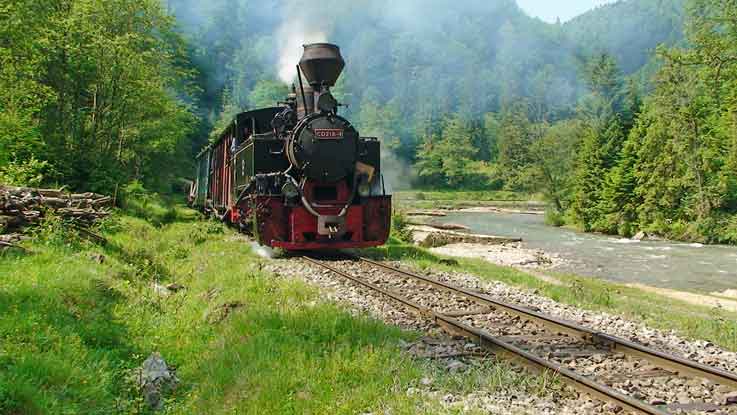 We used the R G Holz loco Cozia 1 to bring 15 log sets down from Botizu.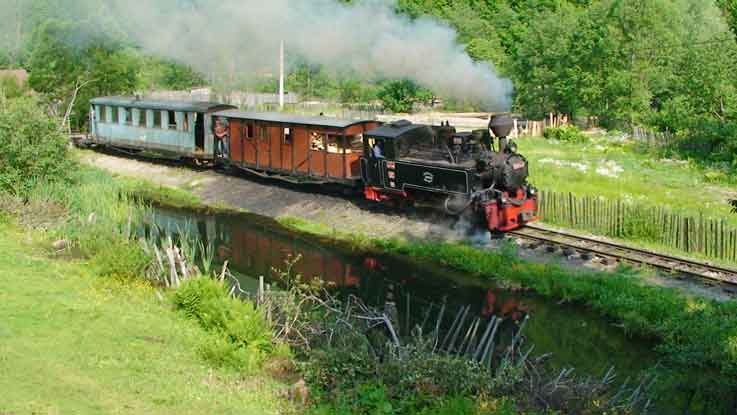 Cozia 1 at the waterstop by the trout farm (km 8.5)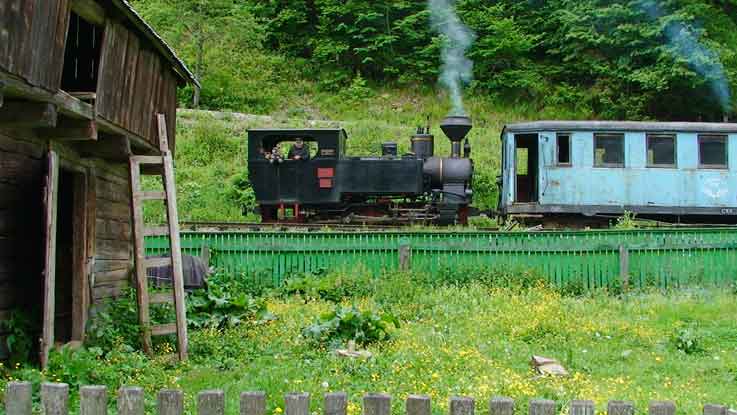 'Mariuta' (O&K 0-8-0T 3980/1910)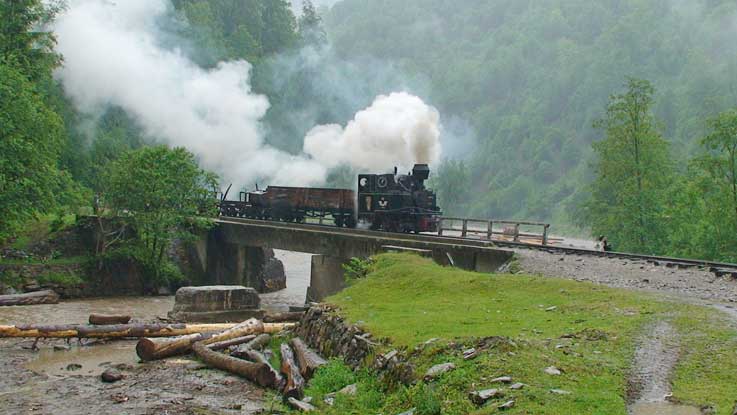 On our one rainy day, 'Krauss' (Krauss Linz 0-6-0T 1219/1921) is about to take the branch up the Novat Valley at Delta Novat. This line can only be used for a few kilometres as logging tractors have damaged the track.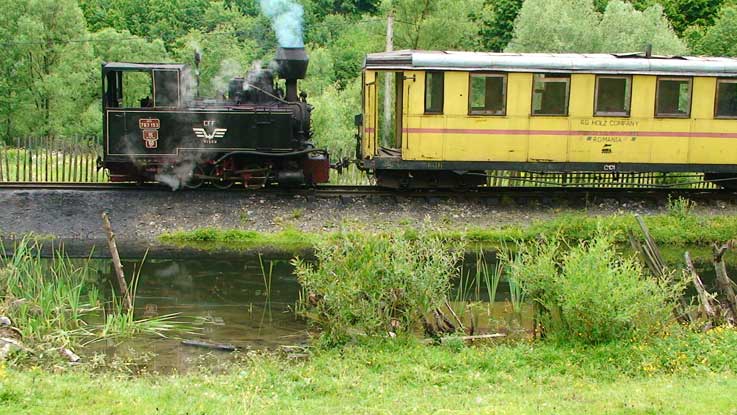 'Krauss' at the trout farm on the return trip.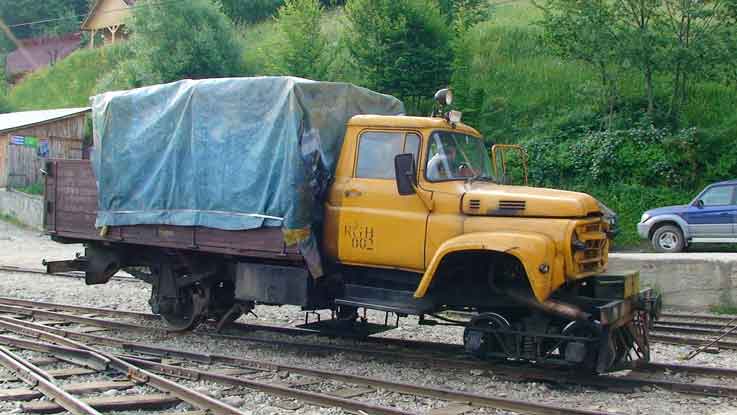 The line has a variety of road-rail conversions. This Russian truck is the largest. Note the built-in turntable below the cab step.
Logging is normally in the hands of two similar Romanian diesels.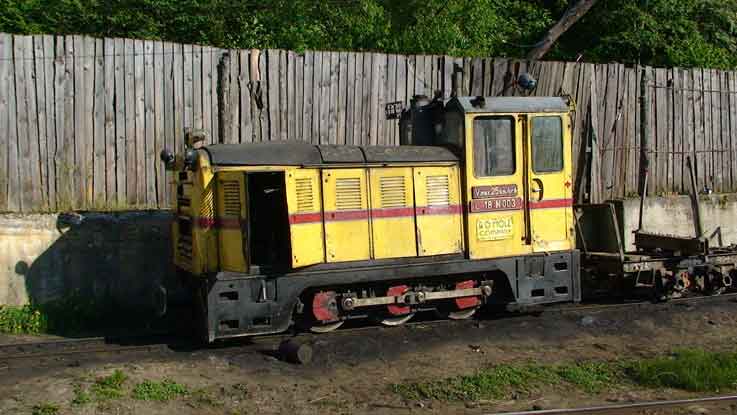 Cristina (and her sister Ecaterina) do the shunting around the depot.
Please contact me if you are interested in the Visue de Sus DVD I am preparing. I will keep you informed on progress and let you know when it is available. As a taster, here are four QuickTime video clips from the upcoming DVD.
| | |
| --- | --- |
| | |
| Cozia 1 exits tunnel 2 and enters tunnel 3 | Elvetia - to get this shot you have to cross the river on two bouncy tree trunks |
| | |
| Pacing Krauss from a train running just ahead | Mariuta - notice the wood fire burning in the crew coach |
You can download a description of the contents of the DVD at http://www.users.waitrose.com/~jraby/DVDinfo.html. If you would like to order a copy of the DVD for £15 plus postage, please email me.
Go to the DVD list
Back to my Index Page