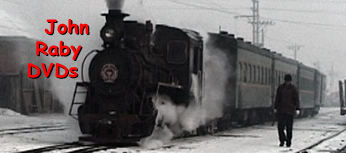 List of DVDs available
I have produced 30+ DVDs. Currently 32 are available via this website. DVDs are listed below by country (and in the case of China, also by genre). This list was updated 1 November 2008 but new DVDs may take a while to make it to this list. For details of my latest DVDs, see my index page. In addition, the Friends of the Statfold Barn, the C2 Project and the Darjeeling Himalayan Railway Society all sell one or more special editions of my DVDs to raise funds for their projects. I now have permission to sell one Statfold Barn DVD directly (see under Britain below). DVDs are now sent out without an insert sheet but I will make all the descriptions online. You can download the descriptions here before or after receiving your DVD. Let me know if I have supplied a DVD that doesn't have a description available online.
Note: If you wish to order more than 1 DVD (they can be the same or different titles), please contact me for a quantity discount.

Click here for answers to some of your questions about ordering
The Americas - Cuba
Steam Locomotives in Cuba Part 1: Western Cuba
*Steam Locomotives in Cuba Part 2: Central Cuba
*Steam Locomotives in Cuba Part 3: Eastern Cuba
*Narrow Gauge Steam Locomotives in Cuba

Asia – China
Steam

Narrow Gauge

Logging Lines

Weihe & Shanhetun Forest Railways
Yabuli Forest Railway & Xilin Mineral Railway
Zhanhe & Suiling Forest Railways

Coal/Mineral/Passenger Railways

Sichuan Narrow Gauge 2001
Huanan Coal Railway
Chenjia Local Railway & Dahuichang Limestone Railway
Xingyang Brickworks Railway
Yinghao Coal Railway
Shibanxi Twilight

Standard Gauge

Main Lines

Jitong Railway & the Jingpeng Pass
Classic Chinese Steam Locations Part 1

Coal/Industrial Lines

Hegang & Jixi Coal Railways
Steam in East Central China
Nanpiao, Huludao and Meihekou

Mixed Traction (Steam/Electric)

Mixed Gauges
Asia - not China
Burma/Myanmar

India

Indonesia - Java

PNKA Power Parade Final Fling
Steamy Java 1999
Java Special Selection
Steamy Java 2008 Double DVD

Japan

Sri Lanka
Europe
Britain

France

Le P'tit Train de la Haute Somme 35th Anniversary Celebration
Chemin de Fer de la Baie de Somme - Fêtes de la Vapeur 2003 & 2006

Germany

Romania

Viseu de Sus - Romania's Last Logging Line