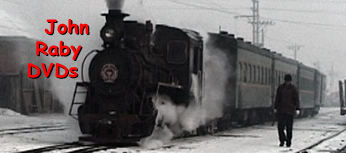 Download Descriptions of my DVDs
In future, the 'insert sheets' for all of my DVDs will be available here to download in Word format. There are several reasons for doing this not least being that I sometimes run out of time to finish these before I send out new DVDs and (for UK customers) not including a insert sheet can also save on postage. On the positive side, there are advantages. These downloaded files will (in future) not be squeezed to fit onto only two sides of paper and can have active hotlinks that will allow you to go immediately to the websites mentioned for more information. In addition, I will be able to update these sheets to correct errors, add additional information and to reflect the current situation. You can also replace lost or damaged sheets from this page. On the negative side, some people may prefer me to print out and include this information with the DVD when posted and I apologize if this applies to you.
Clicking on the links below will download a Word document to your computer.
DVD Descriptions available (date shows the date added/updated):
Chemin de Fer de la Baie de Somme Fêtes de la Vapeur 2003 & 2006 15 January 2009
Chinese Narrow Gauge Sand, Salt, Reed & Coal Railways 23 Setember 2009
(exceptionally, this 21 page pdf file is only available to those have bought the DVD,
contact jraby@linesiding.co.uk to request a copy)
Chinese Standard Gauge Coal Railways 11 May 2009
Classic Chinese Steam Locations Part 1 13 August 2008
East German Narrow Gauge Part 1 23 October 2008
English 2ft Farm & Garden Railways (SBR edition) 27 March 2009
Hegang & Jixi 27 October 2009
Java Special Selection 11 July 2008
The Jitong Railway and the Jingpeng Pass 12 August 2008
Nanpiao, Huludao & Meihekou 31 October 2008
Nanpiao, Pingzhuang, Yuanbaoshan 27 October 2009
PNKA Power Parade's Final Fling 11 July 2008
Sichuan Narrow Gauge 2001 7 October 2008
Statfold Year 2007 21 October 2008
Statfold Year 2008 11 May 2009
Steam Locomotives in Cuba Part 2: Central Cuba 29 August 2008
Steam Locomotives in Cuba : The Narrow Gauge 22 September 2008
Steam in Burma 20 May 2008
Steamy Java 1999 11 July 2008
Steamy Java 2008 double DVD 19 September 2008
Viseu de Sus - Romania's Last Logging Line 11 July 2008
Xilin Mineral Railway & Yabuli Logging Railway 16 November 2008
Xingyang Brickworks Railway 31 October 2008
Zhanhe & Suiling Forest Railways 6 December 2008
Descriptions of all new DVDs are added when the DVDs are published. Older DVDs are added as the DVDs are ordered. Let me know if I have sent you a DVD but not yet provided the description here.