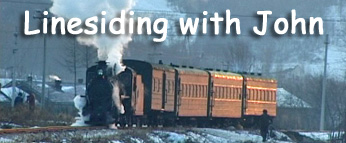 Railway Blog
On a wet and miserable day in early November, I decided to start a 'railway' blog to cheer me up and, perhaps, provide an interesting read for others. The blog will contain items of railway interest whether first, second or third hand and will cover a very broad spectrum. You are welcome to reply to the blog (email me with your comments) and (if you don't mind) I will post any interesting responses.
Email comments to:

I managed to delete the blog entry for Japan because I wrote that on my laptop and didn't copy the changes to my desktop computer. I don't have a copy of the original text but I do have the photos I used. See below - 15 March - where I have tried to recreate the entry. If anyone has a copy of the original text which appeared on this blog between 15 March and 17 August when I erased it by uploading the Java comments below, please let me know.
24 January 2011
The railway quiz has finished. If you would still like to do the quiz just for fun not for prizes, here are the details:
The quiz clips can be found on my YouTube page. The quiz clips are entitled 2010Quiz-1 to 2010Quiz-10. Check the numbers as they may not appear in order 1-10 in your web browser.
The quiz comprises 10 video clips of trains (including at least one that could be described as a tram) from 9 countries (one country appears twice). Your task is to provide accurate details of 'what?' and 'where?' for as many of these as you can.
Scoring - there will be points for each correct country, there will also be additional points for a more specific location and for accurate details of the trains/locos/railways which appear on the clips.
The answers are below. If you want to try the quiz before looking at the answers, go to my YouTube page now.
10 January 2011
2010-11 Video quiz - And the Winners are...
Andreas Illert, Michael Reilly, George Hart, Eric Fresné & Sam Miller
Congratulations to the winners. I will be contacting them to arrange their prizes. Commiserations to those who entered but didn't win. There should be another chance later in the year when I offer another quiz for the Christmas-New Year season.
I received 10 entries which with 5 prizes available gave a 50% chance of winning! Not bad odds so if you didn't enter this quiz, you might like to try next time. I awarded 1 point for each correct country and 1 or a 1/2 point for providing information about the loco/train and more detail about the railway. Two people scored 20/20! All of the winning entries scored between 18 and 20 points. The non-winning entries scored between 7 and 16 points.
The correct answers are probably best revealed by sharing with you the answers from the two people who scored 20/20. Michael Reilly wrote:
1 - Eritrea, restored 'Littorina' railcar no 2, built by Fiat in 1935 or 1936, of class 025A, diesel with 1A-A1 wheel arrangement, on a charter train;
2- Germany, Harzer Schmalspurbahn 0-4-4-0 Mallet no 99-5902, built by Jung in 1897 for the Nordhausen- Wernigerode Eisenbahn, heading a 'Traditionszug' on the climb from Wernigerode to Drei Annen Hohne on the Harzquerbahn line.
3 - Ireland - Bord na Mona - 0-4-0 DH no LM301 hauling a train of peat, I'm guessing on the Blackwater network, although this loco was on the Ballivor system in Westmeath in early 2010 so it may have been there. From the number I'm further guessing that its a rebuilt Wagonmaster.
4- Indonesia, Java, Mallet 0-4-4-0T no 205 built by Ducroo and Brauns, no 115 of 1927. The sequence looks very like Merican mill, which would date it as post 2008.
5- China - looks like the sand railway at Baishi near Tongliao in Inner Mongolia.
6- New Zealand - Auckland; Mainline Steam Trust special, headed by oil fired Jb class 1236, built by NBL, no 24559 of 1939.
7 - Poland, PKP Px48 no 1927. Built at Chrzanow, no 3230 of 1955, originally to 785mm gauge, converted to 750mm gauge in 1968. As this has been a static exhibit at Siedlc for several years now, I'm guessing that the video was shot on the Gniezno system before 1997.
8 - UK, Statfold Barn Railway, Mallet 0-4-4-0T Pakis Baru no 5, from the Indonesian mill of the same name (Orenstein & Koppel no 1473 of 1905).
9 - China - Shibanxi, the Jiayang Coal Railway with one of the C2 0-8-0s on a passenger working.
10 - Japan, scenes on the Toden-Arakawa tram line in Tokyo.
Eric Fresne wrote:
2010Quiz-1 : Eritrea Fiat Littorina Railcar, meter gauge
2010Quiz-2 : Jung 0-4-4-0T mallet 99-5902 From HSb (harzer Schmalspurbahnen), meter gauge
2010Quiz-3 : Irish peat bog Bord na Mona (Ballivor Co Westmeath) LM301 Tractor (Deutz ?), 3ft gauge (actually rebuilt Hunslet Wagonmaster)
2010Quiz-4 : Indonesia, Meritjan, truck yard, 0-4-4-0T+T N°205, Ducroo & Braun 115/1927, 700mm gauge
2010Quiz-5 : China, Baishi sand railway, 762mm gauge
2010Quiz-6 : New Zealand, Mainline Steam Heritage Trust, Jb1236 locomotive (North Britsh), Standard gauge
2010Quiz-7 : Poland 0-8-0 fablok Px 48 1927, 75cm gauge
2010Quiz-8 : Great Britain, Statfold barn railways, 0-4-4-0T Mallet Orenstein & Koppel. No 1473/1905 Pakis Baru, 2ft6inch gauge
2010Quiz-9 : China, coal railway, C2 0-8-0 locomotive, 762mm gauge
2010Quiz-10 : Japan, Toden Arakawa railway in Tokyo, 4ft 6 inch gauge
Between these two answers you have a lot of accurate information about the 10 clips.
17 August 2010
While we were visiting Pagottan on the main Java tour, TC told me that he was modelling a batch of Pagottan No. 1 diesels (4wDM Schoema 1286 of 1951) in On30 gauge (O scale loco to run on OO or HO track). I quickly grabbed a couple of pics of No. 1 and offered to buy one of the models. TC was then able to hand this over in Jakarta at the end of the post tour. TC has also sold another (to be completed) to Scott, one of the tour participants. He demonstrated the model which has independent suspension for each axle and runs really slowly on bad track without derailing just like the prototype. TC is willing to make more models of this loco. You can contact him at miryawanATmelsa.net.id (to email him copy this and replace the AT with @).
TC's model displays the livery used in the 2008 (and 2009?) season. He would probably be able to produce a version in 2010 livery to order. Various similar locos are in use at other mills. According to TC, "It can also represent a Kedawung loco - no 22 of Kedawung was the prototype for my model. There are also 600mm versions of it in Gending and Krembung(?)".
We discussed suitable rolling stock and the best currently available are sets of 3 mud skips (called v dumps) from Bachmann (click here for one UK supplier). These would be suitable for hauling the mud from the mill to the fields to be used as fertilizer. This scale is apparently popular in the US and Australia for modelling narrow gauge rolling stock on HO/OO track. Does anyone know of suitable cane lori to run behind this model?
Update 15 September 2010
My demonstration On-30/O-16.5 circuit around my computer is now complete and named 'The MacIntosh Tramway'. I've filmed it with TC's scratch built diesel hauling 3 Bachmann v-dumps and posted this on YouTube.
Expect some British Colonial steam and Yankee geared locos to follow in due course.
Mark is researching suitable cane lori and will report soon, I hope. I think I'm going to need some logging disconnects as well.
15 March 2009
Stephanie and I had about 3 weeks together in Japan celebrating both our birthdays including her 60th. After she left, I had another week to explore some railways in the Tokyo area. You can read the blog of our joint trip at http://marigoldcottage.webs.com/japanblog.html but I am posting here the photos I took after she left of rail operations near Tokyo. The original text disappeared so this is a re-do done 21 December 2010.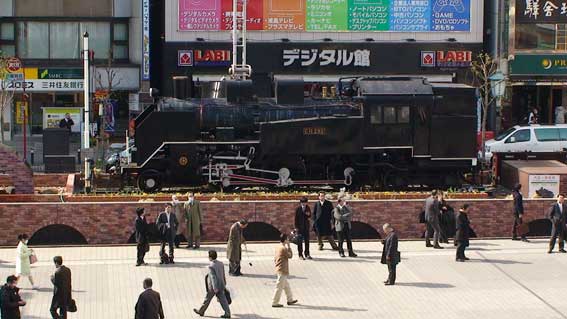 This is the C11 plinted at Shimbashi station on the Tokkaido line south of Tokyo station. At one time I thought locos of this class hauled computer trains around Tokyo but I'm told that the suburban lines were electrified very early and this loco has no special significance here.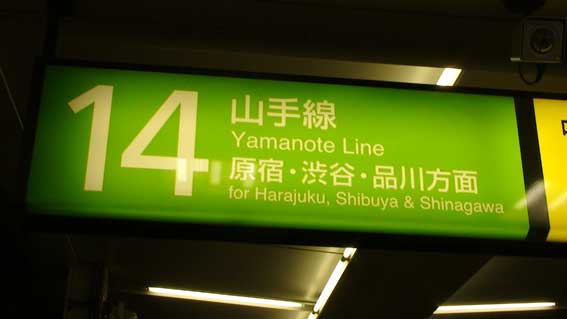 The circular overground line around Tokyo is called the Yamanote Line. I filmed this from the front of the front carriage to give a 'virtual cabride' around the Yamanote as well as filming various stations around the loop. You can find out about the resulting DVD here.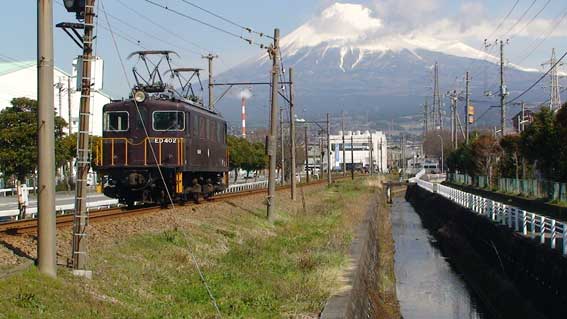 Near Mount Fuji is the private Gakunan Railway which operates electric loco-hauled freight and an emu passenger service.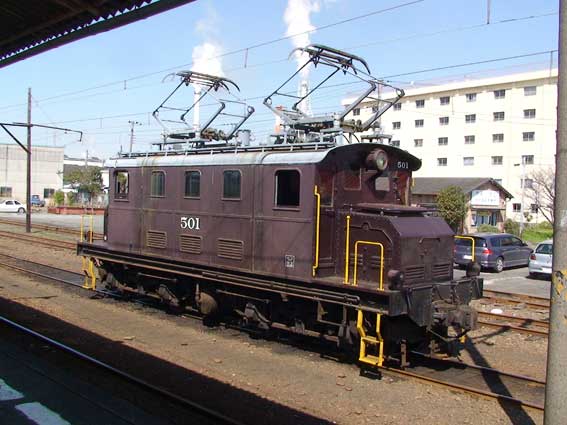 They have a collection of old electric locos, this one was built by Kawasaki Shipyard.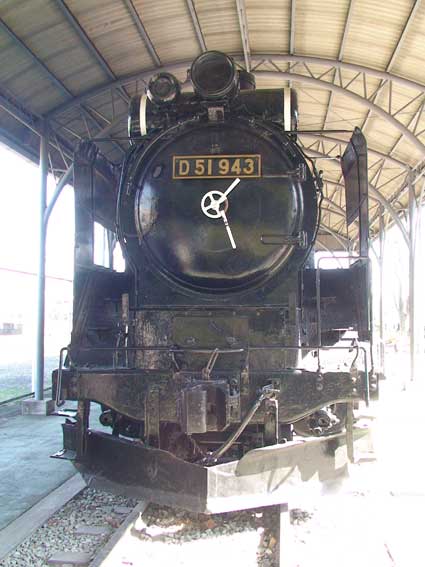 On the same trip, we took a look at this plinthed D51.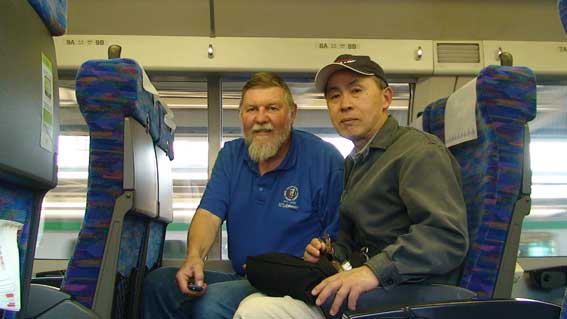 My guide for the day was Hiroshi Naito of the Japanese Railway Society.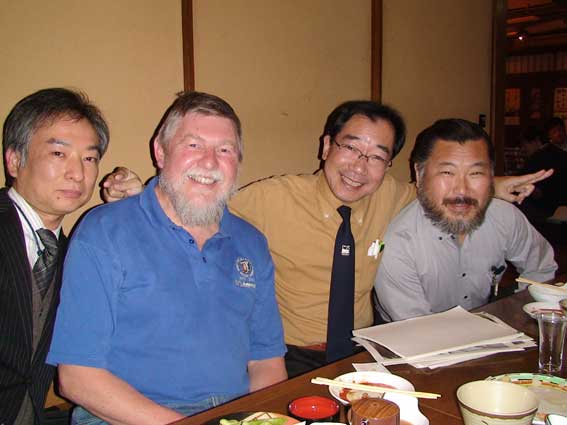 That evening I met up with some more hard-core Japanese rail fans Masaki, Natori and Asano among others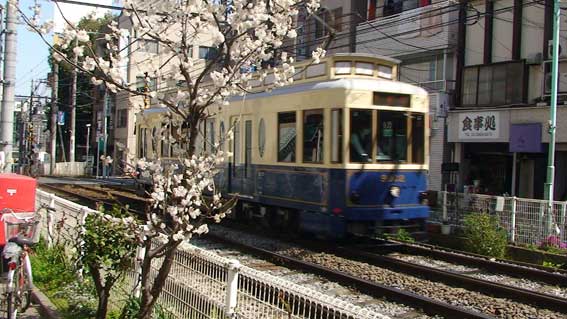 While exploring the Yamanote line, I also filmed the Arakawa tram route - the last genuine tram line in the Tokyo area.
As previously mentioned, the about text is a reconstruction - if anyone has a copy of the original text, please let me know what I wrote.
3 November 2009
Ted Talbot emailed:
Morning, John
Have just seen your blog - very interesting. Found it while searching for info about GNR 1744.
Two things:
1) where is your headline shot? Looks like the shot we got together at Weihe, the last shot one day from near a crossing. If so, why not give the location somewhere? After all, as we were the first people to go there, by virtue of enduring the hardships of China (remember the red bath water of wherever it was? and the s--t mountains of wherever else it was?) and enjoying the pleasures (hot dumplings for breakfast on a street corner at 7am somewhere; and JR teaching how to cook chips at Yebaishou? etc etc) we ought to get some credit for it.
In fact, you could have a paragraph or two about the non-railway delights of gricing in China, and all I believe before any other western gricer got there.
2) I believe the GNR 0-6-2 tank does not belong to Loughborough but to the Gresley Society. What a splendid machine it is in that livery! Puts many of the modern locos to shame. So far as I can see, or rather, no photo I have yet seen on the web does justice to the subtle blend of greens on the engine, or for that matter to the green of Great Western engines. Can you explain why? Is it something about digital photography? Or is it something about the colour reproduction on my computer screen? Or is it something else? Whatever it is, Kodachrome 25 cracked this problem years ago, as slides of the Stirling Single in the 1970s prove.
Have had some good times lately on the FR/WHR/WHR1964.
All the best
Blog 13 - 3 November 2009 - reply to Ted
Some of the non-railway items that Ted mentions can be found at:
This was written 10 years ago and certainly takes me back to those early days when most people were too focussed on Jingpeng to explore the wonderful forestry lines in North East China. We were greatly helped by living in Japan at the time and getting Japanese tips about where the surviving logging lines were.
The title picture above was indeed taken a short distance outside Weihe at the first passenger halt and you can see the original here:
Other pages in this report can be accessed from:
This is all history now and many of the contacts and links will be broken and can't help you see steam at Weihe, Yabuli, Zhanhe, etc. anyway as it is long gone.
Ted also mentions the cookery lesson in Yebaishou where I showed the owner how to cook chips and prepare a tomato paste that approximated ketchup. As a known fan of Chinese cooking, this may seem an odd thing to have done. However, I really don't like what Chinese do with potatoes (they normally make shoe string potatoes and boil them until raw!) Given the reasonable potato crop in China, I was trying to add to the cuisine not deminish it. Yebaishou in the summer was the first trip I made to China with Ted and we had to go back to do it again in winter as the summer had been really wet and the humidity made photography a challenge and the results totally unsatisfying. My best video shot was taken at 11 pm at Yebaishou station as we boarded our steam passenger train out. Ted's camera stayed in its bag a lot. This summer, I again took a train through Yebaishou and while the locations on the line north of Yebaishou were still recognisable, I struggled to recognise the station itself and the line to the east. Had we known it, we could have proceeded only a short distance north to see steam at Pingzhuang and Yuanbaoshan but, for me, that had to wait until summer 2010.
Blog 12 - 19 August 2009
Ron Lingley 1955 - 2009 - RIP
Ron died in early August from a chest infection. I first met Ron while assisting Dave Thornhill in Turkey with his Skyliner tours. Ron was part of a group planning to return an 8F to England. Mike Hoskin's was the main mover and Willie Bath was there for technical support. Ron was just being Ron. The loco is now at the Gloucester & Warwickshire Railway and should steam in 2010. I later travelled with Ron in China. A small group of us had spent several days at Hungjiang (later Baicheng) for the JS working and had been due to meet up with Ron there but couldn't find him. He was about 4-5 days late according to the agreed plan. On the last day, we bumped into him fortuitously on the lineside. We were dressed in full winter gear. Ron was in scarf and trainers and minimal clothing. He had a hacking cough and returned from the trip with slight frostbite to his toes. It turned out that we were staying in the annex and he in the main hotel or vice versa. It also turned out that he had had his cameras stolen at Harbin station and had had to return to Beijing to buy a replacement. On leaving Hunjiang, he and I had the pleasure of an overnight train ride in a freezing restaurant car as our guides had failed to book us a sleeper. I felt sorry for him when we reached Beijing and treated him to a night in an international hotel before we flew out to Lanzhou and Zhongwei. On the hillside at Zhongwei, it was me who walked for the beers in the afternoon when things went quiet. Ron helped with the tasting. Later, while doing independent trips to Cuba, Dave and I often bumped into Ron and Andy and christened them the (Headless) Chickens as they were always dashing this way and that without any seeming purpose and often driving their cars in a cloud of dust through the master shot. I know that people either loved or hated the way they ran their tours. I knew enough about them to go independently. I remember mornings at Santa Clara at Los Canayas hotel with the dedicated members of the group milling around wondering where Ron and Andy and the cars were. Given their late night activities, early mornings were never their strong point. I'm not sure between them who wrecked the most Havana Autos cars but amazingly the company was still happy to lend to them. Ron became known as 'El Ron de Cuba' after the billboard signs advertising Cuban rum. He was certainly a one-off and something of a rebel. He will certainly be missed.
Blog 11 - 16 August 2009
The Great Central Railway held a Tank Engine event 15-16 August using the Farburn LMS tank restored for the Lakeside & Haverthwaite Railway and their own GNR condensing tank loco. The weather was kind and this proved to be a well-attended minor event. Both locos performed well but the LMS tank was by far the noisier. The only other steam loco in use was standard class 2 on driver experience duty.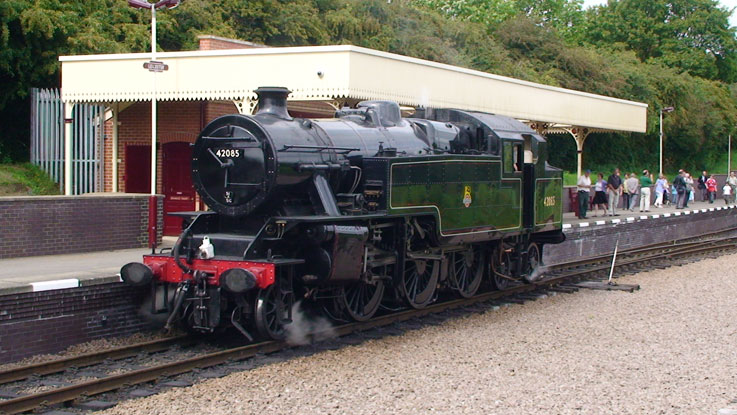 Former BR Fairburn 2-6-4T 42085 at Leicester North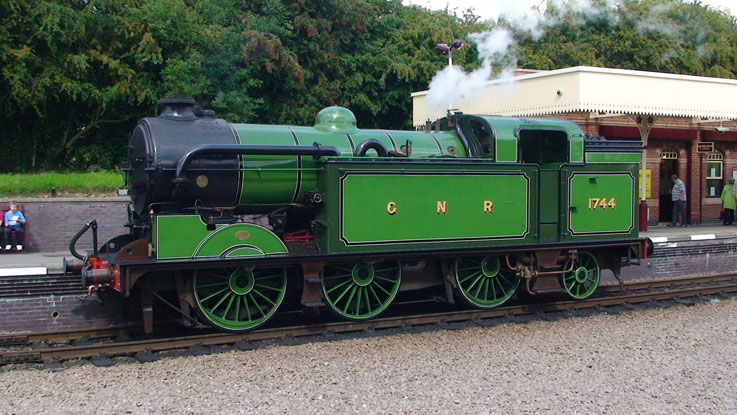 Ex-BR and GNR N2 0-6-2T condensing tank running as GNR 1744 (also known as 69523 and 4744) at Leicester North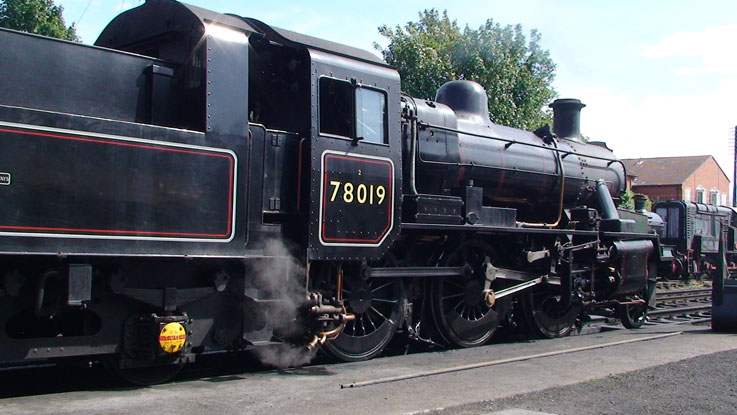 BR Standard Class 2 2-6-0 78019 at Loughborough
The final train of the day was double-headed with 42085 leading to Leicester North and 1744 leading back to Loughborough.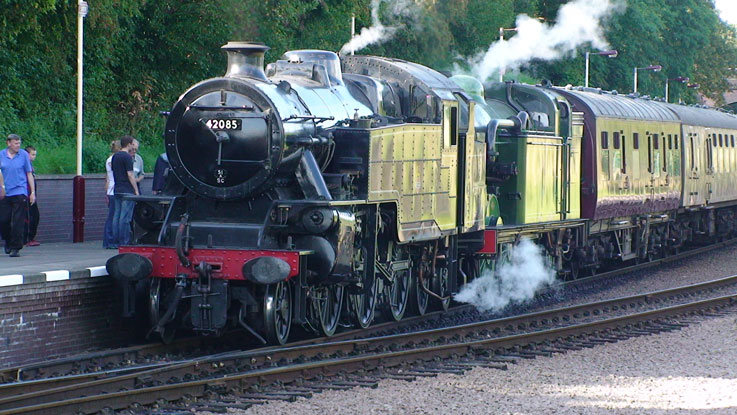 Seen at Leicester North with 42085 about to run round
For me, this was a non-video, train-riding day. The GCR is famous for the number of H-Vi vests trackside and yesterday was no exception. I have resolved not to video the line unless I decide to join the Hi-Vi crew.
Blog 10 - 9 July 2009
Rob and I are clearly missing Java and have already started discussing Java 2010. Rob is attempting to collect a hard core of stationary steam enthusiasts for the trip while waiting to see what steam locos are in use in 2009. The only tour we are aware of this year is a Farrail trip (after Bernd had said no more Java trips!). He was persuaded by a largish group of Austrians to run a tour and has managed to fill all his 16 places. However, the price is steep compared to a Rob tour and he managed to choose to go just as Ramadan starts. If Java mills can be a bit sleepy normally, expect them to be very sleepy in Ramadan! We hope that there are no significant losses in 2009 although by the end of the 2008 season Gempolkrep had stopped using their 2 large tender locos for the cable operation to the mill. What will 2009 bring, I wonder? There may be a steam loco (the Ambarawa C12) running through the streets of Solo by the end of 2009 which could be a new attraction for the group. It looks like our 2010 tour will be in July (avoiding Ramadan) and also before the main world tourist seasons affects the price of flights. Rob has been posting pics of mills that have closed or stopped using steam as a prelude to announcing the 2010 tour. I'll post details and links for the 2010 trip when they are available.
Blog 9 - 16 June 2009
Colin Hussey writes:
Following on from our discussions last year about videos & the transfer of footage onto DVD, I had mentioned an attempt to transfer some of my old standard Mini DV Video onto a widescreen format. Having had another look at it, it was obviously not all that crash hot, as the affect was to make the features of a steam locomotive look oval instead of the normal round. At least that was how it turned out on a standard 4:3 ratio Pal TV here in Oz.
Last week I was fortunate enough to be able to finally get a full HD TV. After a lot of research & checking I settled on a Sharp Aquous 46inch model, a good bargain down to get it for (A)$700.00 off the RRP, along with getting it, I also obtained a cheapish Samsung Blue Ray player, which came in a sound speaker set up. The big thing with that Blue Ray player was that has a DVD upscaling capacity, essentially that means it can lift the quality of the DVD up towards the higher level of the more modern LCD/Plasma TVs, & the higher the scene resolution the better the upscaling.
Having watched a couple of DVD movies I have to say the Sharp LCD with built in decoder & full HD 1920x1080, 100/120hz motion flow is an absolute brilliant TV, I have not had to do any adjustments to the factory settings & it is crystal clear. Standard speakers in the TV also are fine for normal watching of shows, but when connected to the Blue Ray & Dolby speakers, its like being in a Cinema.
Anyway the main aspect was that I then decided to try a couple of the old steam DVD's to see how the upscaling works, as a result I tried one of Johns DVD's the Xilin & Yabuli to start with, & I will then try the first of his classics that I have. On viewing just the Xilin part of the DVD I was quite staggered with the quality of what I saw, the video was almost as good as what we can see with more modern video cameras & certainly could not be considered to be from an older camera. Whilst it was only in 4:3 ratio, on the big screen it came out brilliantly.
As the TV is big screen, & most tend to have a glimmering effect if viewed too close, or even being a bit fuzzy unless you are back a long way, this TV did not show any of that, in fact it was a big reason for choosing it, so if there was anything that seemed to be not quite "perfect" I can only find a couple of comments regarding what I saw. In some of the scenes with the hills & mixed tree lines behind, it seemed to look much like a painted backdrop, without the real sharp detail, although much better than on the old TV anyway.
The only other thing was that the film seemed a bit dark, or in a sense under exposed. However once again that may be because of what seemed to be low light, even though there was a lot of blue sky. At the same time, it would not be hard to adjust the TV to compensate for that but I did not find it objectionable.
So the basis of this is. Given the better technology that is now coming out especially in players that can upscale to the HD standards, it is not really an imperative to record in Blue Ray old footage as we discussed earlier. Although if it was possible to capture new footage in Blue Ray, & especially if the cameras had Dolby sound capabilities then we enter another phase again. What a shame that this technology was not available 10 years or so ago.
I look forward to watching the other DVD's & if interested I will report back.

Colin also said:
John, I have no problems with you editing what I have said for you web site, however I would think that a warning would need to go on saying that this is my experience so far. I am very, very impressed with what I am getting compared to what I had before but the factors are, the TV is almost top line a Sharp Aquous 46D77 full HD with inbuilt set top/tuner, & results on lesser resolution TVs might not bring the same result.

As I continue to watch various other old DVD's, both commercial & home-made ones I will report back.
Blog 8 - 29 May 2009
I'm planning my first China trip for 2 years and one of my very few summer trips. Ted Talbot and I tried a July trip to Beipiao, Yebaishou and Chengde many years ago when all 3 were steamy but it was in August after some huge rains and floods and the high humidity and lack of steam made it more a washout than a challenge.
So, with that in mind, I have rejected the idea of visiting the mega-steam locations such as Jalainur, Sandaoling and Baiyin in favour of some other ines (mainly non-steam) that have intrigued me for some time.
The basic plan is to look at obscure agricultural railways around the bay that separates Beijing from Dalian (a bay in the Yellow Sea – named?). Two known products that are moved by narrow gauge are reeds (to make matting such as the Japanese tatami mats) and salt (for household and industrial use). Add to this narrow gauge electric coal lines at Nanpiao and we have the basis for a narrow-gauge, non-steam visit which will probably be more appropriate for a July visit.
I also plan to have a look at the Buddha Valley sg line that moves iron ore pellets 4km to the CR main lines using distinctively numbers SY and the ng line (oil industry?) that others have seen en route from Beijing to Futuyu. If Futuyu is anything like the Shaoxing iron ore line, there could be up to 2 different gauge electric lines supplying the iron ore to the steam line and I will certainly check that out.
Having moved out to the west of Beijing, if I have any time left, I will probably drop down to the Zhenzhou area where, in addition to the Xingyang brickworks railway, Quail maps show a number of other ng lines that can be checked out. Some of these, such as the 2 south of Zhenzhou, are in the process of being converted to sg. I'll have to see if I can find any that survive in their original ng form.
There should be some steam along the way at Nanpiao and the Buddha Valley but I may end up photographing this at the edges of daylight in the early morning or evening. I rember that my best shot during the Yebaishou visit was at 11 at night on Yebaishou station as we were leaving. With a JS shunting in the background, 2 QJs backed down onto a freight and departed under the arc lights banked by another QJ. None of our daytime shots came close to that for atmosphere.
If anyone has any tips, hints or requests for this trip, please let me know.
Blog 7 - 15 April
There is some discussion on the Steam in China Yahoo group about the short tender JF at Changchun depot. This loco may survive at Sujiatun although there may have been several locos with this role but only one tender. I have grabbed stills from my Chinese Classic Steam Locations 1 DVD of the loco in 1994 when it seemed to have been involved in a heavy shunt. It is not possible to identify the loco number from the shots.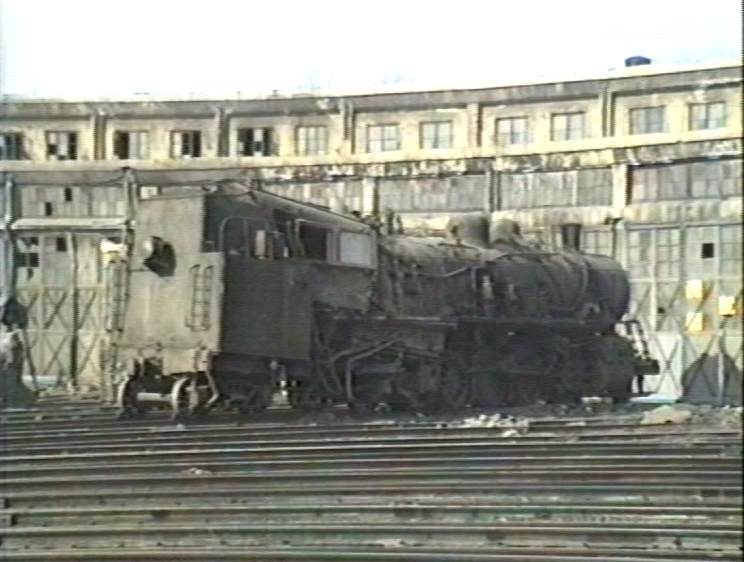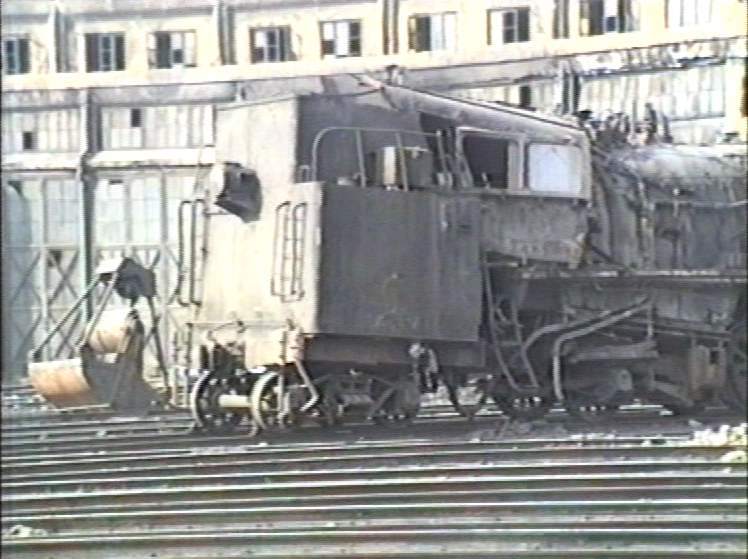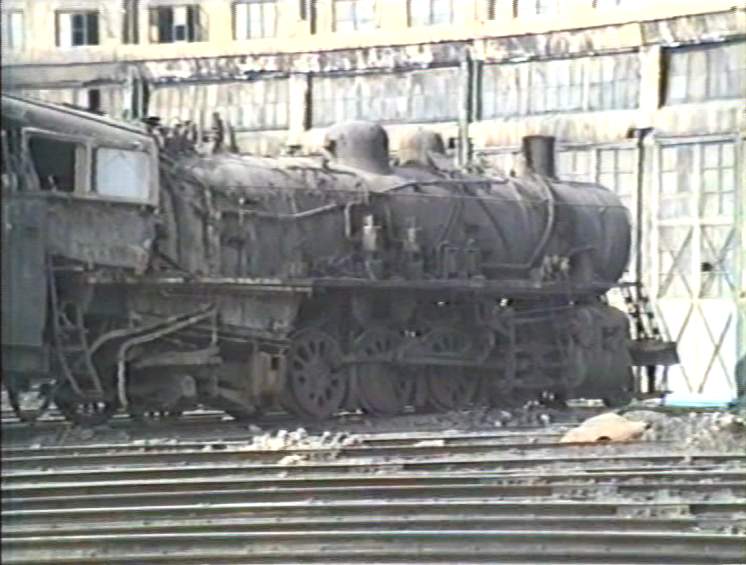 Blog 6- 13 January 2009
What have I been doing on the railway front for 2 months? Well, apart from a snatched visit to the Sittingborne & Kemsley Light Railway just before Christmas (in miserable weather), the production of a DVD on the Chemin de Fer de la Baie de Somme and the purchase a D52 loco number plate, not much. However, plans for 2009 look good and I should visit Eritrea with Farrail, the Baie de Somme 2009 event, Viseu de Sus (after the flood) again with Farrail and just maybe Java if enough people want to be escorted around one of the two, last great real steam destinations. My New Year's resolutions included the idea to make this 'My Year of Preserved Railways'. With real steam only available in the quantity and quality worth visiting in China and on Java (anywhere else?), what else is there to do? It's well known that many preserved railways cater more for the average family rather than the railway enthusiast but most lines do have special enthusiasts events at some point in the year so it's these or perhaps some special charters that I will go for. My regular haunts and lines I rate highly include the North York Moors, Ffestiniog and Welsh Highland (a big year there with the re-opening through to Porthmadog), the Foxfield Railway, the Severn Valley and the West Somerset but which others should I visit? As a narrow gauge fan, I was both impressed by the future potential of the Apedale site of the Moseley Trust and frustrated that the trains currently have nowhere to go. I don't expect to get this plan underway until February/March but I welcome your suggestions of where I should visit and when and plan to report on 'My Year of Preserved Railways' here.
Blog 5 - 14 November
I've developed an interest in Railwayana but I'm about 40 years' late to pick up the truly desirable stuff. From a UK perspective, locomotive nameplates, GWR cabsite numberplates, builder's plates, smokebox number plates and even shed plates and station signs are all out of my league. Anyone want to donate any loco plates to a good cause? See my planned Railwayana page for what I have managed to acquire in my life so far but paper items can be quite affordable. I recently purchased 2 American railroad/railway share certificates with very nice illustrations on them for less than £10 for the two (the Little Miami Railroad and the Cincinnati, Indianapolis, St. Louis & Chicago Railway) and a large collection of around 30 pre-grouping letterheads from railways such as the L&Y, LNWR, MR, LBSC, LSWR, etc. for another £10. One gem is a letter from John Aspinall announcing his move from Mechanical Engineer to General Manager of the L&Y in 1899. He also announces his replacement as H. A. Hoy. Unfortunately, the document is not signed but it's a little gem nevertheless. So, interesting paper items can be affordable even if metal railwayana is not. Incidentally, wikipedia.org is a good place to research the background to such items. The two US railways and Aspinall and the L&Y all have informative entries.
Blog 4 - 10 November
The Statfold Barn Railway now has a functiong website http://www.statfoldbarnrailway.co.uk/. This includes recollections from Graham and Co about securing the Indonesian locos as well as other information about the development of the railway. I'll add a bit more to this blog entry as time permits as I always enjoy my visits to the SBR and can recommend it to anyone interested in narrow gauge steam.
Blog 3 - 7 November 2008
Has the Darjeeling Himalayan Railway Society lost the plot? It certainly looks like it from the latest issue of the Darjeeling Mail (Issue 44 November 2008). The DHRS is 'an international group dedicated to promoting interest and support for the Darjeeling Himalayan Railway'. No mention there of the greater Darjeeling area, Darjeeling schools or childhood/war-time reminiscences of the British in India. To my mind, and this is open to interpretation of course, the DHRS should try to include the following in the Darjeeling Mail; reports from visits to the line, the status of the railway, locos and rolling stock, reports on liaison with Indian Railways on the development of the line and the preservation of the heritage items. The November issue has 32 pages and only 5 pages that could be said to vaguely address the above railway topics. The other 27 pages are almost entirely reminiscences about the British in Darjeeling and in India. You might expect that their web site would also carry more up-to-date information but (apart from an undated 2008 tour report), there is no more news on the Railway there either.
I do have a vested interest in the DHRS (but much more so with the railway itself). They sell one of my early VHS cassettes (and a DVD version) 'Darjeeling in Steam and Snow'. You can obtain a copy from their online shop. For myself, I joined the DHRS because I am interested in the Railway, its history and its future. That may be a rather narrow interest but it makes me question whether membership of the DHRS is something I need to continue.
Second Post - 6 November 2008
You've all probably heard that the rebuilt Welsh Highland Railway will be reopened throughout in 2009. This is excellent news and I, for one, can't wait to see a Garratt blasting through the tunnels on the Aberglaslyn Pass. You may also be aware that I've helped out once on the rebuilding of this line (see whrrowg.html). And you've probably heard the gossip/rumours about certain aspects of the reopening that are not pleasing everyone. First there was the private photocharter with the K1 Garratt before some of those who had paid for the restoration got their promised 'first run'. More recently the WHR (Porthmadog) was told that it would not be able to operate trains on the new line from Porthmadog to Beddgelert for some time (although perhaps now resolved as July 2009) and now, with both the WHR(C) and the FR having a bad season, there are suggestions that free travel for supporters will disappear. I'm trying to put all that to one side as I volunteer once more in late November. There is no more new track to lay but lots of tiding up work to do. The section from Beddgelert to Rhyd Ddu is due to open at Easter (or perhaps 28 March) and the track has a lot of rough rail joints to be sorted out before it is ready for passenger running. I might end up on that job. It looks like the first passenger trains through the new section from Beddgelert to Porthmadog will be on 10 July and a change of train at Beddgelert will be necessary to do the whole line. The first through passenger train Caernarvon - Porthmadog should run on 27 July.
First post - 5 November 2008
Currently trying to read rather than just look at the pictures in Railways of the Baie de Somme - a Landscape with Trains (Philip Pacey, Oakwood Press) as it will be the tri-annual CFBS Fête de la Vapeur 25-26 April 2009. The book is heavy going to start but there is more of interest in the last years of normal operation and the preservation years. There is even a hint of scandal on page 123 'referring to unsuitable activities at the station at Le Crotoy [in 1973], he deplored ... the unauthorised presence of young ladies with no clothes on ...' (Does anyone have more details?)
I've attended the last 2 Fêtes de la Vapeur (2003 and 2006) and I'm looking forward to next year's event. On both previous occasions, I've gone with a friend DT, got a Eurostar to Lille, rented a car from the station, stayed in a self-catering cottage in the old part of St Valerie and dined out every night on seafood and red wine. Both events were very enjoyable and highlights include parallel departures from Noyelles, steam rides to the ends of both branches (Le Crotoy and Cayeux), visiting locos on the metre and standard gauges (including mainline specials to Noyelles) and the pre- and post-festival activities on the railway especially around St Valerie Canal depot. Details of next year's event are sketchy but at least we have the dates. CFBS web site will have more details when available.